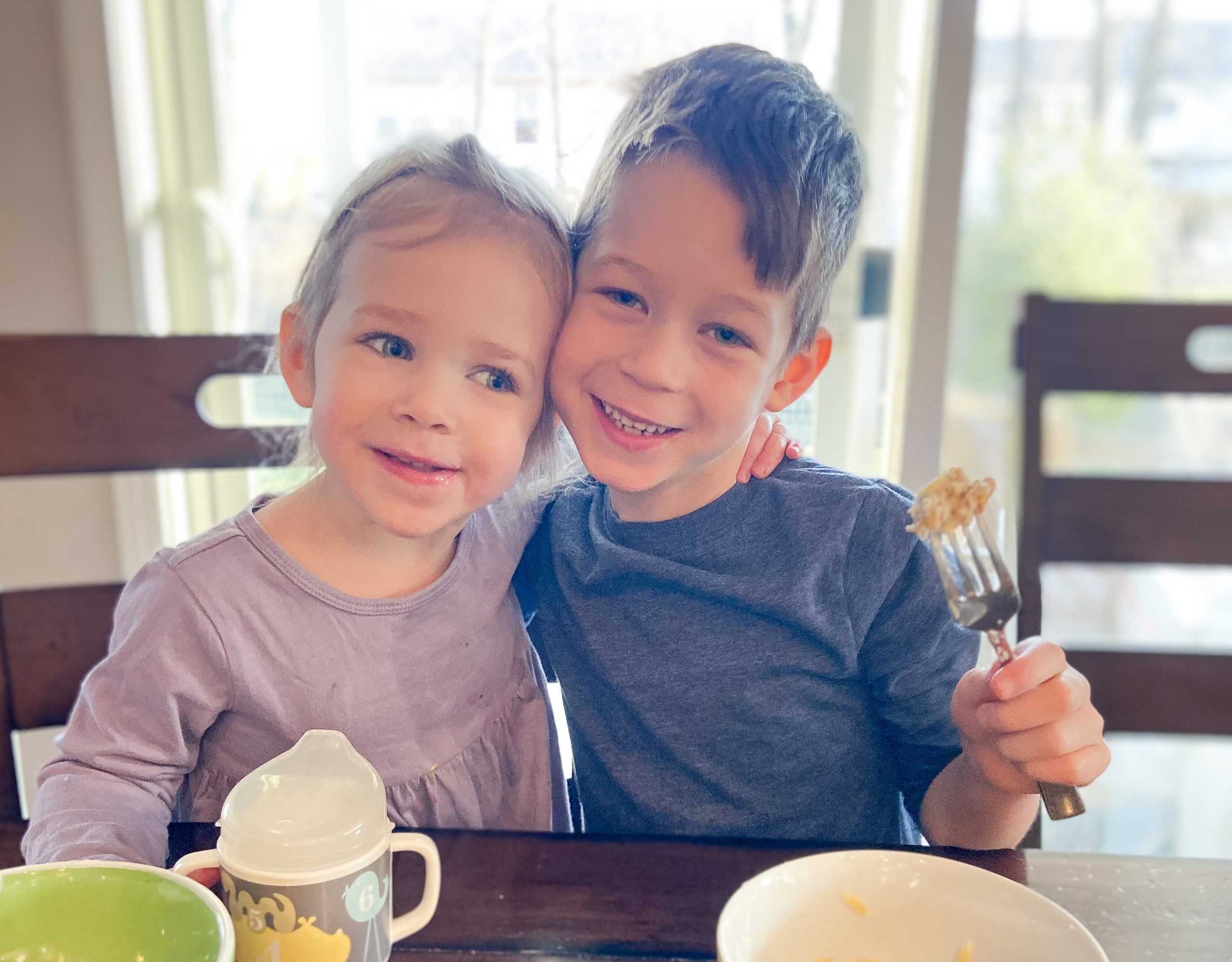 Holy Meatball! Did you know March 9th is National Meatball Day? Neither did I, but after months of "meatball Mondays" – kindly suggested (demanded) each week by my five-year-old – I have come up with the easiest, most versatile meatball recipe. The best part? Made with ground chicken and baked to brown perfection, these meatballs are healthier than alternatives and taste even better! We make some version of these guys every single Monday and all are well-loved by the whole family. As the head chef of the fam, I like them because they can be made ahead of time or in large batches and frozen. Sounds too good to be true right? Well just read on for all my meatball secrets!
I am going to share four versions of these meatballs with you, along with some ideas on how to serve them but feel free to adjust to your liking, and share back of course so I can add your ideas to our roundup!
Directions
Preheat your oven to 400 degrees. Line a sheet pan with parchment paper or foil and lightly spray with cooking oil. I like to cover my sheet pan in foil and then spray down a roasting rack for my meatballs to sit on, like this one.
Mix all ingredients in a large bowl. Do NOT over mix, or the texture of your meatball will be gummy. Just mix enough that everything is incorporated. I hate to say it, but using your hands is a great way to do this.
Make your meatballs any size you want (but adjust cooking time for larger). I make mine about an inch in diameter and cook for about 20 minutes. Make sure the meatballs reach at least 165 degrees inside.
*To make ahead, just store in an airtight container until ready to bake. Let them rest at room temp for about 20 minutes before baking. I haven't made them more than 24 hours in advance.
*To freeze, allow meatballs to cool then stick the sheet pan in the freezer for about 10-15 minutes. Remove the pan and put meatballs in a freezer storage bag or airtight container. Freezing them first keeps them separate and helps prevent sticking. This way you can just take a few out and pop them in the oven or microwave to heat!
Ingredients – Meatball Base
All versions of this recipe start with these same five ingredients and then incorporate ingredients from one of the variations below:
1 pound of ground chicken
1 egg, beaten
1/2 – 3/4 cup breadcrumbs – (start with 1/2 c and add more if meatballs are too moist). Also, this can be substituted with panko for the Asian version, or crushed up Ritz or another cracker for homestyle, just omit the salt below if using salted crackers.
1/2 tsp ground black pepper
1/4 tsp salt (this is omitted in some versions, just to keep sodium content low for my family)
Don't forget to add ingredients below from one variation!
Homestyle Meatballs
Add the below ingredients to your base and serve with gravy over hot noodles (think Swedish meatballs).
1/2 medium onion finely chopped
1 clove minced garlic
Can swap your breadcrumbs for crushed crackers and omit the salt from the base.
Italian Meatballs
Add the below ingredients to your base and serve with red sauce and pasta (we like to use chickpea pasta), on bread for a meatball sub, or with white sauce and fettuccini.
1/2 cup freshly grated cheese – I use parmesan or a mix of parmesan and asiago.
1 tsp of Italian seasoning
1 clove minced garlic
pinch of salt
Greek Meatballs
Add the below ingredients to your base and serve in a Greek pasta bowl. We use orzo pasta, roasted onion and red peppers, chopped tomato, olives, and tzatziki sauce.
1/2 cup crumbled feta cheese
1 tsp Greek Seasoning
1 clove minced garlic
Asian Meatballs
Add the below ingredients to your base and serve with steamed veggies and white rice. Coat in your favorite teriyaki or sweet and sour sauce. These are the meatballs pictured at the top of my post! Want to go for a Thai version? Coat in a peanut sauce or curry, top with finely chopped basil, and spoon over some Jasmine rice.
1/2 tsp ground ginger (you can use fresh too for a milder flavor but adjust the measurement!)
1 clove minced garlic
1 tbsp coconut aminos (you can use low sodium soy sauce interchangeably)
1 green onion finely sliced, whites and greens
That's it! So many different options and just one base recipe! Are you a meatball fan? What's your favorite way to eat them? Let me know if I missed your favorite type and I'll see if I can adjust it to my healthier, quick version for you! Happy National Meatball Day!