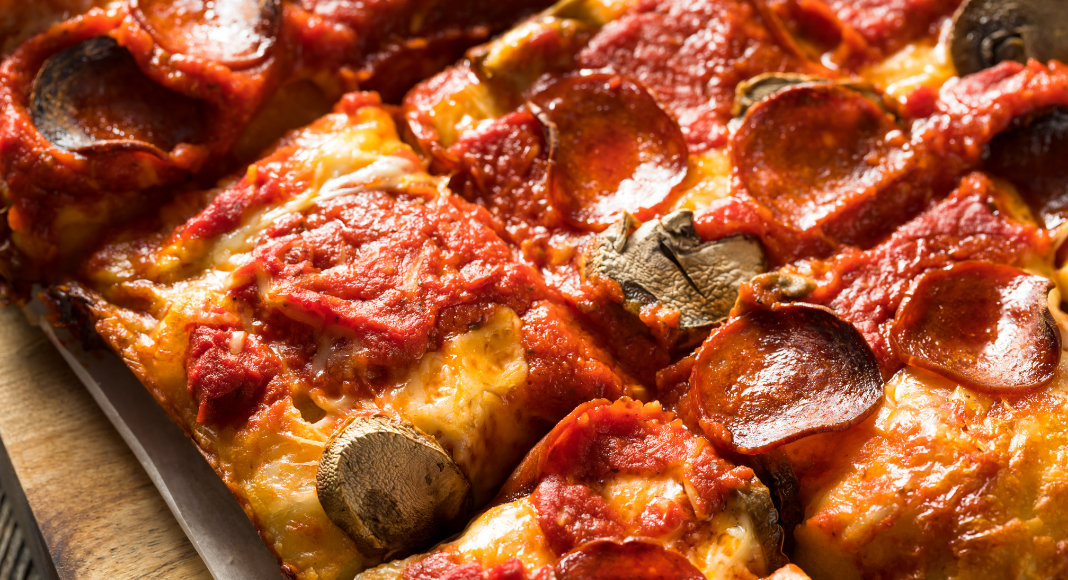 I approach pizza very equitably. I do not discriminate against any type of za. Thin crust, stuffed crust, New York style, deep dish, pizza bagels, pizza rolls… heck, I'll even tolerate a Hawaiian Pizza every now and then! And while I do consider myself a pizza connoisseur, I have to admit that I'd been hearing whisperings of a new style that I had never heard of before: Detroit Style Pizza.
I've had friends mention Sam's Square Pizza (located in midtown) and Futuro (located on the Near Eastside), but haven't been lucky enough to secure a coveted pre-order slot from either of them. So, I decided to make my own.
But, before we get to the recipe, here's a little information on the Detroit Style Pizza. The following characteristics make up a traditional DSP:
Shape: Square/Rectangle. History suggests these pizzas were originally baked in industrial blue steel pans, the same ones used by auto workers in Detroit's many factories.
Crust: Crispy, yet light and airy. The crust tasted a lot like focaccia to me. The corners are also coveted pieces because of the delicious crunch this crust produces.
Red Top: The sauce is added to the top of the pizza in lines, forming a very distinct look.
Cheese: Brick cheese (a Wisconsin mild-favored, semi-soft cheese that's similar to cheddar but with a higher fat content) is cubed and helps the crust get its signature crispness and golden color.
I used Kenji's Serious Eats recipe and it was super simple to follow and produced extremely yummy results!
A few notes about the modifications I made:
-There's no need for the fancy Kitchenaid mixer. I used the "food processor" method in the recipe and it was SUPER easy and worked great!
-I used a regular ol' 9×13 baking dish.
-For the cheese, I couldn't find Brick, so I went with a combo of white cheddar and muenster.
-Topping choices are endless. I used kale, mushroom, green pepper and pepperoni.
-The recipe calls for using half of the sauce it has you make, but I used all of the sauce.
I rate this recipe 10/10. I will definitely be making it again and working it into my recipe rotation. My favorite thing about this pizza was the crust! It was thick, yet light and airy! I honestly think I'm a Detroit Style Pizza convert now and it's my favorite style of pizza! What's your favorite pizza?