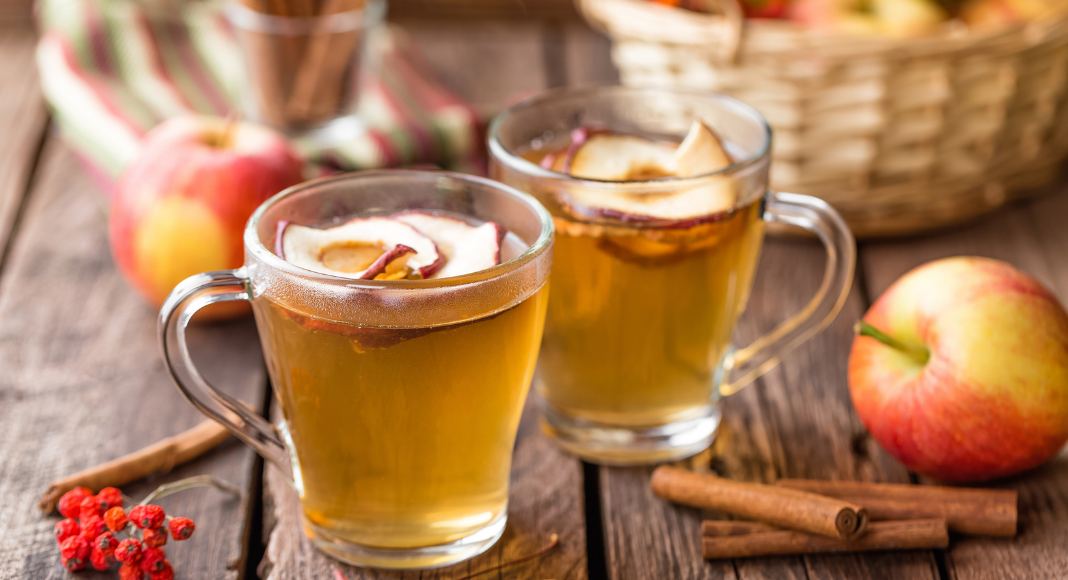 Each year I look forward to the warm summer breeze transitioning into the crisp air of fall. I love all the things that come along with the season: bonfires, cozy sweaters, changing leaves, the anticipation of the approaching holidays, and (most importantly) the foods! One that I am always eager to get my hands on is apple cider. My family and I bought gallons of apple cider at a couple of our favorite orchards (Beasley's and Anderson). Usually, I make all kinds of treats and sweet recipes with the cider, but this year in honor of November 18th, I wanted to eat my way through National Apple Cider Day.
For the first recipe at breakfast, I decided to use a recipe from my go-to good food gal – Half Baked Harvest's Tieghan Gerard. I know that I'm living dangerously serving these doughnut holes first thing in the morning to toddlers, but it was worth it to devour these in peace with my hot coffee as the kids had their mouths stuffed full too. If you're anything like me, you use recipes as a guide and don't measure everything perfectly (especially spices). I did some tweaking to the original recipe and also made them in our cake pop maker for fun!
Glazed Apple Cider Doughnut Holes
Ingredients
1.5 cups apple cider
2 tablespoons melted butter
3 teaspoons vanilla extract
2 large eggs
1/4 cup apple butter
1/2 cup packed brown sugar
2 cups all-purpose flour
1.5 teaspoons baking powder
1 teaspoon baking soda
2 teaspoons cinnamon
1/2 teaspoon each of nutmeg, ginger, cloves, and salt
Bring the apple cider to a boil, then simmer for about 15 minutes until it reduces. Let cool in the fridge. Then mix ingredients 1-6 until well combined. Stir in ingredients 7-11 until the batter just comes together (don't over mix). Next, I plugged in my cake pop maker until preheated and spooned the batter into the molds, shut the lid, and let it do its thing until the light turned green. I was able to make about 40 doughnut holes using this method. Afterward I made the glaze: 1 stick of butter melted on the stove and then stirred in about 3/4 cup maple syrup, 2 cups powdered sugar, 1.5 teaspoons instant coffee (omit if you're worried your kids will turn into caffeinated crazies), and 3 teaspoons cinnamon. I poured it over the warm doughnut holes and we ate them right away. The perfect way to start the day with delicious hints of cider and spices!
My lunchtime recipes are much more savory: Brie and cheddar apple beer soup from, you guessed it, Half Baked Harvest and a salad with my homemade apple cider dressing! For the soup, I followed the recipe exactly and my kids loved helping me use the immersion blender (one of my favorite kitchen tools)! Beer cheese soup is a food I could eat every day, and throwing in some apple cider only made it 110% yummier! It paired perfectly with the salad I made with mixed greens and a handful each of blueberries, blue cheese, chopped pecans, and diced honey crisp apples from Anderson Orchard.
Apple Cider Salad Dressing:
1 cinnamon stick
1 cup apple cider
1/2 cup olive oil
4-5 tablespoons apple cider vinegar
2 tablespoons dijon mustard
1 tablespoon onion powder
Salt and pepper to taste
Combine all ingredients in a mason jar, shake, and enjoy! Store extra in the fridge.
By the time dinner came around, I was ready for something quick and easy. My go-to meal when I need something fast is a sheet pan meal. What's great about them is you can basically use anything you have in your fridge or pantry and cater it to any palate (even a picky four-year-old who thinks any food other than bacon and Hershey's is an abomination). This would be great with chicken, any kind of veggie and seasonings you like, and even some apples or peaches thrown in. I also always put foil down on my pan to save myself from having to wash a ton of dishes!
Baked Apple Cider Sheet Pan Dinner
1 package apple and gouda chicken sausage, chopped
1 package smoked sausage, chopped
4 medium-sized potatoes, cubed
1 handful rainbow baby carrots
1 package frozen brussel sprouts
2 cups apple cider
Olive oil
Salt and pepper to taste
2 tablespoons honey
2 tablespoons dijon mustard
1 teaspoon crushed red pepper flakes
3 tablespoons fresh thyme, or a generous sprinkling of ground thyme
1 tablespoon garlic powder
Preheat oven to 350 degrees. Line your baking sheet with foil and sprinkle with olive oil. Place veggies on sheet. Combine ingredients 6-13 and pour half over the veggies, stirring to combine. Bake for 20 minutes. Pull out the pan, add the sausage and remaining sauce, and toss. Return to oven for 10 minutes. Broil for the last 5 minutes and enjoy dinner knowing you won't have the lingering dread of a hefty clean-up afterward!
One of my most treasured memories is my mom making hot apple cider in the fall. As a kid, I thought she used some elaborate recipe to make her famous drink that I could never replicate. Now I know it's oh so simple: apple cider and Red Hots. My kids love to end the day sipping this warm beverage as we cuddle up next to the fire.
At this point, my sink, belly, and heart are all full after a day of cooking with kiddos. So since bedtime has been conquered, now it's time for my husband and me to enjoy an apple cider adult style. There's the classic apple cider and bourbon combo, but I tried something new, and it's a keeper!
Mommy's Spiked Apple Cider
1-2 shots Fireball
1-2 cups cold apple cider
Splash of cream soda
Combine ingredients, stir, and sip!
I paired my mommy cider with the leftover doughnut holes… because are you even a mom if you don't eat the leftover sweets when the kids are asleep?
Besides our family's favorites of Beasley's and Anderson, there are many great orchards around the city to grab a gallon (or two) of cider to celebrate National Apple Cider Day! If you want to keep the mommy cider train rolling, you can also celebrate at one of Indianapolis' yummiest establishments, Ash & Elm Cider Co.
Happy National Apple Cider Day!