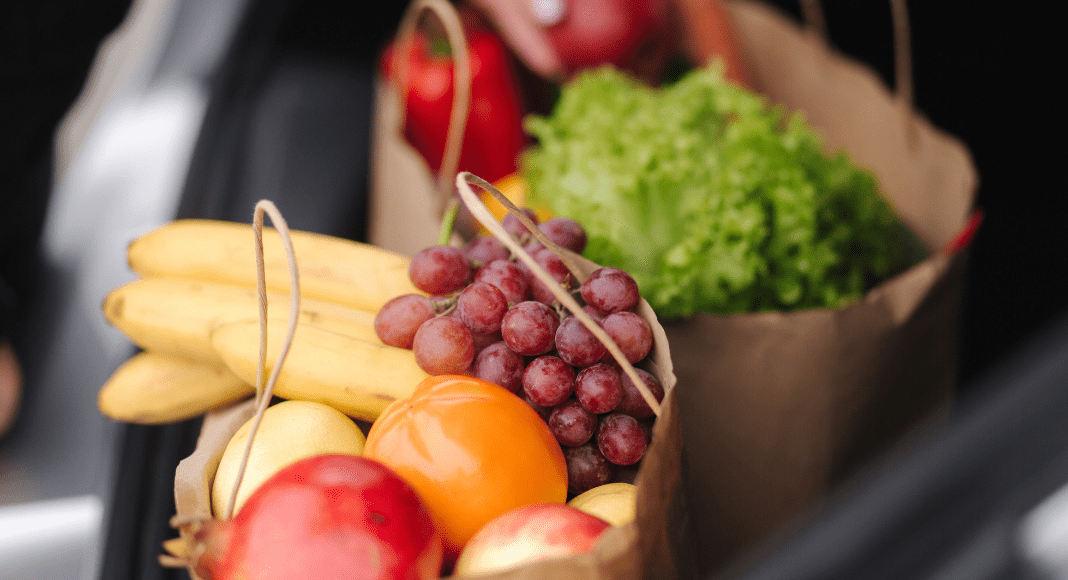 Personally, grocery shopping over the last two years has not been an enjoyable experience. Anxiety-driven trips to the grocery store during the Covid-era, which then led to paying more to have groceries delivered, and now my grocery bills seemed to double over the last several months. My husband and I are savers and do not really splurge on the small things in life. Rather, we spend money on traveling, house projects, and/or experiences that enhance our lives. So, we try to find ways to cut costs on everyday items, such as grocery shopping.
I used to coupon clip when I shopped at Kroger or Meijer years ago, but I never felt like my bills went down that much, and as a mom of (now) three boys, I just didn't have the time and energy to sit down each week, looking through ads for coupons. So, I decided to switch to Aldi, a similar company to Trader Joe's. At first, I was a little intimidated for some reason. I just knew it didn't run completely like a typical grocery store. This Germany-created store is very popular in Europe, and we shopped there a few times when living in England years ago. 
If you have never been to Aldi, there are a few things you need to know. You will need a quarter. Yes, a quarter. The quarter is for you to rent a shopping cart during your shopping experience. Although it may seem annoying in a digital world, it actually saves the workers time and energy on cart collection. It also provides a safer environment in the parking lot, especially for your vehicle. Fewer carts mean fewer people dinging your vehicle with abandoned carts. Win! Another item to note is that you have to bag your own groceries. This speeds the checkout process up a lot, but you will need to allot some time for bagging your own groceries. 
But now that we've gotten the reasons why you may not want to shop here let's focus on why you should! 
Reason #1: Save Money!
A lot of people frown upon Aldi, thinking a discount store means lower quality products. That isn't true at all. Aldi has their own brand of items, so it naturally is cheaper. I actually get a large amount of organic products, and they are multiple dollars less than their equivalent in rival stores. My grocery bills went down hundreds, yes hundreds, of dollars each month going to Aldi.
Reason #2: Simple Store Setup
Walking into the store, you may think it is too small. But there are benefits to a simple store setup. Items are still in the packing boxes, so it isn't anything special to look at. I don't know about you, but I don't go into Kroger thinking about how great the line of green beans looks. I get what I need, and I get out. Because of the smaller store, they stick to the major food groups. This has led to my family eating much healthier. I don't waste my time in an excessive chip aisle or candy aisle wondering what impulse buy I need to throw in my car.  Overall. I am less distracted by fancy new advertising on products I do not need.  And speaking of wasting time, my grocery trips have shortened to half as long as they usually take because of the smaller store. I can get in and out in 30-45 minutes with a cart full of groceries.
Reason #3: Build A Charcuterie Board For Cheap
I have friends who haven't completely joined the Aldi shopping craze but go there just for the cheese. Their cheese selection is wonderful and provides interesting holiday cheeses to make your next charcuterie board for a party a big hit. And you can't have a successful charcuterie board without some great salamis, prosciutto, or chorizo. They have a variety of packs to help make your board look the cutest for the next occasion or a random Friday night snack. Bonus, their wine section is small but mighty. If you have ever shopped at Trader Joe's, you'll know why you should switch. 
Reason #4: Aldi Saves the Environment
Some may find this annoying, but you need to bring your own bags. Although this may seem like a way Aldi is just trying to make extra money off of you, it is actually great for the environment. You have to pay a few extra coins worth to buy your own bag or you can bring your own. If you forget them and don't want to pay for bags, you have a couple of options. You can leave your groceries in your cart and transfer them to your vehicle individually or put them in bags once you get there. You can also use the leftover packing boxes (there will be huge bins for you to choose from) to pack your items up. Reusing both bags and packing boxes saves our world with one less plastic bag being used. 
Reason #5: Aisle of Shame
The last reason is one that might hurt your weekly or monthly budget. They have an aisle or two that are dedicated to specialty items such as toys, home decor, certain new foods, and even clothing items. I like to wander through these aisles and sometimes pick up a few impulse items. But these are usually great deals. I got an outdoor Operation sprinkler game for $1.99 this past summer (regularly $19.99). There are even groups on Facebook (both locally and nationally) dedicated to helping you find the newest "Aisle of Shame" items. So if you're watching what you spend, avoid this aisle.