I love to plan my kids' birthday parties. I love writing pun-filled invitations, picking out themed menu items, and coming up with cute decorations. While I want the parties to be special and very on-theme, they also must absolutely be on a budget. A quick scroll through Pinterest might have you feeling like kids' parties have to be overwhelming or extravagant, but I've found that our simple, budget-friendly, at-home parties have been perfect for us!
Here are my top five tips for planning an easy-yet-enchanting, budget-friendly kid's birthday party.
Don't Pay for a Party Location
I love backyard parties. You don't have to overly decorate for a party outside, and no one cares when the drinks spill. If you don't have a backyard, consider hosting your party at a local park. Sometimes there are fees to reserve pavilions, but not always (and you don't always need a pavilion—set up the food on a table and let the kids run around and play).
If the party is in January and you do not want to host it inside your house, there are still affordable options to consider. Our local library allows patrons to rent meeting rooms for free. While you'll want to check with the library about bringing food into the meeting rooms, at the least you could plan a few fun activities for the kids and pass out treat bags with snacks on the way out the door.
Have Your Kid Pick the Theme
Themes help the party to feel cohesive without the need for any over-the-top decorations. Have a few thoughtful decorations and match your food or treats to the theme, and people will assume you spent a lot of time putting the party together.
To pick a theme, simply ask your kids what they like (and then resist the urge to direct them to a theme you like better). While that might lead to some interesting places (like this kid's CVS-themed party), it'll be sure to reflect your kids and what they love best. It's also probably not going to be something extravagant.
You can always scroll through Pinterest to see popular themes, but picking something your kid is excited about is what matters most. Bonus points if your theme includes decorations that are reusable! So far, our favorite themes have been Tangled, bees, mermaids, wildflowers, outer space, baseball, Frozen, and unicorns.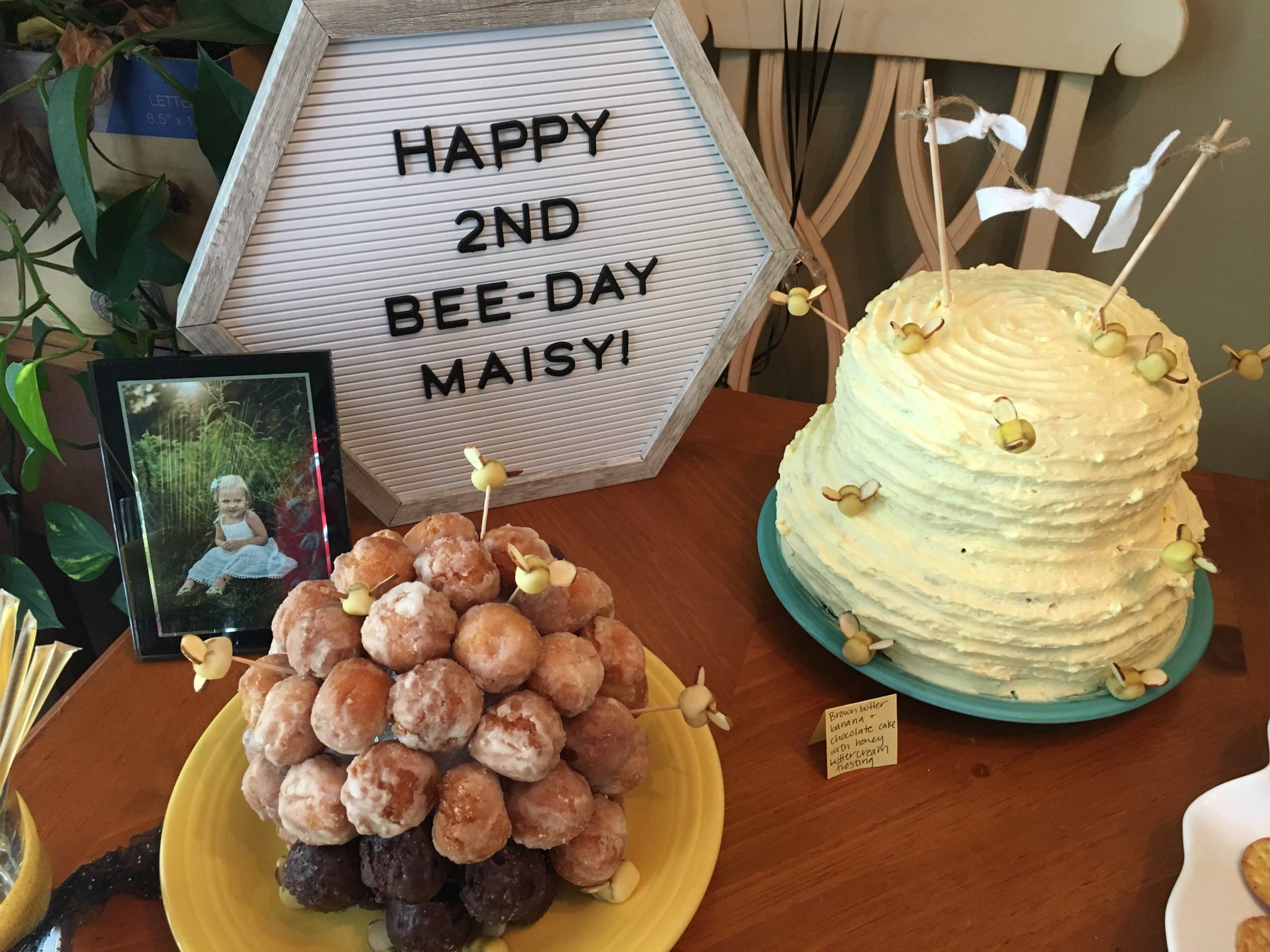 DIY Your Decorations
Party decorations are expensive. For a fun, budget-friendly birthday party, do the decorations yourself. You DO NOT have to be "crafty" to do this. Pick one or two "statement pieces" that you can make cheaply and that's all you really need! Let Pinterest and YouTube help you out here—there are a million tutorials on how to make anything, and none of it has to be complicated. Here are two examples from our parties that were very cheap, very easy, but made a big impression!
Pool Noodle Coral
This was for a mermaid party, and I got the idea from Pinterest. I covered an empty diaper box with tissue paper, bought a few cheap pool noodles, and cut them into coral following tutorials online (like this one). It was easy to do, very cheap, and it looked amazing at the party. Beyond that big centerpiece, we didn't do much else for décor, and I didn't feel like our party needed it. There was one big focal point that looked awesome.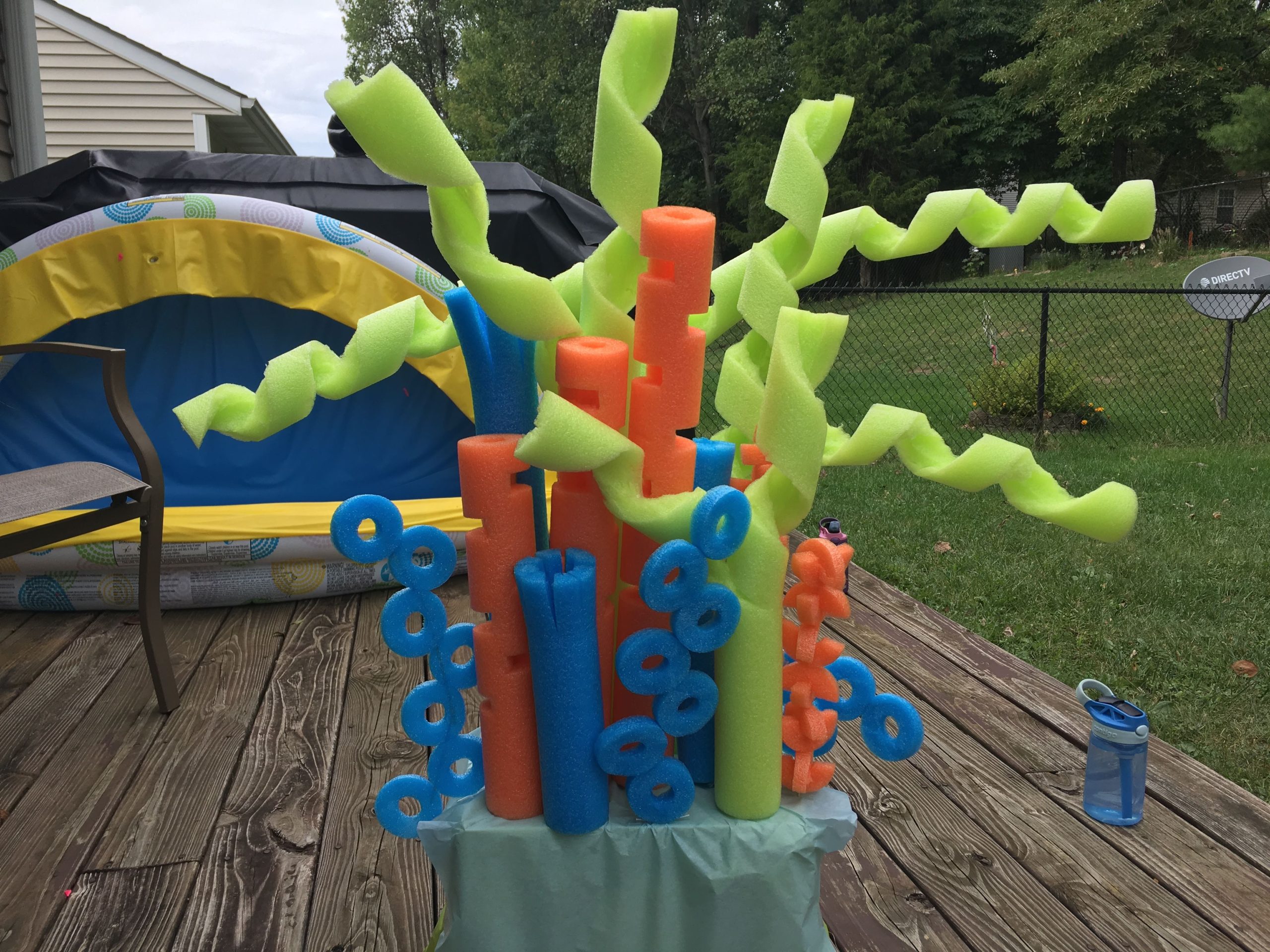 Rapunzel's braid
This was my favorite decoration we did! For a Tangled joint-birthday party for my girls, I bought five rolls of yellow crepe paper. I found an EASY online tutorial for how to do a five-strand braid and made a giant braid out of crepe paper. We hung this braid in the tent for the party, and it was a huge hit. As a bonus, after the party, the girls could pretend it was their own Rapunzel hair. For this party, other cheap decorations we did were making the paper plates look like frying pans and printing out "wanted" posters of Flynn Rider.
Don't Cater
Catering is easy. It's also very expensive. Plan some themed snacks and treats and do it yourself. We've done taco bars, sandwiches, slower cooker pulled pork, grilled hot dogs, and ham and cheese swirls before. I usually plan one kid-friendly main dish, have fruit, cheese, and veggies, and then make a cake. If your party isn't scheduled during a meal time, have some snacks and cake/cupcakes you're set!
Do As Much As You Can Before the Day of the Party
Last-minute things you need or have forgotten always add up, and you usually have to get them at convenient, yet more expensive, drug stores. When planning my menu, I pick foods I can prepare in advance as much as possible. I'll make a potato casserole I only need to cook the day of the party, cold chicken salad I just need to scoop onto croissants or something in the slow cooker that I can get ready early. I'll cut fruit, veggies, and cheese the day before. I also make the cake the day before too. This not only helps me to stick to a budget by having things done ahead of time so there are very few surprises the day of, but it also makes the day of the party feel less stressful! If something is too time-consuming or elaborate, even if it works great with the theme, I won't do it. Think simple, delicious, and make-ahead friendly.
If there are some decorations I can do the day before the party, that helps too. I also have my kids help assemble any party favor bags well in advance. This gives me time to plan budget-friendly favor bags and search for sales on everything, from favors to grocery items.
The goal with all my kids' parties is that I want them to feel loved and special. I want it to be a fun day for them where they feel celebrated. I've found that following these easy five tips helps my kids to have really great, budget-friendly birthday parties that are low on stress and big on fun!