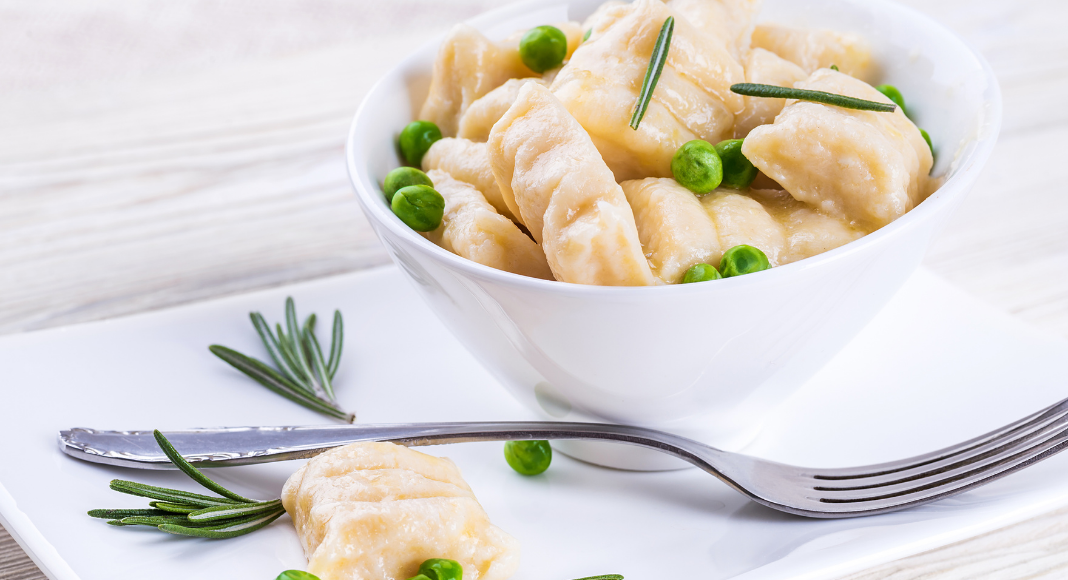 I absolutely love gnocchi. I could eat an endless bowl of those lil pillows of savory fluff. While traditional gnocchi are made with potatoes, this recipe uses ricotta making the dish equally delicious, but takes less time and fancy equipment to make. This Ricotta Gnocchi and Peas recipe is about four servings, but can easily be doubled if you want to freeze half of the gnocchis to use later!
Ingredients:
6 tbsp butter
1/2-1 c fresh herbs (I used 3 green onions and a handful of mint, but dill, parsley or chives would also be delicious!)
2 garlic cloves, minced
1-2 tsp salt
16 oz whole milk ricotta
1 large egg + 2 large egg yolks
1/2 c grated parmesan
1 c flour, plus more for counter
1 package frozen peas
1 lemon, zest and juice
Directions:
Cut up butter into small pieces. Place bowl of butter in the fridge until you're ready to use it. (The butter needs to be cold in order to make the sauce creamy and the right consistency.)
Chop herbs (I thinly sliced my green onions and rough chopped my mint) and set aside. Mince garlic and set aside as well.
Make the gnocchi dough by first draining ricotta in a flatweave towel (or 2-3 layers of paper towels). You don't want this added moisture from the ricotta or you'll have to use more flour when mixing your dough, which could make the gnocchi tough. (And nobody wants a tough gnocchi!) Mix in eggs, salt, a few cracks of fresh black pepper, 1/2 c parmesan and 1 c flour. The dough will feel a little wet.
Flour your countertop or working surface and knead a few times into a ball. Cut into 4-6 pieces and roll on the floured surface into strands that are roughly 1/2-1" thick. Rolling the strands back and forth into the floured surface will help keep the dough from being too sticky.
Using a knife (or bench scraper if you're fancy), cut the strands into pieces about 3/4" big. Transfer gnocchi to a baking sheet lined with floured parchment paper. (If you're making this recipe ahead of time, go ahead and put the baking sheet in the freezer for about an hour and then transfer to a freezer-proof baggie. These gnocchi can stay frozen in the freezer for about a month.)
Add salted water to a pot and bring to a boil. Once boiling, gently add your gnocchi and cook until they float to the top (about 30 seconds to a minute). After they're all floating, cook for an additional minute. Using a slotted spoon, remove gnocchi from water and place on tray. Reserve 2 cups of gnocchi water.
Meanwhile, in a saute pan, add 1 cup of the reserved gnocchi water and bring to a boil. Add in your frozen peas, a pinch of salt and cover and cook until bright green, about 3 minutes.
Add the butter pieces one-by-one, waiting until the previous is completely melted before adding the next. Stir vigorously to make sure the sauce is emulsified. Add in garlic, lemon zest and juice.
Add in gnocchi and toss to coat. You can add the remaining reserved gnocchi water little-by-little until the gnocchi are evenly coated. Next, add fresh herbs and stir to combine.
Cook mixture for another minute and then you're ready to eat! Top bowl with more chopped herbs and red pepper flakes if you like spice.
This Ricotta Gnocchi and Peas recipe is a new family favorite! How do you like to serve your gnocchi?