Soups on!! This has become my mantra when the cold just won't quit. Even though I've been an Indiana resident all of my life, the cold weather still shocks my system and jolts me! This is why I live by the soup method. Yep, I use soup to keep me warm in the winter– and March when snow is still in the forecast. Clever, I know. There is something to be said for a hearty soup. Something about the way that it sticks to your bones. Nothing like a creamy, full bodied, well seasoned Roasted Tomato Basil Soup. GIVE ME ALL OF IT.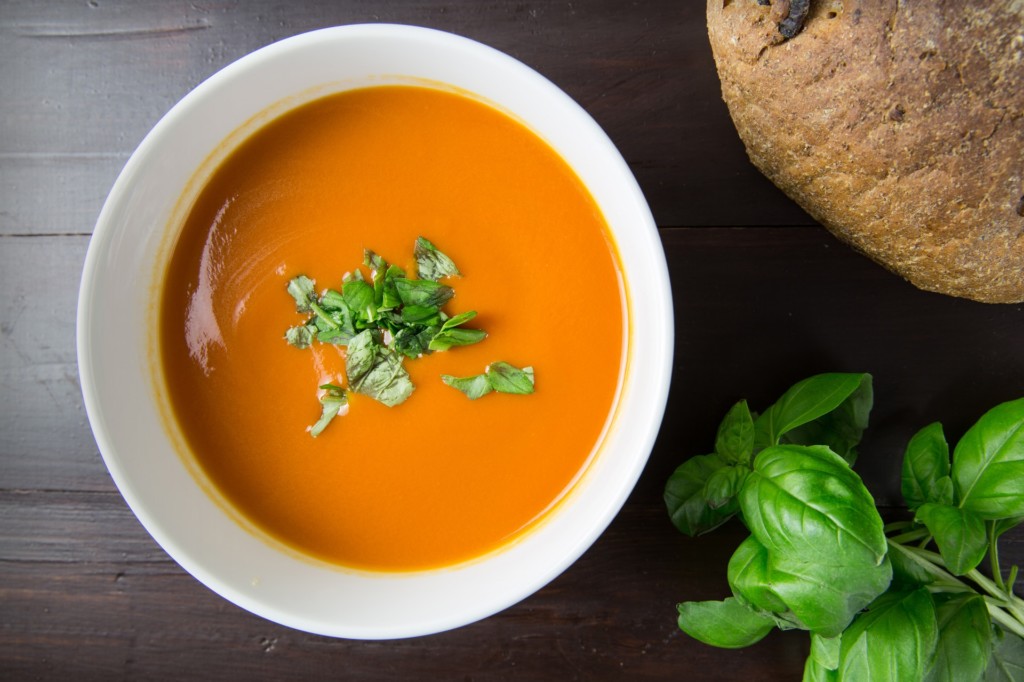 One of my favorite things about this soup is that it is made with locally grown tomatoes. Do yourself a favor and get into locally produced eats. You can surely taste the difference.
I gathered up some of the best tomatoes I could find, roasted them up and blended up an homemade soup. Roasted Tomato Basil Soup pairs with grilled cheeses too. It's a match made in tummy heaven. This soup can be made vegan friendly as well, switch out the dairy milk for a nut milk and the butter for margarine.
Happy eating!
Roasted Tomato Basil Soup
Ingredients
5 large Roma Tomatoes
1 28 oz can of crushed tomatoes
2 Teaspoons of basil
2 1/2 cups of milk
1/2 cup of mirepoix (onions, carrots, celery) blend
1 and 1/2 Tablespoons of flour
5 Tablespoons of butter
Kosher Salt
Black pepper
Extra Virgin Olive Oil
Instructions
Preheat oven to 350 degrees
While oven is preheating, slice Roma Tomatoes and place on a sheet pan lined with parchment paper.
Season tomatoes liberally with Kosher Salt, Pepper, Basil and Extra Virgin Olive Oil.
Roast in oven for 15-20 minutes.
On medium heat, in a large, heavy bottomed pot, warm 3 tablespoons of butter and saute mirepoix (onions, carrots, celery) blend for 5-7 minutes, until translucent
Sprinkle with flour and stir.
Season with pepper and kosher salt
Sauté for 5-7 minutes, until flour is cooked
Stir in remaining butter, and combine well
Pour in Crushed tomatoes, stir well.
Add roasted tomatoes to other ingredients.
Pour in 2 cups of milk, stir gently to combine.
Cover and let simmer on medium low heat for 15 minutes
Using an immersion blender, blend the tomato mixture until smooth. I blend until there are a few chunks left.
Stir and serve.
Serve with your favorite sandwich or even a Parmesan crisp.