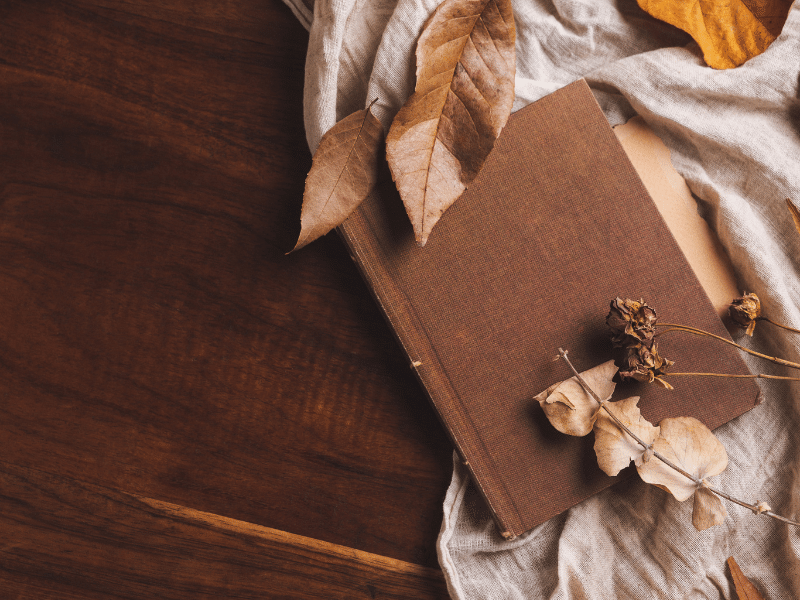 To be honest, I'm of the mindset to jump straight to Christmastime as soon as the jack-o-lanterns start to mold. As much as I love Thanksgiving, it just doesn't beat all the magic of Christmas. In fact, when my now husband asked me to tell him something about myself on our second date, I said, "You should know that I'm obsessed with Christmas." One of my favorite parts is cuddling up by the fire next to the tree lights and reading a holiday-themed book. As a former teacher and chronic collector of TBR books, I've accumulated a plethora of books to choose from.
But in the past couple of years, I've noticed that my heart truly needs to slow down and focus on the gratitude of the season that comes with Thanksgiving. In doing so, I realized my assortment of Thanksgiving-specific books was slim. I began researching and compiling books that celebrated all things Turkey Day that I could share with my family. While I love the cutesy turkey books, I mostly want to highlight inclusive, multi-perspective books with authentic voices and historical value. Read-alouds are so powerful, and I want my kids to see and hear stories that open their eyes and hearts to all that goes along with Thanksgiving. Here are some of our favorites that I hope your family loves, too!
Balloons Over Broadway written by Melissa Sweet
This is the true story of the puppeteer who invented the first balloons for the Macy's Thanksgiving Day Parade! The beautiful illustrations and joyful storytelling about an inspiring and imaginative immigrant are some of my kids' favorites. We've done lots of crafts and homeschool lessons with this one!
Keepunumuk: Weeachumun's Thanksgiving Story written by Danielle Greendeer, Anthony Perry, and Alexis Bunten
This picture book honors and celebrates the Native people who helped the pilgrims survive their first winter. It is told in the Native tradition about two kids from the Wampanoag tribe who learn the story of the first Thanksgiving and how corn played an important role! This is a beautiful story that is accessible and necessary and even includes a recipe for your family to try!
Sharing the Bread written by Pat Zietlow Miller and Jill McElmurry
Sharing the Bread is an old-fashioned Thanksgiving story set at the turn of the twentieth century. (Can you tell that I'm trying to instill my love of history into my children yet?) It's a heartwarming tale of each family member doing a special job to make the holiday meaningful. Written in a poetic, rhythmic verse, this is one picture book that will charm many ages.
Fry Bread: A Native American Family Story written by Kevin Noble Maillard
Maillard has crafted such a sweet book that has deservedly won dozens of awards! My kids love to read this over and over again and learn about the significance of fry bread (the delightfully descriptive words will make your mouth water) and what is represents to the Native American people. Side note: don't skip the author's note!
Duck for Turkey Day written by Jacqueline Jules
Another award-winning title, Duck for Turkey Day, is about a Vietnamese American girl named Tuyet. She is excited about the upcoming holiday but feels like an outsider since her family doesn't feast on turkey for Thanksgiving. When she returns to school to a host of different Thanksgiving meals, she realizes that while they may all be different, there's no "right way" to do Thanksgiving. It celebrates family, friendship, and diversity beautifully.
Thank a Farmer written by Maria Gianferrari
This story showcases vibrant illustrations and lyrical pages that my kids adore. It traces everything from food to clothing that a family uses back to the people (farmers) who make it possible. It teaches us to be grateful for the agriculture we may not realize is present in our everyday lives, whether we live in a bustling city or among cornfields.
Our Table written by Peter H. Reynolds
Peter H. Reynolds is one of our favorite authors. He doesn't disappoint with this picture book about a girl named Violet who longs for "the good ol' days" when her family felt more connected. Even though the constant distractions of the world make her family feel like they are drifting apart, they are reunited around the Thanksgiving table. Traditions are huge in our family, and Our Table showcases how powerful they are!
One is a Feast for Mouse: A Thanksgiving Tale written by Judy Cox
This gives The Very Hungry Caterpillar vibes with a holiday twist. Mouse keeps wanting one more of everything after Thanksgiving dinner and it gets a bit out of hand! It gives me the opportunity to talk about celebrating the little things and the importance of being grateful for what we have in a fun, animal-themed way. There's also a board book edition for smaller readers called Mouse's Thanksgiving.
Mrs. Potts Finds Thanksgiving written by Alice K. Boatwright
I absolutely love Dickens' A Christmas Carol, so I was delighted to find this gorgeously illustrated and written story inspired by the Christmas tale! This is the story of Martha and the events between Thanksgiving Eve and Thanksgiving Day that help her rediscover the true meaning of the holiday.
Gratitude is My Superpower written by Alicia Ortego
This story is from a "series" of social-emotional learning books that engage kids in such a fun and positive way. It follows Betsy as she learns what it really means to be grateful for all things big and small. Blessings can be found everywhere, every day!
Let these books inspire understanding and gratitude in you and your family's hearts this Thanksgiving season!