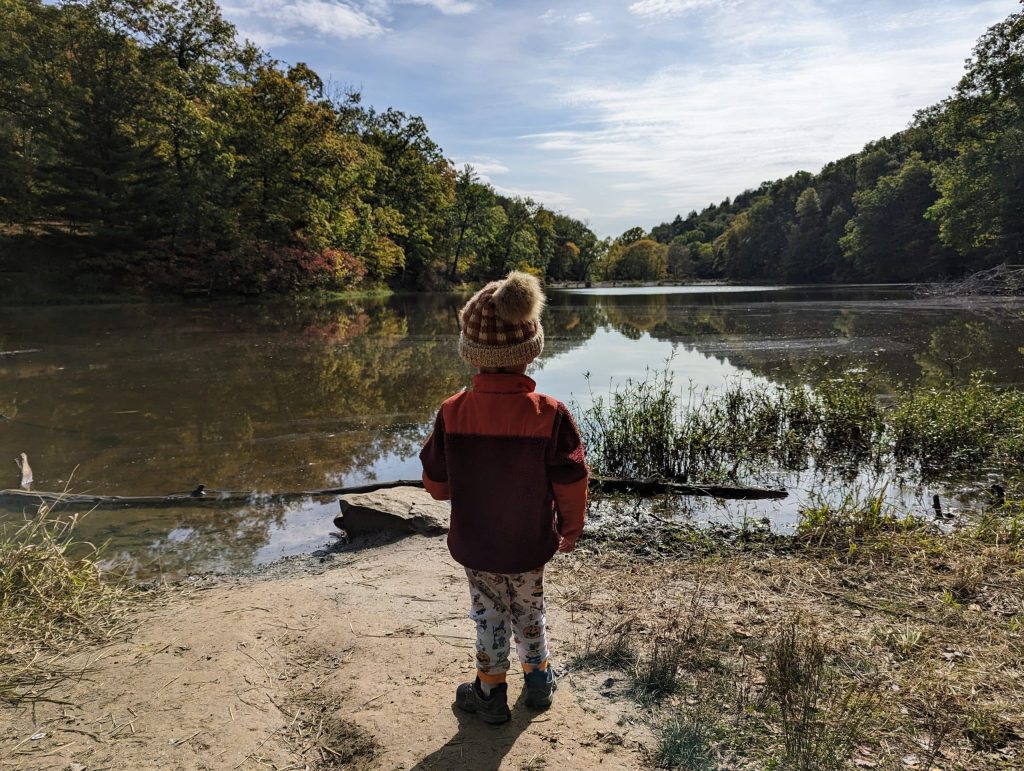 My sister and I recently took a day trip to Brown County with four toddlers (one 3.5-year-old and three 2-year-olds) in tow, and we survived to tell the tale! We hiked, shopped, and ate, and all of the kids left happy and exhausted! My daughter (the oldest of the cousin crew) has still been talking about our trip weeks later!
Hiking with toddlers can be a daunting task, especially if you aren't familiar with the trail. In Brown County State Park, there are numerous options for hiking, but a few stand out as toddler-friendly. The Friends Trail is ideal for little ones who still need strollers or aren't as confident on their feet. The trail is less than .5 mile and is paved, making it a breeze for toddlers. Trail 6 is a good option for older toddlers who are independent walkers, although they do not necessarily need to be experienced hikers. There are some areas where they will need to walk over tree roots, so stay nearby in case they trip (my kids enjoyed jumping over these). The trail is 1.8 miles long and has a beautiful view as you loop around Strahl Lake, but be advised that the first half of the hike is a decline and then has many, many stairs to climb on the way back up. I highly recommend bringing a picnic lunch or plenty of snacks so your toddlers can rest and refuel at the lake (the halfway point) before beginning your ascent (We messed up this part and had some hangry kiddos on the trek up the stairs)!
The Brown County State Park Nature Center is a great place for the kids to spend some time before or after your hike (especially if you are exploring Trail 6). There are snakes, turtles, and bees to observe, as well as many taxidermy animals native to Indiana. There is also a viewing room where you can watch animals walking by, but they cannot see you observing on the opposite side of the glass. There are also large, clean restrooms in the Nature Center (something we're always aware of as moms of recently potty-trained kids).
The drive into downtown Nashville from Brown County State Park is short (15 minutes from the Nature Center), but if you have kids who will fall asleep in minutes, make sure you have something to hold their interest on the drive out of the park (this is when I usually have to cave and break out my phone or even more snacks). Once downtown, there are many shops to explore. Using a stroller or wagon is difficult in some of the tight shops, so be aware that you may be better off parking outside of shops before entering. My children's favorite store, without a doubt, was The Toy Chest. We spent way too long checking out all of the toys and games (my daughter added several items to her birthday and Christmas wish lists). There are also many shops to indulge in sweet treats, including The Candy Emporium, Heritage Candy Store, Nashville Fudge Kitchen, Schwab's Fudge, and The Chocolate Moose. My personal favorite shop is Little Sister Candle Company! I love their wood wick candles (Crème Brûlée is my favorite scent). For lunch or dinner, Big Woods Pizza is a fan favorite. Our family has eaten at Artists Colony Inn and Restaurant, and we each enjoyed our favorite comfort foods. The restaurant is also spacious and not overly quiet, so I did not feel like our kids were disturbing anyone.
Just a short drive from Indianapolis, Brown County makes for a great day trip with toddlers! Get out there, explore, make memories, and take a hike!