Did you know? Indianapolis is one of the most wasteful cities in America, with a recycling rate of 7% compared to the 35% United States city average. Here are six easy steps that you can do to reduce your waste and carbon imprint at home –starting with reducing plastic consumption and pollution, and tips on how this works for my family!
Step One: Open Your Eyes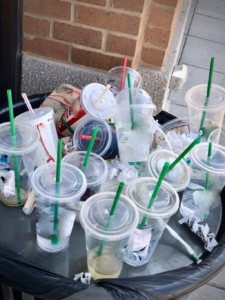 Become aware. Plastic pollution is a significant threat to our environment. Educate yourself, and your family, on its negative effects on our ecosystems and society. This is the first step in reducing our carbon imprint.
Hopefully – the choices you make at the grocery store or the location you choose when you go out to eat will open your eyes to the impacts of global plastic pollution.
The startling facts of how our Earth is drowning in plastic will shock you. Google it. I commission you and your families to learn about plastic pollution, and then share this knowledge with others. Awareness is key and the first step to making a difference.
Step Two: Skip The Straw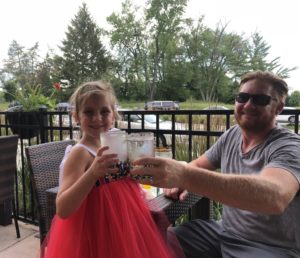 Choosing to not use a plastic straw at a restaurant is an easy thing to do to help the planet. Just skip the straw. Let your server know that you will not be needing a straw. When we are at restaurants, we like to celebrate with an "eco cheers!"
My family has actually gone a step further and have been educating local restaurants about plastic pollution with our Stand Up To Straws initiative. We ask the restaurant managers to consider only offering plastic straws upon request, or to explore an alternative.
And, if you have to have a plastic straw (or a family member) or if the server brings one before you are able to request one – then just keep it! Take it home.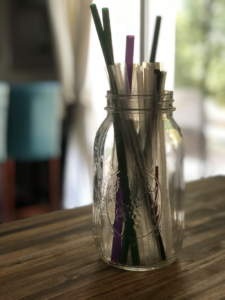 Why? Straws are not recyclable. So, if put in a waste bin, they go straight to landfills, and eventually into our oceans.
If the plastic straw doesn't get thrown in the trash, it can't get into to the ocean – and it will not and cannot hurt a sea animal.
We collect all of our unsolicited plastic straws.
We keep them in a mason jar and on display in our kitchen as a daily reminder that we are making a difference.
Step Three: Try Alternative Straws
Luckily there are a wide variety of environmentally friendly straws available to consumers. They come in all shapes and sizes, depending on what you are drinking – as small as a coffee stirrer or as large as one for a smoothie. There are reusable straws, such as bamboo straws, stainless steel straws, and glass straws. You can simply wash and reuse them! No waste involved – whatsoever!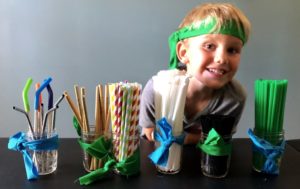 There are also biodegradable straws such as paper straws. (Biodegradable means that they will decompose and break down over time.)  And, there are compostable straws: Hay straws, corn straws, and plant-based PLA straws. (Compostable means that it can be broken down into organic matter that can be used to create renewable energy: compost soil.) We have all of these straws in our kitchen. It's fun for my children to have choices!
We always keep some of our eco straws  in the console of our vehicle and I carry them in my purse, always prepared and ready. You can order all of these alternative straws online and some can be found in some retail stores.
Step Four: Choose Eco-Friendly Products
Thankfully companies are paying attention and are beginning to produce products that do not harm us, or our environment. To name a few alternative to plastic items that my family uses are bamboo toothbrushes, stainless steel and glass storage food containers, and 100% cotton lunch bags, clothing and bedding – and we use woven baskets instead of plastic to hold our laundry and other household items.
We use glass mason jars to drink out of (less likely to crack under everyday use). When we entertain large parties, we use plant based biodegradable or compostable cups, plates and cutlery. We then compost them in our home compost bin. These can easily be found online, just search biodegradable dinnerware.
Step Five: Avoid Single Use Plastics
Single use plastics is a term used quite a bit. And it means just what it implies. A plastic that is only used once. Cannot be recycled. Used once but remains forever on our earth.
Plastic Bottles? No thank you, our family chooses to pass on the plastic water bottles and use stainless steel water bottles. We never leave home without them!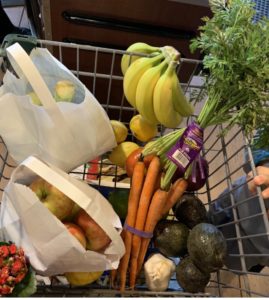 Instead of using plastic wrap, we use reusable and biodegradable plant-based wraps and beeswax food wrap – it works like a charm! You can wrap food itself or cover a bowl.
In place of plastic storage baggies, we use resealable paper bags and reusable cotton. These can be found in most picnic item aisles in retail store, and online.
We take large reusable bags to the supermarket to carry our groceries home and we use reusable cotton mesh bags for our produce. Choose paper bags if available or we just "go naked" in the cart – avoiding plastic bags completely when we grocery shop!
Step Six: Recycle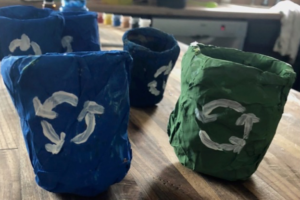 Familiarize yourself with recycle symbols on any plastic item in your home – learn which plastic goes where. What does this mean? Some plastic is accepted in certain curbside recycling centers, and some unfortunately not. For instance, plastic wrap, bags, storage bags, and plastic trash bags cannot be recycled at most curbside recycling centers. But there are places you can take these items to get recycled. Contact your recycling company to find out what plastic they will take and what they will not. If you do not have curbside recycling, research a place near you that accepts recyclable items.
And remember all plastic has to be clean and dry, so be sure to rinse and dry completely before placing it your recycle bin. Otherwise it could contaminate other recyclable items and prevent them from getting recycled.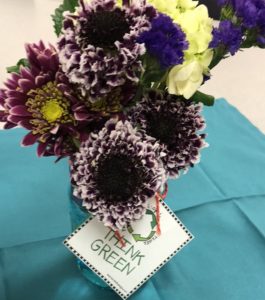 If you want to make a change then simply begin to look around. You will see there are many things you can do at home and in your daily lives to reduce your waste –you just have to start thinking green. ? ? ♻️