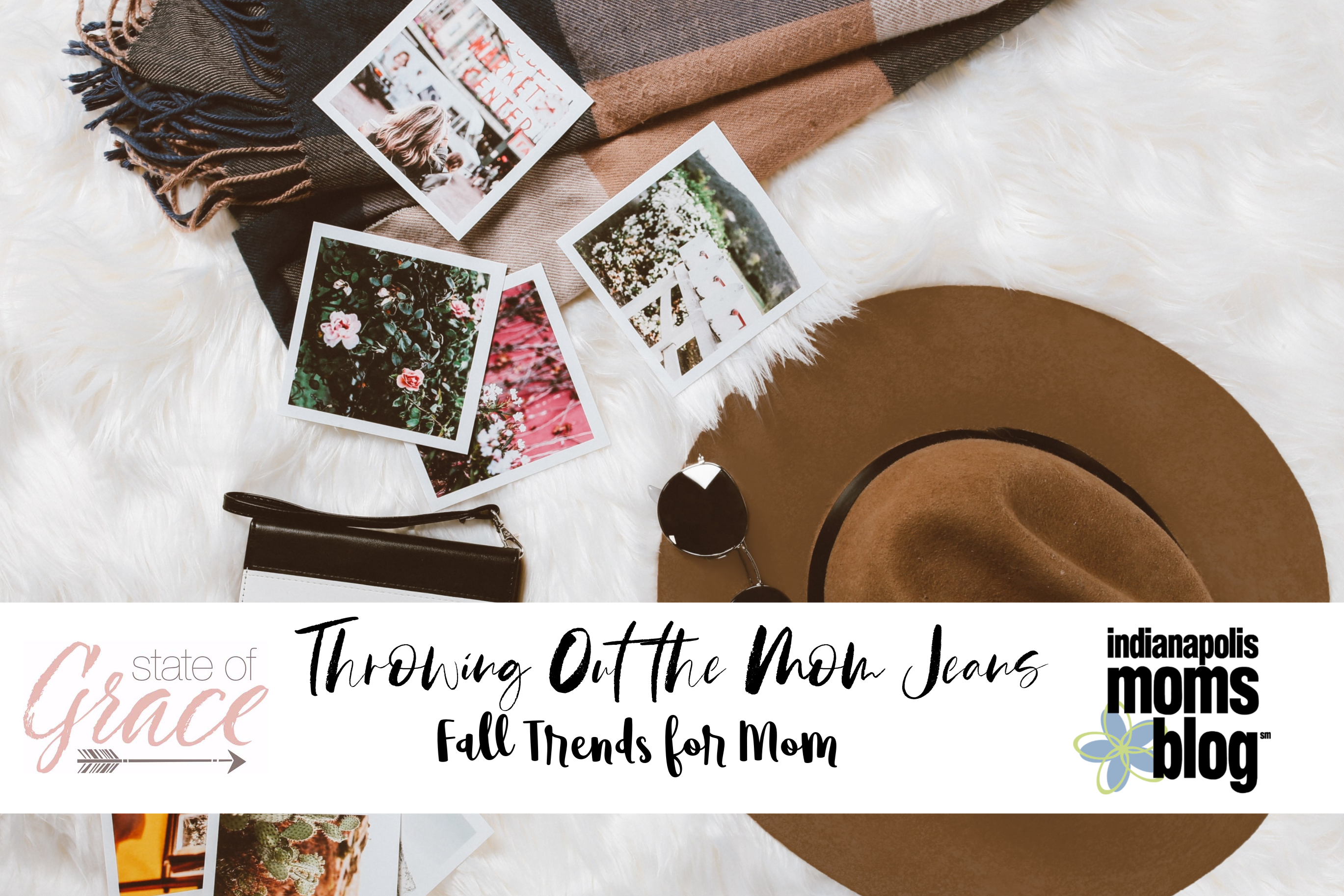 It's officially sweater weather, mamas! Don't get me wrong – while I love the sunshine and warm weather, there's something about sweaters and boots that feel just so right. Honestly, you had me at burnt orange and mustard yellow. But for my lifestyle, I also need comfort. Because you know, kids. Finding trendy clothes that are comfortable may seem daunting – which is why we did the work for you!
For the past few months we have been collaborating with the owner of State of Grace Boutique, Libby Springer. She is a busy mom of three and she gets it – she understands the whole wild realm of motherhood. State of Grace Boutique was created on the ideal that our lives may be demanding which is why they want to extend a bit of grace to ourselves as mothers and women. Her store is a calm atmosphere with a variety of trendsetting clothing. Plus, there is even a darling area for your children to play while you shop and try on clothing. The whole ambiance of State of Grace makes it apparent that they have your best interest and wellbeing in mind.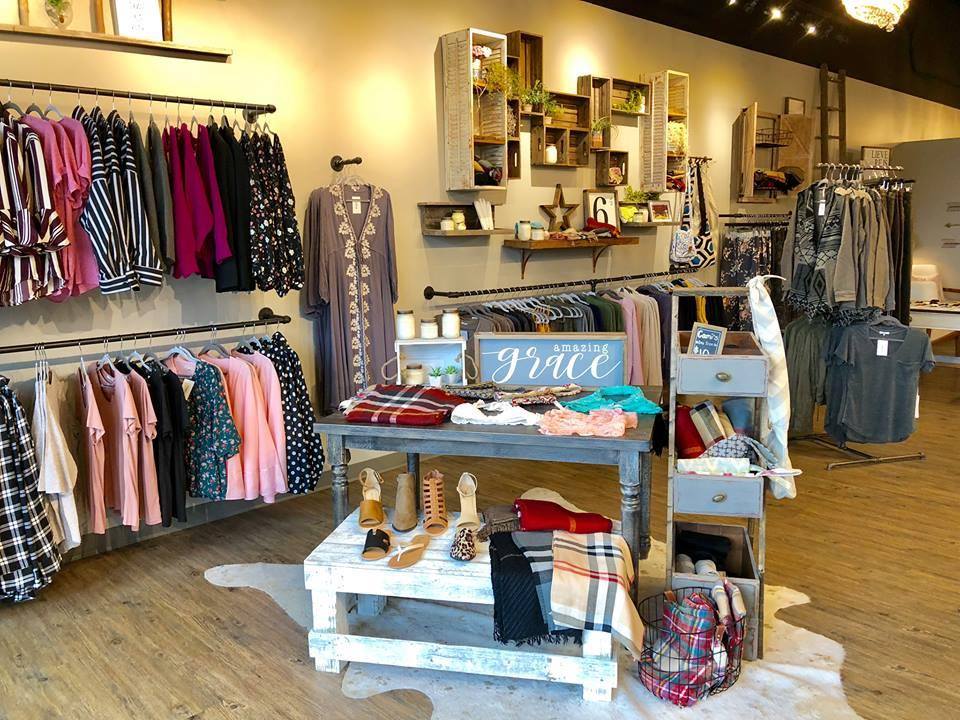 Just like we did this spring, Libby and I teamed up to share four of our favorite trends for fall that are perfect for the day to day hustle of motherhood.
Leopard print is back and it's hot once again this season! This off the shoulder tiered dress is perfect for brunch, date night or an afternoon meeting. It has a looser fit and a midi length which makes it breathable and easy to walk about. Pair it with a this Free People New Dawn Moto Jacket for a classy yet edgy look.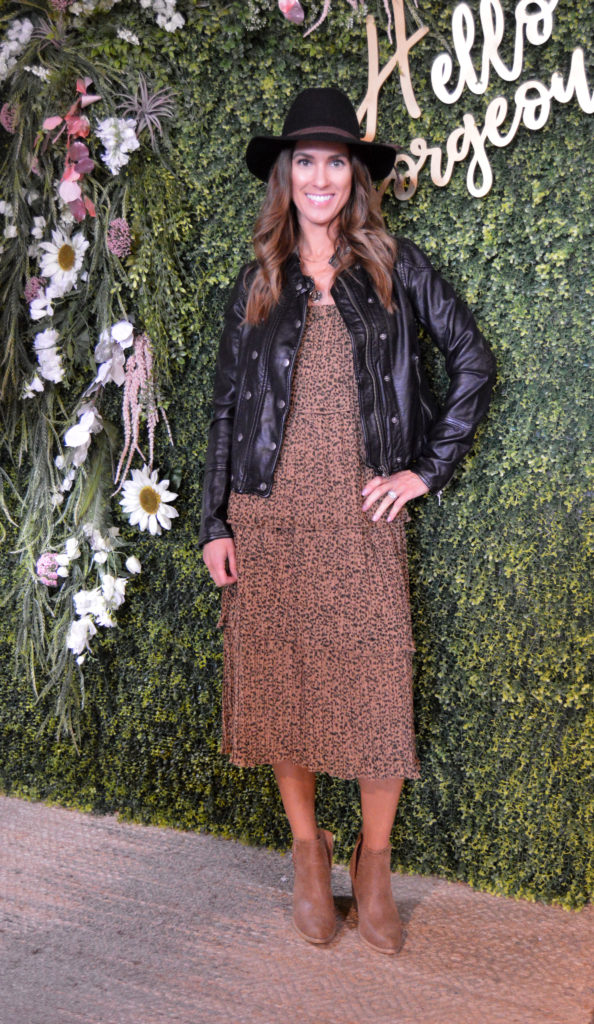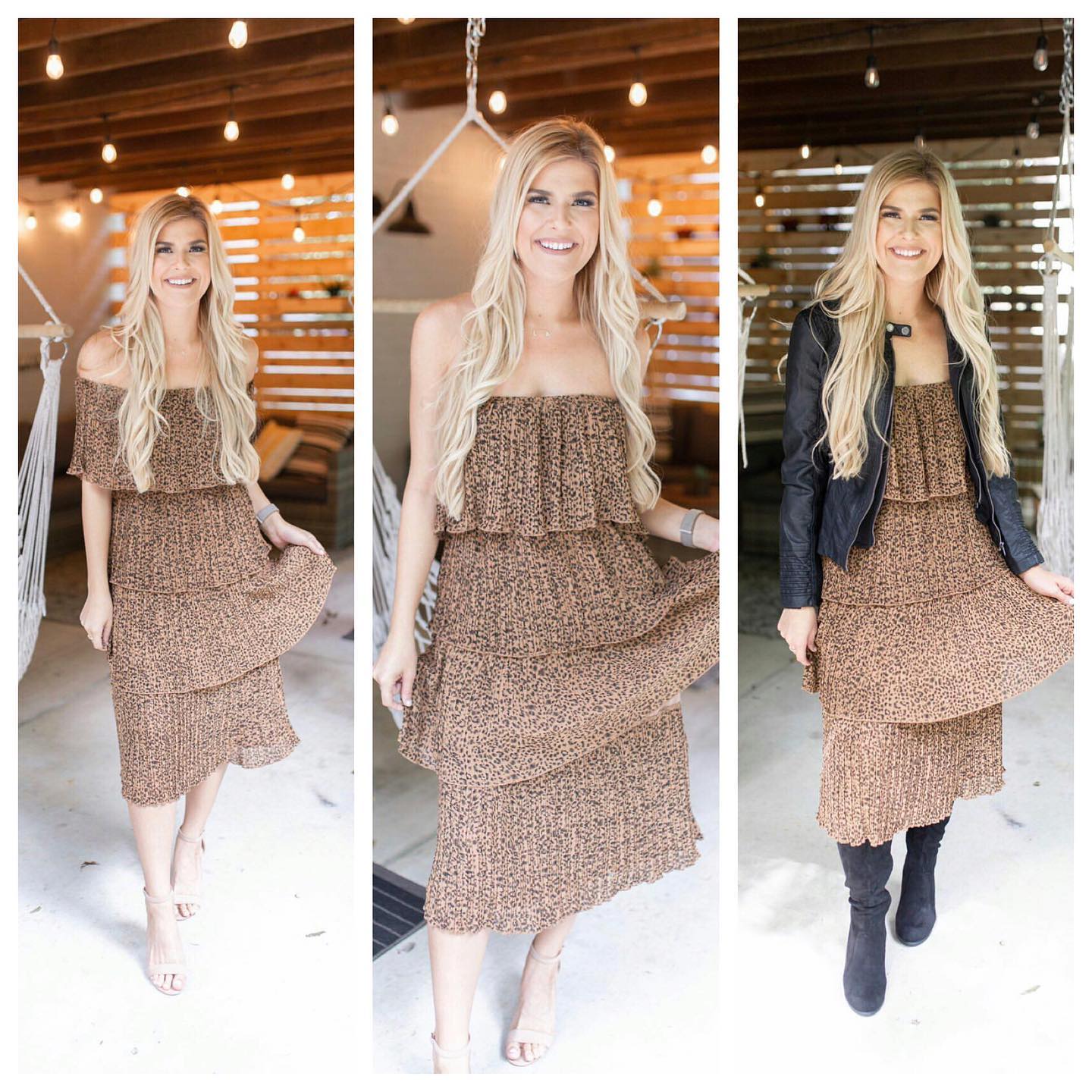 Burnt orange is one of the hottest colors this fall and this sweater is definitely a must for the fall wardrobe! The distressed style is super comfortable and easy to pair with a bralette making it even more cozy for on the go. Pair with a distressed high rise denim and you are ready for your morning errands and appointments. An easy way to add some patterns to this look is by throwing on a pair of leopard print booties or flats.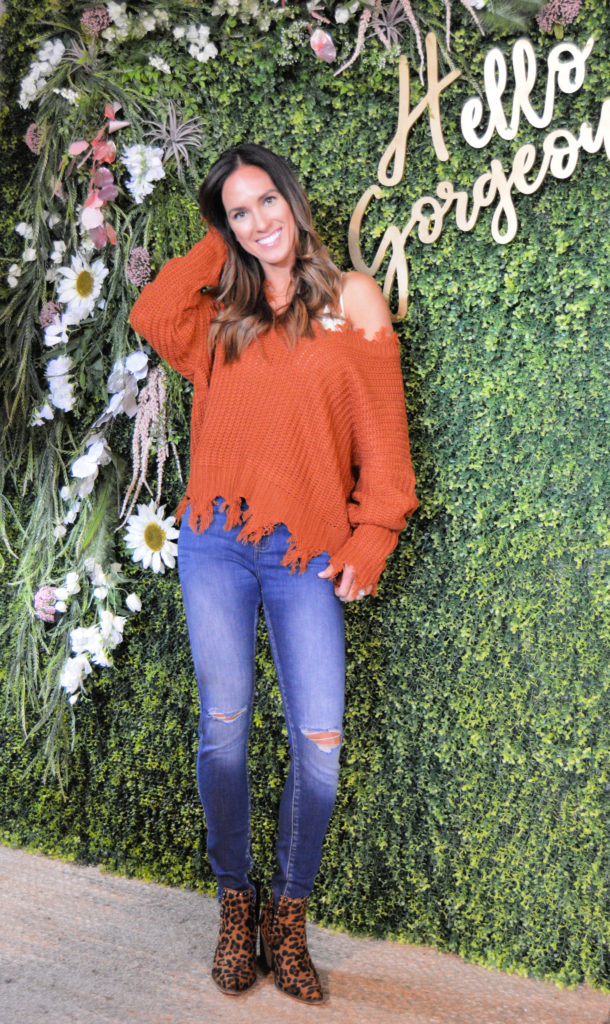 We can't leave the snake out this season – snakeskin print is on point this fall! This top is perfect for everyday wear. The loose and flowy fit is ideal for running around with the kids or hitting up sports and activities. Pair it with the fringed black denim for a trendy and casual look for the day. Finally, top off this look with a pair of these studded mules. Just slip them on and you are out the door!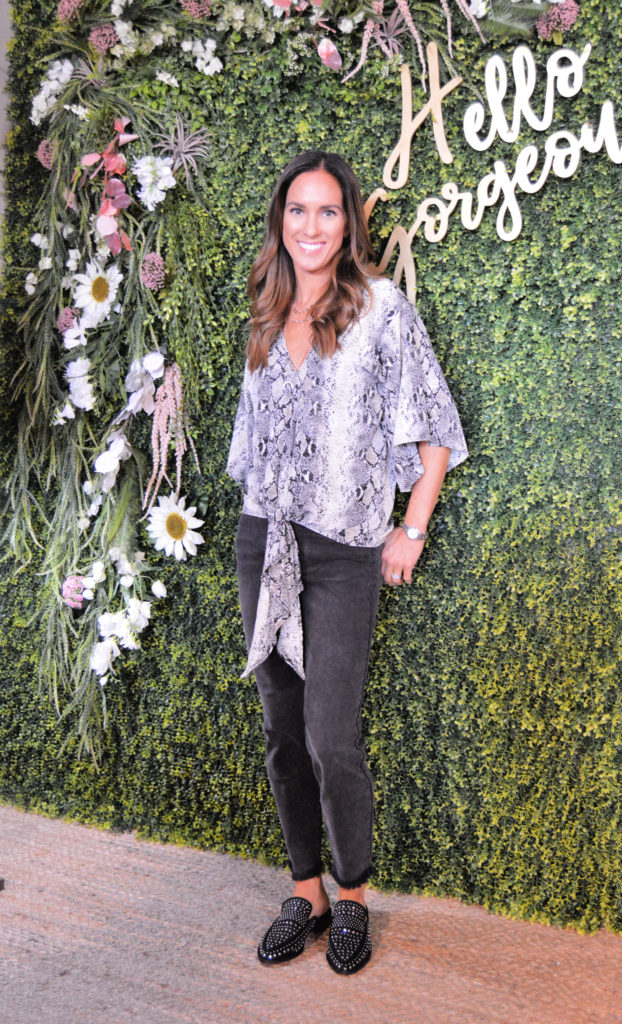 Mamas, if you are going to invest in one thing these Spanx leggings are IT! The best part about these leggings is how they hold it all in while keeping it comfy and slimming at the same time. They are so easy to dress up or in this case dress down with a cardigan and wedge sneakers for a cozy everyday look. Throw on a hat (after that dry shampoo) and you can still make it in time to volunteer at your kiddo's school.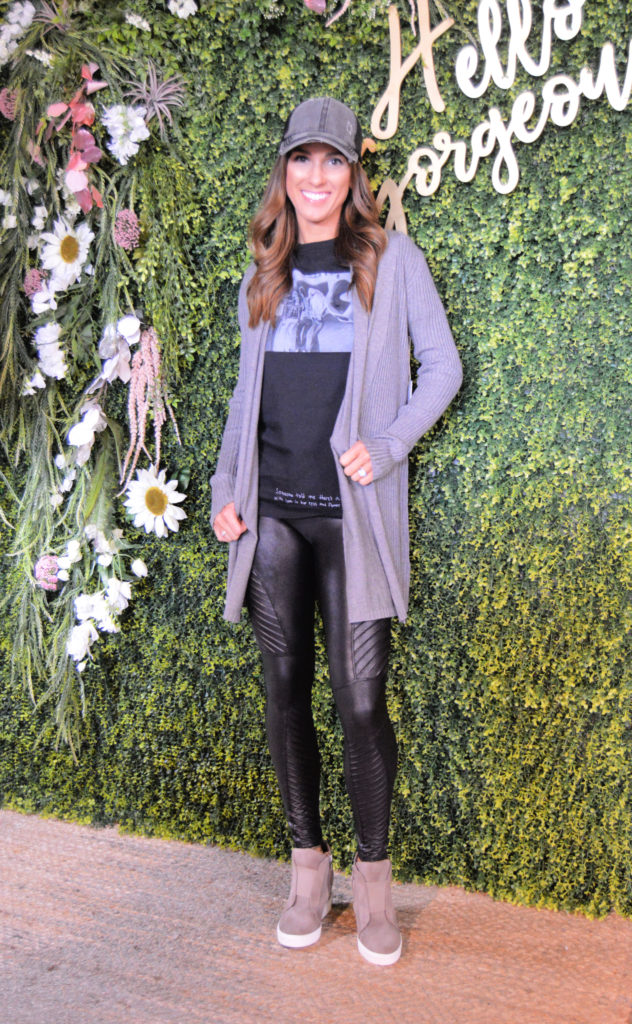 Treat yourself, mamas. You can still look and feel trendy, regardless of your mom status. Grab a few fall must-have items and wear the heck out them of because you deserve it!
Check out State of Grace Boutique
State of Grace Boutique is in TWO locations now!
Fishers – 116709 Olio Road
Broad Ripple – 6243 North College Avenue.