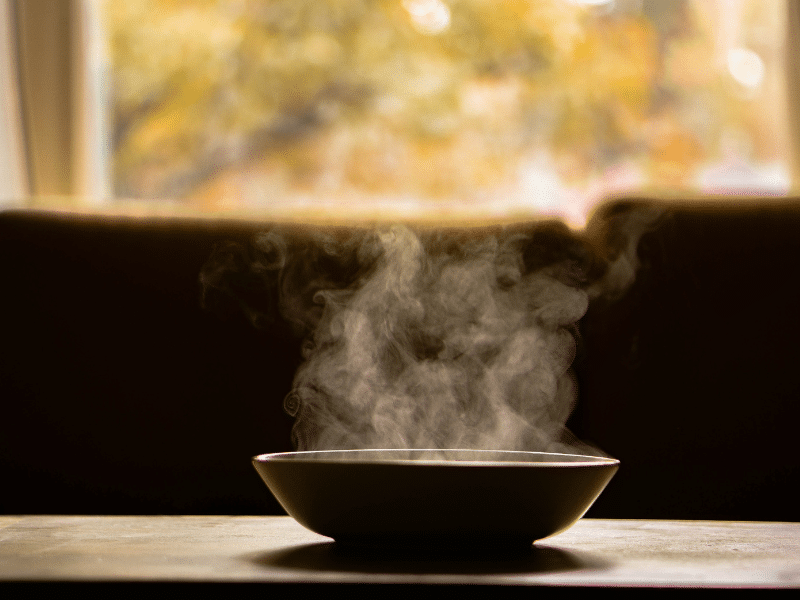 While Mother Nature has been doing her wacky Midwest thing with temperatures jumping between the 70s to the 90s, September is still the official start of fall, and fall means soup season! There is nothing better on a cool, sunny autumn Sunday than orange leaves falling outside, a favorite movie I've seen a million times on the TV, and a hearty pot of soup on the stove.
This leads me to the easiest soup you'll ever make, consisting of just three main ingredients and requiring minimal cooking effort. This recipe – which is a cool weather staple in our house – comes from my mom. Those who know her might have just LOL'ed, as the kids say. While my mom has many strengths, even she acknowledges that cooking isn't one of them. (Have you heard that theory about certain skills or talents skipping a generation? That's certainly true in our family. Both my grandmothers loved to cook and bake, and I do as well. My mom? Not so much.) But, besides being great at making a restaurant reservation, she has mastered two dishes: lasagna and vegetable beef soup. The latter is easy, customizable, and always delicious. Seriously, you can't mess it up. If my mom can do it, anyone can. (Love you, mom!)
Easy Vegetable Beef Soup
Olive oil
1-2 pounds of stew beef, cut into bite-sized pieces
1-2 46 oz bottles of V-8 juice [I typically do half original low-sodium and half spicy.]
2-3 bags of mixed frozen vegetables [I usually do a mix of stew vegetables (potatoes, carrots, onion, and celery) and regular mixed vegetables (peas, carrots, and corn).]
Spices of your choosing [I use salt, pepper, garlic powder, and Cavender's Greek Seasoning.
Optional Toppings: Shredded cheddar cheese, crackers, hot sauce.
Generously season the beef with salt, pepper, garlic powder, and Cavender's.
Cover the bottom of a large stock pot with olive oil. Once the oil is hot, sear the stew meat until browned on the outside. (It will finish cooking while simmering.) Drain any excess grease.
Add 1-2 bottles of V-8 juice and 2-3 packages of mixed frozen vegetables. (You can add more or less V-8 and vegetables depending on if you prefer a thinner soup or a thicker stew.)
Stir and make sure to pick up any of the bits left from searing the meat on the bottom. (That's where a bunch of flavor is!)
Bring the soup to a boil. Cover the pot and reduce to a simmer for at least 1 hour or until the meat is tender and cooked through.
Add additional seasonings to taste.
Serve with desired toppings (preferably while wearing a cozy sweater or oversized sweatshirt).
Refrigerate leftovers. Continue to enjoy it throughout the week because it magically gets even better reheated.