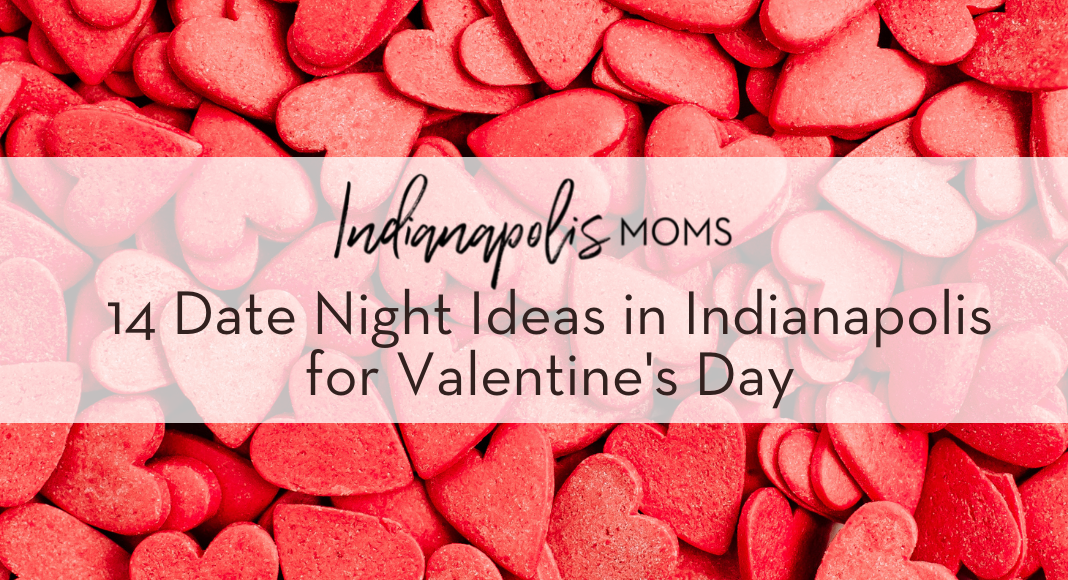 Did you score a babysitter for Valentine's Day and are looking for something to do to celebrate? Here are fourteen things you should check out for Valentine's Day in Indianapolis!
1. Skyline Club
If you want to get a little extra fancy, and would love to enjoy a beautiful view of downtown Indianapolis, get your tickets for Valentine's Day Dinner at the Skyline Club. From the event page, "Enjoy songstress, Susan Boots, while sipping on your complimentary glass of champagne followed by a 4-course dinner creation by Chef Eric Hollon!" You can reserve your spots with a $50 deposit on Saturday, February 11th or Tuesday, February 14th. You also need to make your reservation on Open Table to secure your spot.
---
2. White Castle
Now hear me out. If you haven't heard of a White Castle fine dining experience, I am about to educate you. Though it is a bit of a unique experience on Valentine's Day, they really do it up! Click here to "find a castle" and book your table, or book on Open Table for a 4:00-9:00 pm seating. You will experience hostess seating and tableside service, as well as Valentine's decorations. Love will be in the air at White Castle!
---
3. Peace Water Winery
Get spontaneous and do a wine tasting at
Peace Water Winery
. With three locations around Indianapolis and no reservations needed, you could choose to start your night there and do a tasting before dinner, or end the night with a shared bottle! They also allow you to have your food brought to the winery – grab a table, Doordash your dinner to be delivered and enjoy a fun night with no responsibilities.
---
4. Painting with a Twist
Have a creative date night, or fun girls night, at Painting with a Twist! They are located in Carmel and Indianapolis, and both locations have full calendars with multiple nights of fun Valentine's themed paintings for you. This one looks right up my alley. Taking bets on whether I can get my husband to do this with me or not…
---
5. Urban Vines Winery and Brewery
Reserve a see-through heated igloo and spend time "outdoors" in the winery with a glass of one of their award-winning wines. The igloos can be rented for 2 hours at a time. Check out their website for booking and reservations or call the winery at 317-763-0678.
---
6. Indianapolis Symphony Orchestra
Love is in the air and you can feel it at the Herbert Circle Theater the weekend prior to Valentine's Day! The Doo Wop Project is in town February 10th and 11th as a part of their Coffee Pops Series. The group will perform "some of the greatest music in American pop and rock history," with songs from The Temptations to Michael Jackson to Jason Mraz.
---
7. The Rathskeller's Valentine's Day Dinner Dance
The Rathskeller will throw their annual Valentine's Day Dinner Dance on Saturday, February 11th 6:00 pm. The night includes a three-course meal and champagne toast! You also get to see a live performance by Six Foot Blond. Call them at 317.636.0396 to purchase your tickets for a fun night out.
---
8. LoveStruck 5K
If you and your valentine are runners, celebrate your love for eachother and fitness during the LoveStruck 5K on Sunday, February 12th at 10:00 am. The 5K begins at Brother's Bar & Grill in downtown Indianapolis and you can pick your race division – IndySingle 5k, Taken 5k, or Couple 5k. Registration ends January 31st, and you can click here for more information on the event.
---
9. Charcuterie Board Date Night
This one pretty much explains itself. Check out our round-up of local charcuterie businesses to order from to have an intimate date night with your Valentine. And if you are unable to find a sitter and have little ones running around causing havoc while you're on your date, so be it. At least you have fancy cheeses and meats!
---
10. LouVino's
LouVino on Mass Avenue has two events this year! First, they invite you to join them starting on Tuesday, February 7th for five nights of Galentine's Week celebrations. They are offering a three-course meal for $40 per person. Second, they invite you to join them on Tuesday, February 14th for a Valentine's Day Dinner, a night to celebrate your love. You will enjoy a romantic four-course Valentine's Day prix fixe menu for $85 a person. Bon appetit!
---
11. The Nickel Plate Express
Take a romantic 90-minute round-trip excursion through Hamilton County on the Valentine's Day Express! Limited tickets are available for Tuesday, February 14th with multiple seating options for you and your valentine.
---
12. Garfield Park Arts Center
The Garfield Park Arts Center has two upcoming events for Valentine's Day that you won't want to miss! The first event is family-friendly, where you can create Valentine's Day-themed crafts. The Valentine's Family Craft Day is on Saturday, February 4th from 12:00- 2:00 pm. And the Valentine's Art Night Out is on Saturday, February 11th from 6:00-8:00 pm. This event is for a fun, non-traditional date night where you and your significant other can create art while listening to live music.
---
13. White Rabbit Cabaret
If you are looking to be a bit more risque this Valentine's Day, check out the White Rabbit Cabaret for an evening of striptease fun. Check out their event page to purchase tickets for their Burlesque Bingo Bango Show (Lover's Edition) on Tuesday, February 14th from 8:00-1:30 pm – it will be a unique date night you won't forget.
---
14. Netflix and Chill
Seriously, if you have a babysitter, lock yourself up in your room with some good takeout, make the sitter put the kids to bed and relax for a couple of hours, and don't feel guilty about it. Ever.
 Share with us! What's your favorite date night idea around the city?