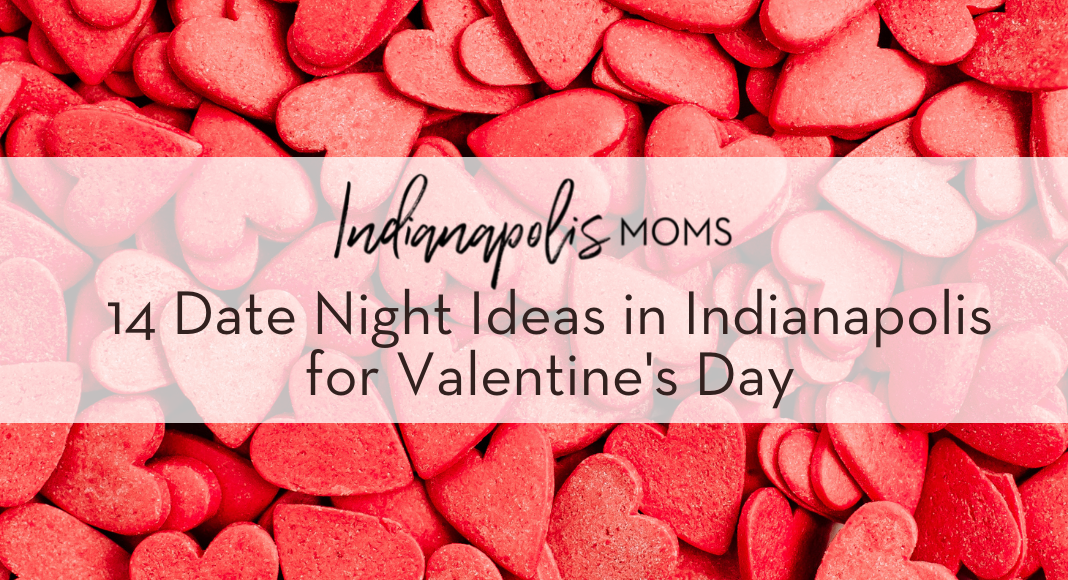 Did you score a babysitter for Valentine's Day and are looking for something to do to celebrate? Here are fourteen things you should check out for Valentine's Day in Indianapolis!
1. Milktooth
Get your tickets for Valentine's Day dinner at Milktooth and enjoy the tasting menu by Chef Esteban Rosas. They currently have tickets available for their 5:30 pm seating, so snag them now before they sell out!
---
2. Galentine's Day at St. Joseph Brewery
Celebrate with your girlfriends on Galentine's Day, a holiday made famous by the show Parks & Recreation. On February 10th, head to St. Joseph Brewery from 6:00 – 10:00 pm. For $17, you get: one beer ticket, a waffle with toppings available, and supplies to create a Galentine for you or someone special in your life! Or you can choose to create a Galentine to be hand-delivered to a child at Riley Hospital for Children.
---
3. Field Brewing Valentine's Day "Paint Night"
On Wednesday, February 9th, grab your significant other or best friend and paint!
Tickets
are $25 and the event is from 6:30 – 9:00 pm. The night will be made possible by Zach Lowe Fine Art Experiences.
---
4. Indianapolis Art Center
Have a date night at the Indianapolis Art Center in Broad Ripple! On Valentine's weekend, they are offering multiple "Make It Take Its" classes, including making handmade glass hearts, wine racks, watercolor painting, and using the potter's wheel (that scene from Ghost comes to mind here). Check out their calendar to book your class.
---
5. Urban Vines Winery and Brewery
Reserve a see-through heated igloo and spend time "outdoors" in the winery with a glass of one of their award-wining wines. The igloos can be rented for 2 hours at a time. Check out their website for booking and reservations or call the winery at 317-763-0678.
---
6. Indianapolis Symphony Orchestra
Love is in the air and you can feel it at the Herbert Circle Theater this Valentine's Day! The Indianapolis Symphony Orchestra will perform an intimate concert as a part of their "Pops Series." Canadian Jazz singer will serenade couples by singing some of Nat King Cole's famous hits as well as other popular romantic songs.
---
7. The Rathskeller's Sweetheart Dance
The Rathskeller will throw their annual Sweetheart Dance on Saturday, February 12th from 7:00 – 11:00 pm. The night includes a three-course meal and champagne toast! You also get to see a live performance by The Grabow Band. Call them at 317.636.0396 to purchase your tickets for a fun night out.
---
8. Brown County Playhouse
Take your date to Brown County for a getaway and dance to some jazz! The Brown County Playhouse in Nashville, Indiana will be hosting the "Valentine's Day Deluxe" with the Indianapolis Jazz Orchestra. Check out their event page for more information and have fun dancing the night away.
---
9. Charcuterie Board Date Night
This one pretty much explains itself. Check out our round-up of local charcuterie businesses to order from to have an intimate date night with your Valentine. And if you are unable to find a sitter and have little ones running around causing havoc while you're on your date, so be it. At least you have fancy cheeses and meats!
---
10. LouVino's
LouVino on Mass Avenue invites you to join them on Monday, February 14th for a classy date night to celebrate your love. You will enjoy a romantic four-course Valentine's Day prix fixe menu for $85 a person. Check out their Facebook event page for more details on the menu. Bon appetit!
---
11. The Nickel Plate Express
Take a 24-mile, 75-minute round-trip excursion through Arcadia, Atlanta, and Cicero. You have 3 options Valentine's weekend, a Mimosa brunch trip, a wine-tasting ride, or a beer sampling adventure! Tickets are available for Saturday the 12th and Sunday the 13th.
---
12. Garfield Park Arts Center
The Garfield Park Arts Center has two upcoming events for Valentine's Day that you won't want to miss! The first event is family-friendly, where you can create Valentine's Day-themed crafts. The Valentine's Family Craft Day is on Saturday, February 5th from 10:00 am – 12:00 pm. And the Valentine's Art Night Out is on Saturday, February 12th from 6:00 – 8:00 pm. This event is for a fun, non-traditional date night where you and your significant other can create art while listening to live music.
---
13. White Rabbit Cabaret
If you are looking to be a bit more risque this Valentine's Day, check out the White Rabbit Cabaret for an evening of striptease fun. Check out their event page to purchase tickets for their Crying at the Disco: A Tender Burlesque Review show on February 12th for a unique date night you won't forget.
---
14. Netflix and Chill
Seriously, if you have a babysitter, lock yourself up in your room with some good takeout, make the sitter put the kids to bed and relax for a couple of hours, and don't feel guilty about it. Ever.
Share with us! What's your favorite date night idea around the city?