Winter is coming! I don't know about you, but I am slightly dreading that cooped up feeling I get during the winter. I crave family outings, especially enjoying a meal outside with my family. And we are in luck – a growing list of restaurants have found creative ways to rev up their outdoor dining year round. See Circle City with us and check out our round-up of local restaurants in the Indianapolis area that offer comfortable winter outdoor dining. Don't miss your chance to enjoy one or all of these experiences this winter season! Some restaurants may have a BYOB policy – bring your own blanket.
---
Muldoon's – Carmel
Muldoon's in Carmel is currently finishing construction on their new outdoor dining experience, and I cannot wait to check it out with my family. Their outdoor patio, popular in the summertime, will now have a heated smart pergola. Very cool!
---
Four Day Ray Brewing – Fishers
Four Day Ray Brewing in Fishers is offering an outdoor dining experience on their patio for patrons to enjoy. Though they are no longer doing igloos, you can still enjoy their heated and enclosed patio this winter (weather permitting, of course).
---
Public Greens Urban Kitchen – Broad Ripple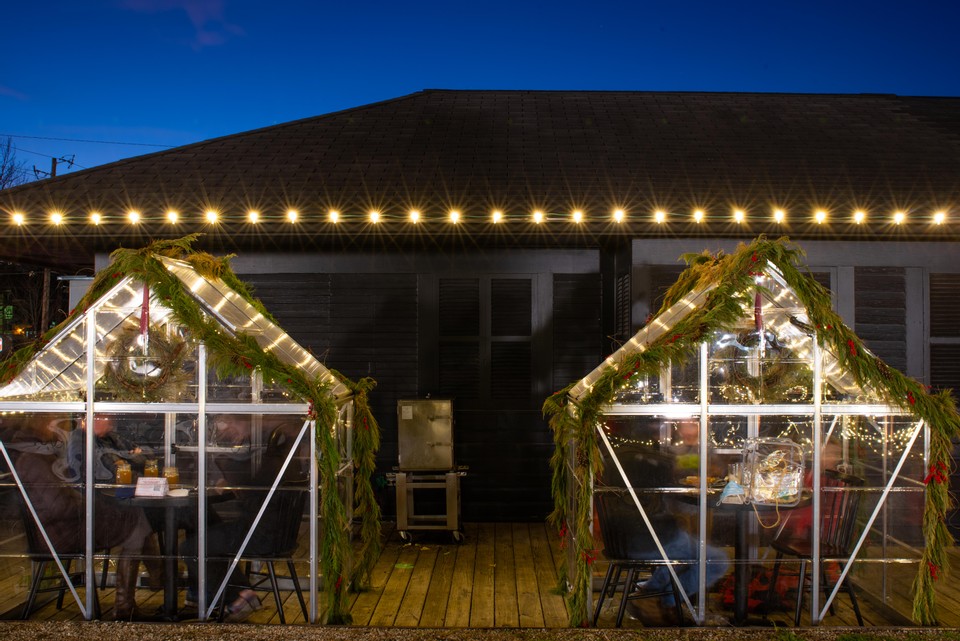 Public Greens, located in Broad Ripple, offers both their patio fireside seats and private greenhouses for brunch or dinner. Both are for first come first serve, according to their Facebook page.
---
Midtown Plaza & Center Green – Carmel
If you find yourself walking through the downtown area of Carmel, check out one of the free igloos available for anyone to use. You can find them at Midtown Plaza as well as Center Green. They are first-come, first-serve but are fully furnished and decorated with lights.
---
Late Harvest Kitchen – Indianapolis
Late Harvest Kitchen is notable due to its popular outdoor patio. The gorgeous patio can be enjoyed all year long – they have heaters for cold weather and you can enjoy drinks around their fire pit. They also have an aromatic herb garden and twinkling lights. It would be perfect for a date night!
---
Field Brewing – Westfield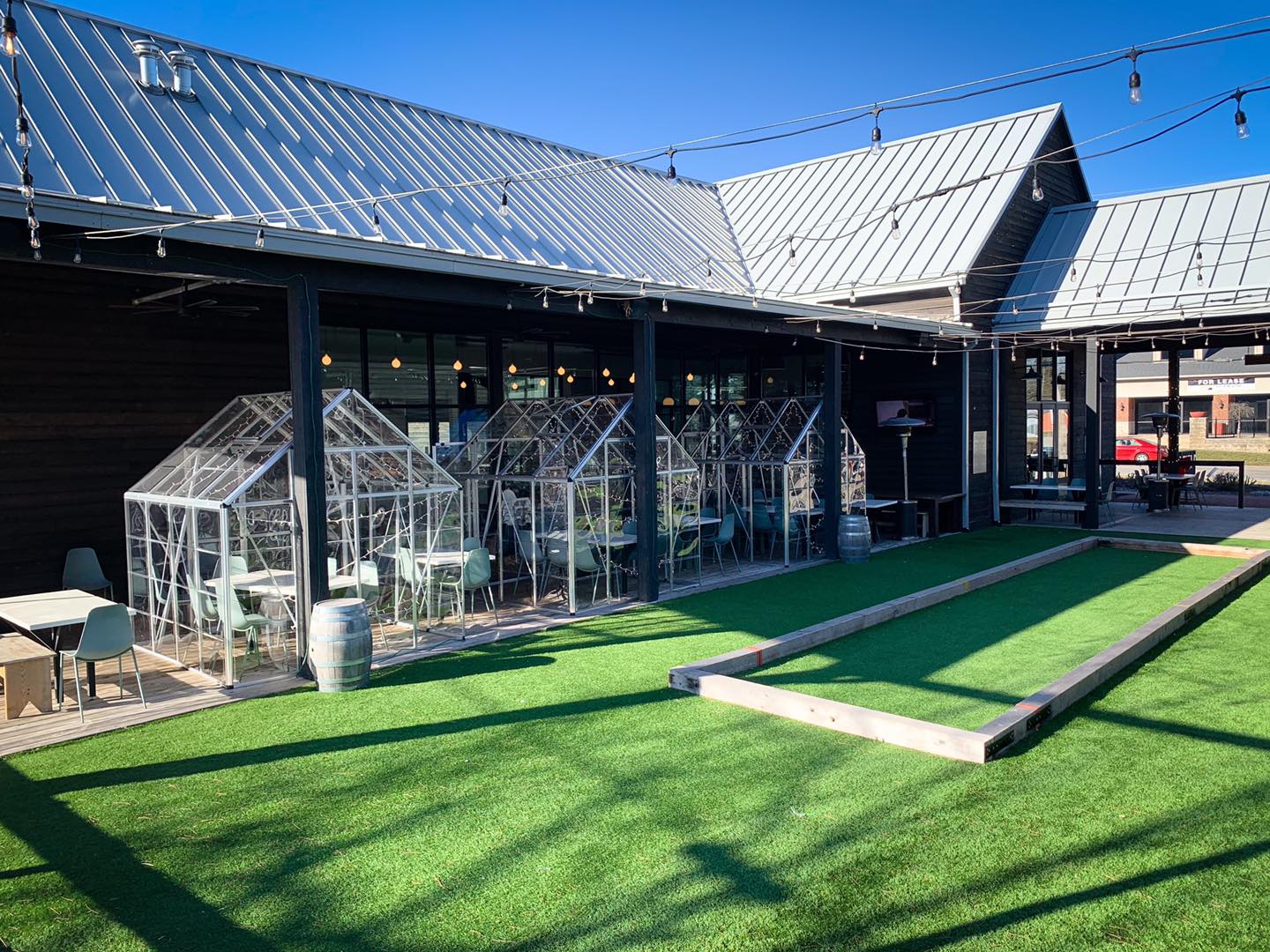 Not just a staple for summertime dining, Field Brewing offers outdoor greenhouse rentals for a fun family dining experience. With spacious seating for six, the heated greenhouses are located on their outdoor patio. Reservations are taken daily for two hours for $40.
---
Spencer Farm Winery – Noblesville
Spencer Farm Winery has yurt rentals this winter, so if you're looking for a fun date night spot or group outing location, get yourself a yurt. Their private yurts hold 6 adults, and they offer reservations for 2 hours for $20. Check out their website for specific hours and their food/drink policy. From their website, "Each yurt is weatherproof, and comes equipped with an electric fireplace, tranquil string lighting, and cushioned seating. For an even cozier experience, bring your own blankets!"
---
Union Jack Pub – Broad Ripple
A fun outdoor dining experience to add to your list is Union Jack Pub in Broad Ripple. They have added two igloos to their outdoor space at their new location, which is across the street from their old location. You can reserve an igloo in 2-hour increments and will fit 5-6 people comfortably. Call 317.257.4343 to reserve today!
---
Urban Vines – Westfield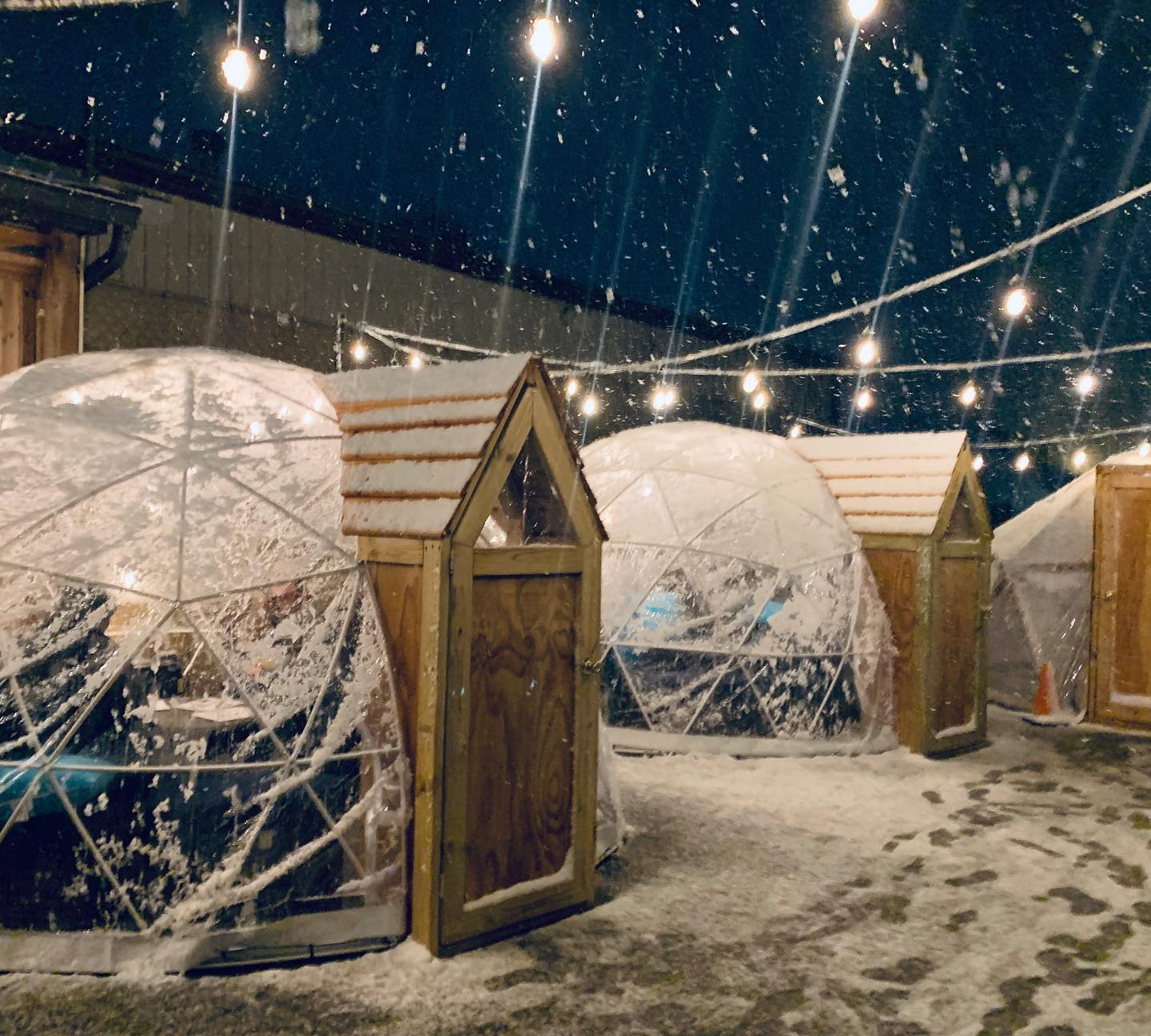 Last but certainly not least – Urban Vines. Considered a veteran in the winter outdoor dining game, Urban Vines offers patrons the chance to relax in their outdoor igloos. Who doesn't love great wine, good company, and your own private winter oasis? The domes are spacious, seating up to eight people, and include a heater, music, and lights.
Share with us! Where is your favorite place for outdoor winter dining in Indianapolis?