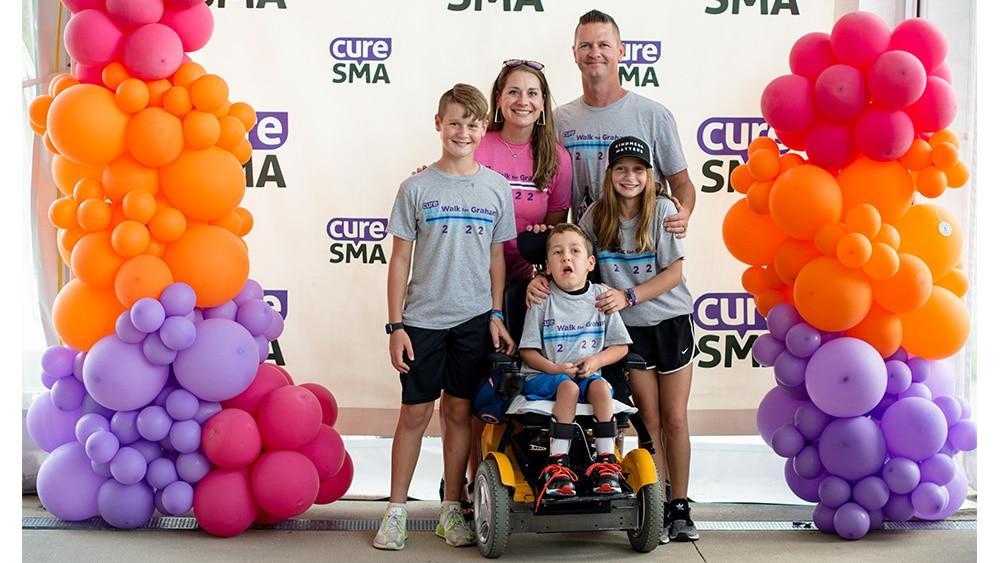 I ring the doorbell, and a young boy, wearing a football helmet, comes cruising to the door. He says hello and then speeds off again, operating his power wheelchair like a pro. You'd never know he was only a month out from a major spinal surgery. One look at him, and it's easy to tell he is a fighter.
I've known Graham Vollmer and his family since 2016, when I had his older brother, Ben, in my first-grade class. Graham's a remarkable kid! He is an avid football and baseball fan, hilariously witty, and one of the strongest people I know. At eight weeks old, Graham was diagnosed with Spinal Muscular Atrophy type 1, a genetic disorder that affects the motor neurons responsible for muscle movement. As a progressive disease, SMA causes extreme muscle weakness and can rob people like Graham of their ability to walk, eat, and even breathe. It is the #1 genetic cause of infant death and currently has no cure.
Graham's mom, Adrienne, sat down with me just a year after his diagnosis. Since many children with SMA type 1 do not live to see their second birthday, Adrienne was unsure what the future looked like or how it would impact the upcoming school year for his big brother, Ben. It was a raw and emotional conversation, and it was evident that Adrienne was determined to keep this from becoming Graham's reality.
At six months old, Graham was enrolled in a clinical trial for Spinraza, an injection that treats the underlying cause of SMA. The drug became the first approved treatment for the disease and has helped Graham continue to fight. 
In 2017, in honor of his second birthday, the Vollmers hosted the inaugural Walk for Graham. It was a joyous celebration that brought masses of people and raised over $80,000 for Cure SMA, an organization that helps fund research projects and support individuals with Spinal Muscular Atrophy.
Since Graham's diagnosis, Adrienne has fully embraced the role of advocate. She fights not only for her son but for other families also experiencing the effects of SMA. She played an integral part in getting Spinal Muscular Atrophy added to the Indiana Newborn Screening. The bill, which passed in 2018, is named after Graham and was signed into effect at the second walk. At the time, only six states had a mandated newborn screen for the disease, a number that has grown to 48 today. 
Walk for Graham continues to flourish each year, rallying support from the community and bringing hundreds of people together. The event's fundraising efforts have doubled in size, supporting research and spurring continued hope of finding a cure. There are now three SMA treatment drugs on the market. So much progress has been made, thanks in large part to donations raised at events like Walk for Graham.
The 2023 event is scheduled for 4:00-9:00 pm on Saturday, August 5th, at Coxhall Gardens. With a massive silent auction, interactive Kid Zone, and one-mile walk-n-roll, there is something for everyone. Those that can't join in person can still participate virtually or make a donation online. Contributions and engagement help raise awareness of SMA and celebrate individuals like Graham, who defy the odds each day.
For more information on SMA non-profit organizations, visit the Gwendolyn Strong Foundation and Fighting for Kaden.