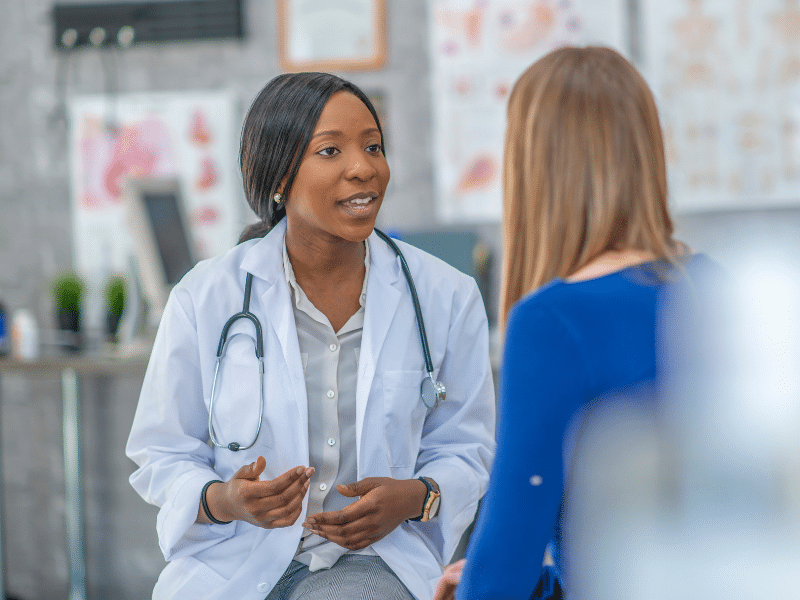 When a new mom is not feeling like herself in the first weeks after giving birth, it can be hard to designate what is baby blues and what is postpartum depression. Your first step in treatment is to talk to your OB/GYN. We recently spoke with Dr. Taylor Sutter and she gave us her perspective as an OB/GYN for IU Health. Dr. Sutter has been with IU Health since 2022 and is joining the growing IU Health OB/GYN practice in Fishers, and we dove into some specifics of postpartum depression as well as what the next steps are when you speak to your doctor.
---
During the six-weeks prior to the postpartum check-up, what are some things we should be looking out for to signal us to reach out to our OB?
Dr. Sutter says there is a wide range of symptoms, and they are very similar to depression symptoms. These include:
Feelings of sadness
Feeling worthless or guilty
Anxiousness
Impaired concentration or loss of interest
Anger
Frequent crying
Appetite issues
Insomnia
Trouble taking care of yourself
Wanting to hurt yourself or your baby
Baby blues are limited to the first two weeks after giving birth, says Dr. Sutter. If those symptoms go beyond those two weeks, reach out to your OB/GYN to begin discussing treatment. "You should not wait until your 6 week checkup to reach out, if you need to," says Dr. Sutter. "The sooner you can get yourself help, the better." IU Health offers both in-person and virtual visit options for convenience. And of course, if you are having thoughts of harming yourself or your baby, go to the emergency room right away.
When a new mom does decide to discuss symptoms with you, what are the next steps?
When a new mom makes the brave decision to discuss postpartum depression symptoms with their OB/GYN, the next step at IU Health is to figure out an individualized plan. Dr. Sutter says these disorders are very common, can be very serious, but she wants to assure new moms that they are treatable. "The most common treatments are therapy and medications, used simultaneously," says Dr. Sutter. During this discussion, therapist referrals are given and medications are prescribed, if they are the right fit. 
Dr. Sutter says its important for new moms to know that many medications are compatible with breastfeeding. If you are hesitant to try antidepressant medication while breastfeeding, your OB/GYN at IU Health can help by giving you all the information you need to help make that decision. Another important aspect of recovering from postpartum depression is support groups and online classes offered by IU Health. Whether it is a local support group or through Postpartum Support International, your OB/GYN will help connect you. IU Health is offering an upcoming class in August called The Fourth Trimester, and if you are interested, make sure to register at the link.
After you and your OB/GYN finalize your treatment plan, you will receive a timely follow-up from your OB to ensure the treatment plan is in place and to make sure you are improving. Dr. Sutter says this follow-up usually happens within a couple weeks.
How common is postpartum rage? Can you describe what this may look like and when it becomes concerning?
Postpartum rage is not talked about often, but many moms suffering from postpartum depression experience violent thoughts and anger. It looks exactly like it sounds, with new moms lashing out at loved ones but not knowing why or how these feelings came on so strongly. It is not a formal diagnosis and there is very little data about it, but it is a common symptom, says Dr. Sutter. "A lot of treatments used for postpartum depression can help in improving postpartum rage, so if these symptoms are causing you distress, reach out to your OB right away."
For those that have suffered a pregnancy loss, what postpartum options are available?
There are many options for help in coping with a pregnancy loss, says Dr. Sutter. After a loss, there will be a close follow-up with your OB. This is highly recommended for not only monitoring your physical aftereffects of a miscarriage, but monitoring symptoms of depression as well. Your OB can provide a referral for therapists that specialize in pregnancy loss or refer you to an IU Health bereavement coordinator, whom Dr. Sutter says are wonderful to work with. Dr. Sutter also recommends two support groups – Pregnancy Loss Support Group and Yoga After Loss.
Dr. Sutter believes that the more people spread awareness and talk about postpartum depression, the better. She is excited to join the IU Health Saxony – soon to be IU Health Fishers – team to grow their practice. As part of a major expansion of the hospital, IU Health will add a labor and delivery department to the Fishers hospital campus, slated to open in 2025. To find an IU Health OB/GYN near you, visit this website.
To read more on our series focused on the fourth trimester, read our interviews with experts Cindy Love and Birdie Meyer!
---
About Taylor T. Sutter, MD
Taylor T. Sutter, MD specializes in Obstetrics & Gynecology for IU Health Physicians Obstetrics & Gynecology. Dr. Sutter earned her undergraduate degree at Indiana University in Bloomington, IN before earning her medical degree at Indiana University School of Medicine. She then completed a residency at the University of South Alabama College of Medicine.
---
Named among the "Best Hospitals in America" by U.S. News & World Report for 22 consecutive years, Indiana University Health is dedicated to providing a unified standard of preeminent, patient-centered care. A unique partnership with Indiana University School of Medicine – one of the nation's leading medical schools – gives our highly skilled physicians access to innovative treatments using the latest research and technology. Learn more at iuhealth.org.