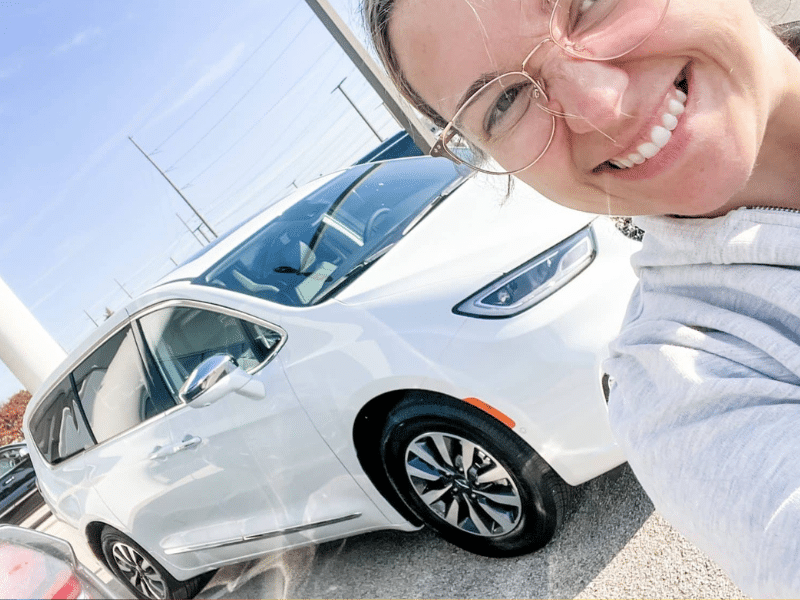 My husband and I recently bought a new hybrid minivan (Chrysler Pacifica), and I have been so excited about it! I'm happy that I'm doing something to help the environment and have less of a dependency on oil. Not only is it a hybrid, but it also runs entirely on electric while the battery still has charge (which is about 25 miles for me)! I can pretty much drive the kids to their separate schools in the morning and back home entirely on electric, and then the car will run hybrid after that, which is awesome, but I'd love to be able to drive more on full electric each day.

It takes about 14 hours overnight for my van to charge at home because we haven't invested in a level 2 charger. With the rise in popularity of electric vehicles, the popularity of public EV charging stations is also growing, so I can try to charge while running errands. Indianapolis may not be cutting edge on environmental technology, but there are a few places around town where you can get a quick charge while you're out and about. There are many more, but here are my reviews of a few I've tried:
Meijer (96th St, Fishers)
★
Meijer is one of the first places I ever saw locally with electrical vehicle charging stations (on their website, it says they started as early as 2010!). This charging station had the most potential to me because I thought it would be great to get a full charge while I shopped for groceries (something I do on a regular basis). However, when I pulled up ready to charge, I was so bummed to find out that none of the chargers were the right type for my van! Maybe other Meijer stores around town are different, but based on my experience with this one store, I give the Meijer EV chargers one star.
Hamilton Town Center
★★★★★
Near Ulta, this Simon Property Mall has three EVgo charging stations available. I was happy to discover that they had the correct charger for my van – yay! This location was great for me because it is close to home and someplace I will spend a decent amount of time visiting, so can get a full charge while running my normal errands. Whether I'm shopping, grabbing a meal, or taking the kids to the playground, I can easily spend a couple of hours at this mall. Thanks to the convenience and how it fits into my normal schedule, I give the EV chargers at Hamilton Town Center five stars.
IKEA
★★★
We all know how long an IKEA shopping trip can take, so why not charge your vehicle while you're shopping in the giant warehouse? I didn't see these stations on the map, but there are a couple of charging stations in the middle of the front section of the parking lot that are in the ChargePoint network. The first time I tried, the stations weren't working (I stayed in the close parking spot despite that, because why not?). On my next IKEA visit, I tried again, and it worked! Each trip to IKEA is a great opportunity for a charge, but since I'm not visiting IKEA on a regular basis, I give the EV charging station here three stars.

Fashion Mall at Keystone
★★★★
When I used to go to the Fashion Mall, I would park in front of Starbucks or the parking garage attached to Nordstrom and, honestly, didn't even realize there was another garage by Saks. When I was searching for local EV chargers, though, it showed me one in this garage so I went to explore this new space! I easily found the garage (how had I missed it previously?!) and the charging stations, hooked up my car, and started the charge! With young kids, I don't spend a lot of time taking long trips at this mall but otherwise, this charging experience was great. I could probably even park here and walk across the street for brunch at Patachou. I give the EV chargers at the Fashion Mall four stars.
Indianapolis Zoo
★★★★
On our first trip to the zoo this summer, I discovered an awesome parking spot with a charger – woohoo! I quickly connected, and we hurried into the zoo (ps. Have you seen the new entrance?!). I was so excited that we'd have a full charge after this zoo trip! After we enjoyed our visit and walked back to our car, I realized it didn't charge a single bit. What. Hopefully, I'll have better luck next time. I'm sure I did something wrong, so I'll give the Zoo the benefit of the doubt and give their EV chargers four stars.
I still have many more to try, but these were a great start! If you have any recommendations, put them in the comments with your reviews!