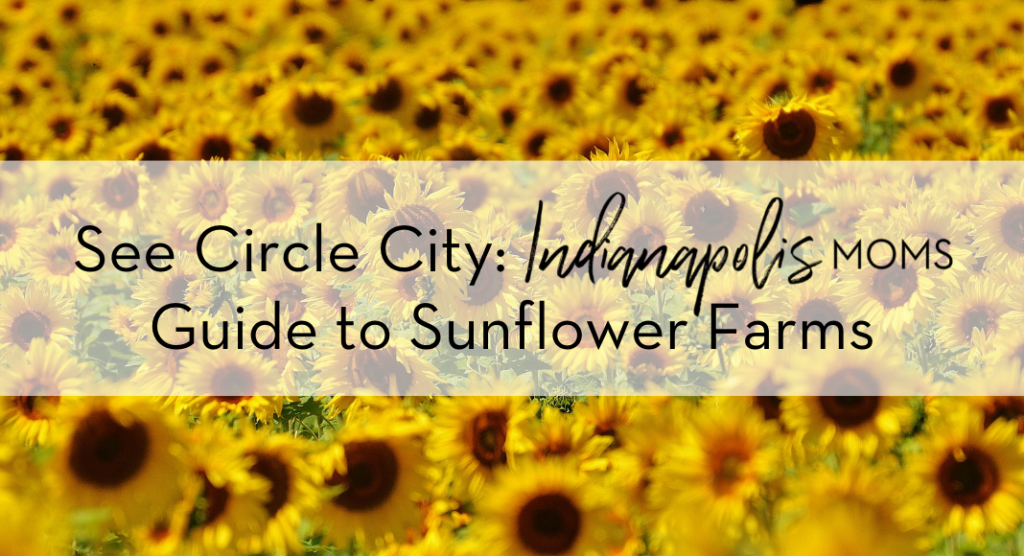 When I think of summertime, I think of berry picking, splash pads and pool time, and the constant laundering of beach towels. I also think of flowers – bright and beautiful flowers that lift our spirits and make us happy. Sunflowers are a staple of summertime, especially a field of sunflowers, where they grow above our heads as they naturally lean toward the sun. Indianapolis has many sunflower farms that you can visit on a nice summer day! See Circle City with us – here is our roundup of local Indianapolis sunflower farms.
---
Spencer Farm – Noblesville
First on our list of Indianapolis sunflower farms is Spencer Farm. Spencer Farm's sunflower experience is open and more beautiful than ever. Check out their Facebook page for updated information daily. Spencer Farm planted these sunflowers for you to explore, take pictures, and cut flowers for an additional cost. The blooms are estimated to last through the end of July, so get over there as soon as possible! Also, they offer sunflower photography, allowing photographers to bring families to five designated spots for family photo sessions. For more information and to book, click here.
Their hours are 9a-6p Monday thru Saturday, 12-6p on Sundays. And as always, while you are there, be sure to stop by the farm store for a generous selection of additional produce and sweet treats.
---
P&D Flower Farm – Indianapolis
P&D Flower Farm, located in the country on the southeast side of Indianapolis, grew from a hobby into a thriving business. Now people from all over come to walk their farm and pick flowers for their "U-Pick, We Wrap" purchases. They have many flowers in bloom, including sunflowers! If you choose to u-pick the sunflowers, they are limited to 6 flowers per person, and their $5 entrance fee will go toward anything you choose to purchase.
Their hours are 10a-6p Friday thru Sunday. Visit their Facebook page for updates.
---
Tuttle Orchards – Greenfield
Tuttle Orchards' Sunflower Meadow opens in early August, and this anticipated experience will allow families to explore a one-way trail through four acres of sunflowers. The sunflowers are estimated to bloom on and off through mid-September. Tickets also include the Tractor Town Kids Play Area and cutting your own sunflowers in a separate area at $3 per flower (including tax). After you cut your flowers, you will have access to a self-service wrapping station.
Check back for hours when the Sunflower Meadow experience opens. Advance timed tickets must be purchased online – you can purchase tickets here when available.
---
Beasley's Orchard – Danville
Now that their raspberry season is finished, Beasley Orchard is planning other events and u-picks for the rest of the summer. Their Sunflower Festival will be held this year from July 23rd-31st. They have planted sunflowers on seven acres for you to roam, pick sunflower blooms, and take photos during golden hour.
Their hours for the Sunflower Festival will be 9a-6p.
---
Stuckey Farm – Sheridan
Stuckey Farm has joined the sunflower craze this summer with their Sunflower Festival, to be held September 2nd-5th and 9th-11th. I want to check this out with my family! They have seven acres and over 30 varieties of sunflowers to explore and offer photo opportunities throughout your experience.
There are two ways to purchase tickets to the Sunflower Festival, either on their website or via their mobile app (saves you $2 per ticket).
---
Conner Prairie Sunflower Fields – Fishers
This outdoor experience at Conner Prairie is available for a limited time coming soon. Explore the three acres of sunflower fields while it lasts! And while you are there, head to their museum store to check out their fun sunflower-themed items for sale.
We hope you get a chance to enjoy these beautiful sunflower farms in Indianapolis this summer. Make some memories, pick yourself a lovely bouquet, and enjoy the beautiful summer days while they last.
Share with us! Where is your favorite place for sunflowers in and around Indianapolis?