Oh, marriage is a funny thing. Sometimes it's full of romantic dinners, other times it's being knee deep in dirty diapers. Marriage is full of ups and downs, and we've got to sear that into our elated brains as we walk back down the aisle after saying "I do" to those vows about sickness and health, for better or for worse as we're all dressed up in our finest and surrounded by gifts and well-wishers. Because for better and worse will come.
My husband and I did an overhaul cleaning project of our entire house earlier this week. After a long time of sorting through kids' laundry and cat litter and dirty dishes, we just weren't havin' it anymore. We scanned through Spotify, and ended up putting on my playlist titled "2004". And as we were rocking out to the likes of Blindside and Anberlin, all our old Christian rock bands, we laughed at ourselves and said "Yup, 2017 is proving to just be too much. We're reverting."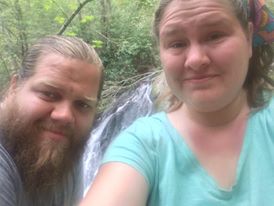 Reflections
We were cracking up at each other as we belted out the words to the songs that meant so much to us back at the end of our high school years – the summer we really fell in love on a backpacking and mission trip. But were we really reverting, or were we reflecting?
We realized it a few days later, as we started playing songs from 2006 and 2007 for each other, the year we began dating and the year we got married. We weren't reverting – we were reflecting. Through that music we were reflecting on our marriage and our time together.
Ten Years of Marriage
August 4 is our tenth wedding anniversary. We have been married for ten years. Through music, we had begun reflecting over our years together before we even realized it – the songs and music causing us to think back over our time together – the joys, the sorrows, the triumphs, and the losses, the better and the worse, all over those ten years of marriage.
Every once in a while, over the years, I have glanced up at the portrait of us on our wedding day on August 4, 2007 that hangs in our family room. I gaze up at it in remembrance, taking in the looks on our faces. We were so happy. I think again, even as I look across the toy-strewn and dog hair-covered room, we are happy. My husband and I are still happy together. I still think of him in giddy, butterfly-in-the-stomach kinds of ways. But inevitably, I look at my face in the photo and a pang of hurt hits me in my stomach and I think of myself in that moment, not knowing the hardships that were to come.
For Better or For Worse
When we say, "for better or for worse" in wedding vows, we better mean it, folks. Because better and worse will come in marriage. Ben and I have been through "worse" in the worst kinds of ways. But because we took those vows seriously, because we vowed to love each other in sickness and in health, we have made it these ten years. We have survived severe bouts with my mental illness. We've come through two miscarriages and deaths of close family members. We've come through "for poorer" too many times to count. But we count the "for richer" as the love in our lives – for each other, our children, our families and friends. I think of how my husband and I truly have loved each other all these years. We have two beautiful children from our love for each other, and they have shared in our love, as well.
Marriage = Life Together
So, as I write this and I listen to old school Christian rock, I think of the times we shared in the past. I think of the times we share now, and I am confident that we will make it in the future. I often think of how much we are suited for each other. We both agreed our honeymoon had to be spent in a cabin in the mountains and hiking on the Appalachian Trail, and our ten-year anniversary trip in May was spent the exact same way. I think of how he and I choose to wander around the library and go for long drives listening to Broadway music when we are kid-free, and we are both content with that. I think that even as we begrudgingly deep clean the house together, we can be happy side by side as we blast Underoath.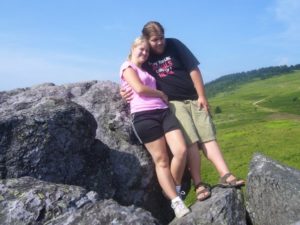 I don't know if you believe in soulmates. But now, after ten years with Ben, even though they've been harder than I ever could have imagined as I grinned in my wedding photos, I believe in soulmates.
We will likely spend our ten-year anniversary in a low-key way, but that's us. He's my simple man. We'll probably spend it making dinner at home, and watching The Dick Van Dyke Show with our kids and our dogs begging for food at our feet. You know, life. Because that's what we got into this for – life together. For better or for worse, ten years ago, and however many more, till death do we part.