I have a deep love for beauty products. While I'm not what I'd call a "girly girl," in that I will go almost anywhere in yoga pants and almost never wear high heels, I've lost hours and hours of my life to Target's make-up and nail polish aisles. And I don't regret those hours one bit.
Since becoming a mom, I've had to adapt my beauty routines a bit, but because I have never been one to spend hours getting ready anyway, I found my habits didn't have to change too much. After getting home from the hospital, I was surprised to find that giving myself a manicure was one of my favorite ways to relax, and my nails were almost always nicely polished during those newborn weeks. In caring for a baby, you look at your hands a lot: nursing, changing diapers, changing clothing, and staring down at the tiny creature in your arms. Keeping my nails looking nice helped me feel more like "me" when I felt like I was surrounded by the ruins of my former life.
When I went back to work at 13 weeks postpartum, a full face of makeup helped me feel confident despite my sleep-deprived brain and 20 extra pounds of baby weight.
Here are my top five favorite beauty and self-care discoveries since becoming a mom: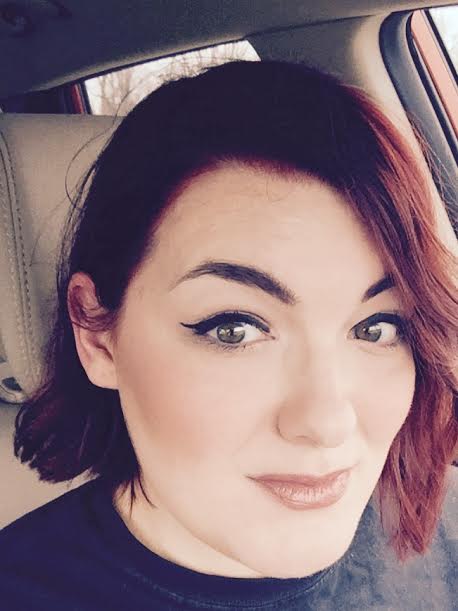 Using corn starch and cocoa powder as dry shampoo. I'm not sure where I discovered this tip, but corn starch mixed with cocoa powder is a cheap and extremely effective alternative to dry shampoo. And, since it's not pure white, it blends into my darker hair much better. I simply dust it on with a big fluffy brush. I can get away with shampooing my hair only twice a week with this method.
Creating beachy waves with my straightening iron. By now you have probably seen tutorials on how to use your hair straightener to curl your hair, and while I am far from perfect at it, I can do a passable job. I have thinish, frizzy hair, and I used to need both a straightener AND a curling wand to get decent-looking hair. By figuring out a simple method of straightener curling, I can turn my hair from heinous to acceptable in literally three minutes.
"Dry shaving" my legs. I don't know about you, but I don't have time to shower every single day, much less shave my legs every day. I've found that for some reason, when I shave my legs at the sink instead of in the shower, they stay smooth for at least a day or two longer. I wet my legs with warm water, apply a thick coat of Aveeno shaving cream, and shave away. I light rinse and towel dry, then apply some oil-based body lotion. This helps me get a much closer shave than in the shower for some reason. (Note: This won't work well for everyone. A friend of mine has very coarse leg hair and told me she would get really bad razor burn if she tried this. If you tend to get razor burn easily, this tip might not be for you.)
 Finding a couple go-to palettes. One of my best friends gave me the Coastal Scents Revealed palette as a gift a few years ago, and I think it's much better than any of the Urban Decay palettes, and it costs half the price. This palette has tons of great neutral eye shadows.
I use the shadows for my eyes, to fill in my brows, as eyeliner using a wet angle brush, and I even sometimes use the opaque taupe color to contour my cheekbones. I'm also obsessed with the Maybelline FaceStudio master contour palette, which has blush, bronzer, and highlighter in one palette.
(I somehow scored this palette for $1.69 at Target; I'm pretty sure it was mismarked, but let's just keep that between us.) With the Revealed palette and Maybelline palette, I can do a full face of make-up with literally five products. When I'm frantically applying make-up each morning, the less time I spend digging through my make-up bag, the better.
The five-minute manicure. I don't have the time or money to get my nails professionally done. Here is my process: I remove my chipping nail polish then use a sugar scrub to get off some dead skin. Then, I use nail clippers to trim my nails and shape them. (I hate long nails. Ain't nobody got time for that.) Then I apply a thick hand cream and use my thumb nail to push back my cuticles. Next, I swipe some nail polish remover over each nail to prep it for polish. Then two coats of polish (I've been loving Essie's Sand Tropez lately) and a coat of Sally Hansen MegaShine. My nails are dry in two minutes, and my manicure looks good for at least four days. I'll take it. 
These tips have helped me feel good about myself during the biggest physical transformation of my life thus far. So tell me–what helps you feel like YOU?