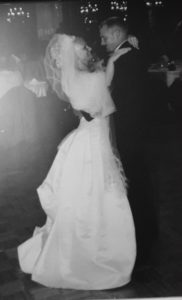 Today is our 13th wedding anniversary and we both almost forgot! Last week leading up to our anniversary was crazy for us—it's my husband's busiest time of year at work and I was in Dallas for a few days for work. We had to figure out how to juggle our boys around to their grandparents who would get them to school and their after school activities (not to mention I had to pre-pack all of their clothes and leave instructions because it was spirit week at school—so Hawaiian leis and 80's sunglasses were packed with their essentials). Also, we had to make sure someone could feed and let our 2 labs outside since my husband was working super long hours. Ugh, organized chaos.
Since our anniversary is on a Monday this year, we decided we would go out the Saturday before. However, we both forgot we talked about doing that a while ago and on Saturday we asked his parents last minute to watch the boys for a couple of hours so we could go out to dinner. Again, chaos. We did end up going out to dinner and enjoying the evening just the two of us (and even secretly stopping by Orange Leaf for dessert and not telling our boys, lol).
So, Monday morning rolls around and my hubby kisses the kids goodbye as he's headed out the door for work and I'm getting them ready for school. He kisses me goodbye and starts to head out the door, when I so sweetly tell him, "Happy Anniversary, babe." Poor guy. He felt so bad…I then got a bigger kiss and hug and an apology. But, I don't need an apology. Our life has been so busy that I'm not surprised he forgot the actual day (it was a Monday, after all!) He did come home that evening though with flowers for me and we did have a nice evening together that weekend before.
All I'm saying is cut yourself and your hubby some slack if you're not celebrating your anniversary like you would have years ago. You know what, you should choose to celebrate your marriage every day in little ways like telling your hubby when he looks extra handsome or him telling me how much he appreciates all that I do for him and the boys. Just don't forget about each other. My husband is my best friend and when our kids are grown up it will be just the 2 of us again and we'll miss our boys being little. Life with kids is organized chaos and I wouldn't want to do this chaotic life with anyone else. Through every season of our lives, I am so grateful to be married to that handsome husband of mine. Happy Anniversary, babe. I love you and our life we have made together.