I come from a fairly large family. With more cousins than I can count on my fingers and toes, family and connectivity is something that is near and dear to me. That said, I'm pressed about holiday traditions. SO pressed. From my mother's famed greens, to my grandmother's sweet potato pies (now made by my cousin), to the epic Scrabble battles that take place around the table, I am a lover of the foods and traditions that make my family unique.
If you read any of my posts, you already know that food is a connector for me, as it is for so many others around the world. I love how food can bridge a gap for people. Just this past week, while delivering a card to my neighbor, I learned that she is from the same town as my grandparents. How did I learn this? While sharing a tasty dessert. Traditions. Connections. They go hand in hand.
Eight years ago, my husband and I started our own Christmas morning tradition. That year and every year since, we've host Christmas brunch for my family. The table is set, the Christmas music fills the air, the scent of sweets will just about knock you over when you walk in the door. I live for this morning. It has become our thing. A tradition, seeped in good food and tasty beverages. It's not Christmas morning without my family gathered around, laughing, sharing in the goodness of what matters most.
I'd love for you to share what holiday traditions make your family unique in the comments. And while you're here, grab a recipe for a dish I plan to add to our Christmas brunch menu!
Wishing you good eats, happiness, and all the love this holiday season.
Butter Pecan Bread Pudding Minis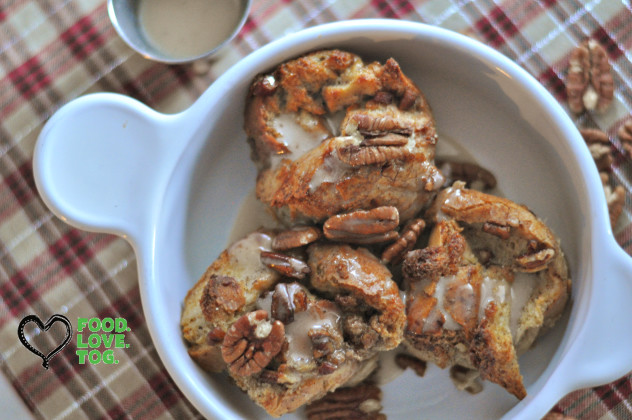 Yields 12
Creamy, Hearty and filled with pecans, enjoy this take on a classic dessert.
Ingredients
1 large day old baguette (Cubed)
Half Stick of Butter (Melted)
1 Cup Chopped Pecans
4 Eggs, beaten
2 Cups Half & Half
3/4 Cup Brown Sugar
1/2 Teaspoon Cinnamon
1+ 1/2 Teaspoons Vanilla Extract
1 Teaspoon Pecan Extract
1/3 Cup Milk
2 Cups Powdered Sugar (Sifted)
Cooking Spray to Coat
Directions
Pre-heat oven to 350 degrees
Coat a 12 count muffin tin with Cooking Spray
In a large bowl combine Beaten eggs, Half & Half, Brown Sugar, Cinnamon, Melted Butter, Pecan Extract & 1/2 Teaspoon of Vanilla Extract. Mix Well.
Fold in Chopped Pecans.
Combine pudding with cubed Bread and allow mixture to coat bread thoroughly.
Ladle pudding into muffin tins.
Bake at 350 degrees for 42-45 minutes until golden brown or center is set and a inserted toothpick comes out clean.
While bread pudding bakes, Mix Powdered Sugar, Milk and Vanilla Extract to make sauce. Whisk completely until smooth and glossy.
Remove Bread Pudding Minis from muffin tins.
Serve warm with a drizzle of Vanilla Glaze. Garnish with extra pecans.
Enjoy.
For even more great recipes, visit Foodlovetog.com!