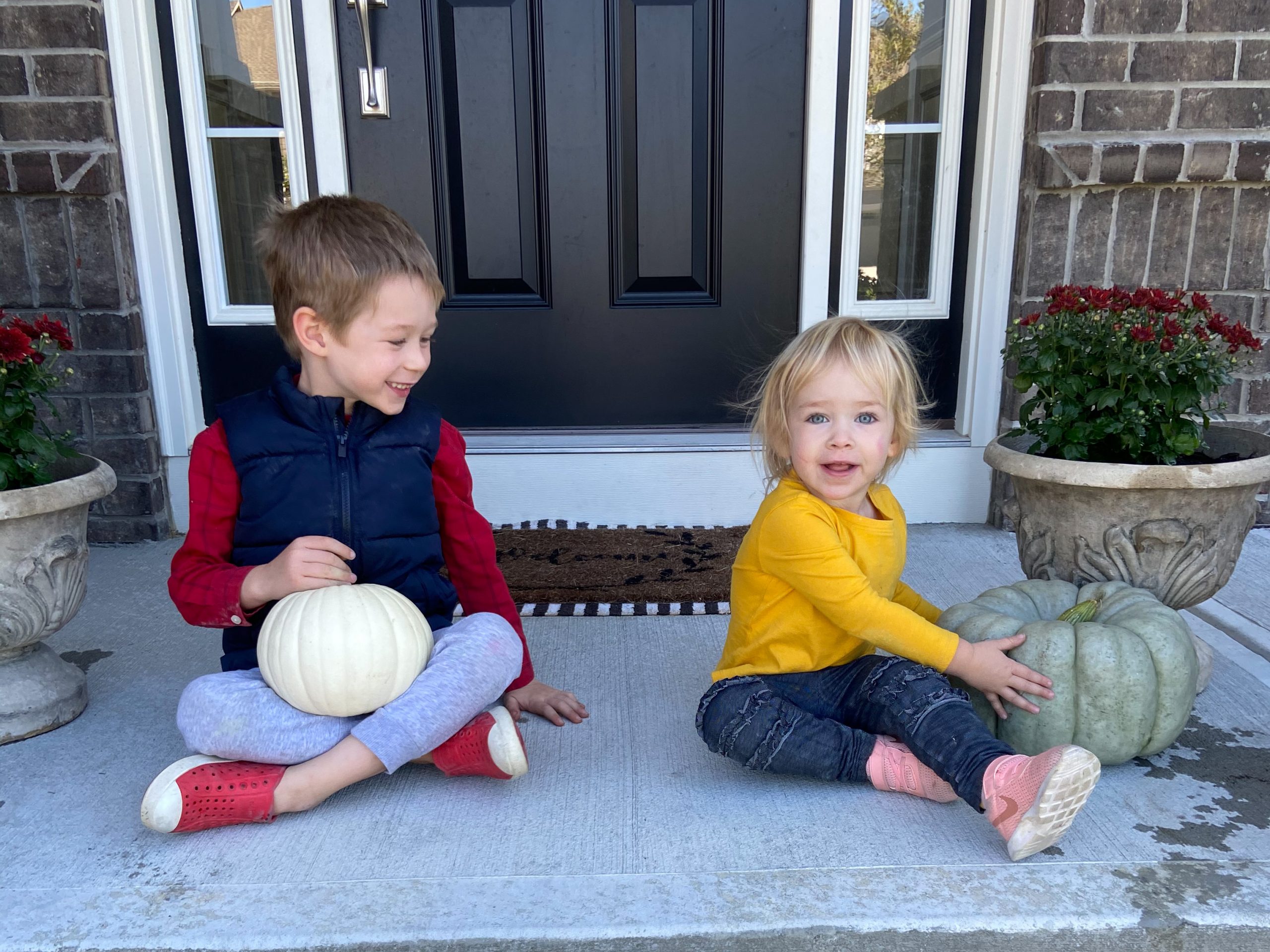 We've finished our breakfast, changed out of PJs, and thrown on our coats. I slide the back door open, and the kids and dogs go running, like we've been trapped indoors for weeks, and not just since we came in for bedtime last night. The sun is shining, the leaves are falling, and suddenly my 5 year old jumps in the air, screaming, "It's FALLING!" He throws a handful of orange and yellow leaves in the air, "It's happening!" Fall is here.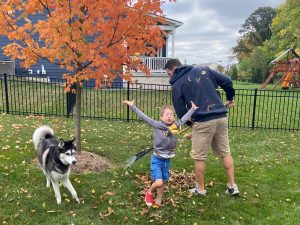 Fall is a favorite season in our house – I would say the favorite season, but I pretty sure my 2-year-old doesn't have enough data to decide yet.
While we love so many things about this season, it also means there will be a fair share of cold and rainy days that keep us indoors and with a global pandemic, options are a little limited this year. With small kids, this often leads to lots of people in close quarters, lots of energy from reducing our time running around outside, and lots of emotions with the excitement and anticipation of Halloween, Thanksgiving, pumpkin patches, and all the fun to come. We've found that keeping a few seasonally themed crafts and activities on-hand, can help for those days where energy levels are running high, and also provides something new to look forward to when the same old toys aren't cutting it.
Halloween and Fall Activities for Little Hands
Transitioning your home. Ok, this isn't really a groundbreaking "fall activity," but it's one of my favorite moments each year. Find a time the kids aren't around – maybe it's nap time or when they are at school or outside for a bit. Use this time to decorate for fall. When my kids get home from daycare, they love running around from place to place and pointing out every tiny detail I've added. It doesn't have to be big or expensive, just a few small pumpkins or a Halloween decoration or two in various places. Turn it into a game or a scavenger hunt, or hide a few to be found later.
Fall scavenger hunt. We love doing this outdoors and exploring new places so mom and dad can get a walk in and our kids have some distraction. You can find a variety of lists online or make your own! We like to take a bucket for collecting and find things by color. My son's favorite task is to find leaves in as many colors he can – red, orange, yellow, green, and chocolate (what he calls it – I call it icky brown and dead).
Crayola Halloween coloring and games. Crayola has tons of free printables including mazes, coloring pages, Bingo, and something called a message game, which when I was growing up was called a cootie catcher. We've spent hours on these and have used the message game to work on my sons math and reading, and my 2-year-old's counting skills.
Leaf art. If you haven't noticed yet, we love fall leaves. They frequently end up in pockets, in the laundry, our dryer vent, closet, shoes, and everywhere in between. It's a blast. So, having a focused purpose for where all these leaves go, is always welcome. Insert: leaf art. Leaf rubbings are a great activity that even our 2 year old can get in on. Just put a paper over your leaf, grab a crayon, and rub across the leaf area. Try to find leaves with heavy veining for the best results. We also love glue – another wonderful (messy) way to use some leaves. Print a tree, or draw a trunk, color it in, and then glue your multi-colored leaves on top. You can also glue different colored leaves to make a leaf rainbow or any other design. Below is my son being goofy holding one we did last year with handprints and paint – I guess we just like messy things.
Spooky monster mix. Our 5 year old loves helping out and loves to help with small cooking tasks. This is a great way to keep little hands busy and reward yourself with a treat. You can use any types of mix-ins you'd like, but this year we used lightly salted popcorn, peanut butter candies, mini marshmallows, pretzel sticks, and candy eyeballs. Just mix your snacks together, melt some white chocolate with a little vegetable oil (I used 1 bag of white chocolate chips with about 1 tablespoon of oil), pour over the mix, and spoon flat into a lined baking sheet. Let it harden, then break up as needed. Store in an air-tight container. You can also add in candy corn, sprinkles, or anything else! Everyone has a version of this, so find one that sounds good and works for you! It's also very versatile. We have a family member who makes a Christmas version every year and I've even seen some for Spring and Easter! Just swap the peanut butter candies for a color appropriate candy.
Hopefully, a few of these are new to you or spark some ideas you haven't thought of yet. There are also always the usual activities like painting or carving pumpkins, decorating Halloween cookies, or toasting pumpkin seeds. This year we aren't really sure what Halloween is going to look like but we're trying to keep the kiddos excited and positive. We may run out of ideas, but there's always a giant glove and hat bin that needs to be matched and sorted before winter!