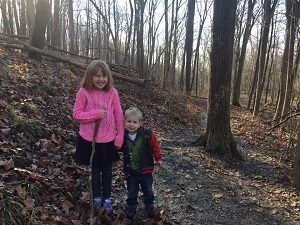 "It's all good in the woods." This is one of my favorite sayings, simple, even silly, but I love it because for me, it's true. I remember a friend saying it on my first hiking trip to the mountains when I was in high school, but upon returning to Indiana, I thought I'd have to leave the peace of the woods behind in the hills. Growing up in the suburbs of Indianapolis, I didn't think there were any real "woods" in Central Indiana. Little did I know!
Hiking in the City
My husband and I are adventurers, but we're also rooted in Indianapolis and therefore live nowhere near any mountains. But that doesn't mean that we city-dwellers can't experience the peace and adventure of a good hike without a drive. We're raising our kids to be adventurers too, and after doing a little digging, we have found plenty of places to go hiking with our kids, without needing to leave the city. If you're in the Indy area and looking for a good hiking trip with your kids, I've got you covered.
Here's a list of parks that are kid friendly where you can hike right here in Indianapolis:
Fort Harrison State Park
Did you know we have a state park right on our Eastside? This place is one of my favorites. Yes, you can hear traffic in the distance sometimes, but this park has some beautiful forested hiking trails that can make you feel like you're in the middle of nowhere. One trail follows Fall Creek with beautiful views along the way. And if you want an easy walk with a stroller, there's a paved trail that winds through the woods as well. There are several trails to choose from, from easy to rugged, and it's a beautiful escape right in the middle of the city. Visit http://www.in.gov/dnr/parklake/2982.htm for more.
Eagle Creek Park
This park is a local favorite on the northwest side of the city. There are five hiking trails to choose from. They take you through the woods and around Eagle Creek Reservoir, where you can observe all sorts of lake wildlife. Keep an eye out – you may even be able to see the eagles that nest in the trees along the shore. If rain happens to catch you while you're there, take the kids to the Ornithology Center where you can learn all about Indiana birds. Visit www.eaglecreekpark.org for more.
Southeastway Park
This park is on the southeast edge of the city. It has playgrounds, a good sledding hill, shelters, and both a paved walkway and hiking trails in the woods. (Hint: Head to the back of the park and hike along Buck Creek. There are some lovely views, and if it's a nice day, you can take the kids creek stomping!) Visit http://funfinder.indy.gov/#/details/27 for more.
Southwestway Park
I only recently discovered this park, but it's only second in size to Eagle Creek in the city. Not only are there hiking trails here, there are also mountain biking trails. The trails here are mostly through the woods, and are excellent for bird watching, and some even lead you down to the White River. Visit http://funfinder.indy.gov/#/details/90 for more.
Holliday Park
Another gem in the heart of the city. This park has an amazing playground and nature center, but if you venture behind the nature center, you'll find several short hiking trails. They lead downhill along creeks and eventually to the White River. If you're looking for a short but exhilarating hike with pretty scenery, Holliday Park is the place to be. Visit www.hollidaypark.org for more.
Kids learn so much from hiking, even if it's simply about the peace that can be found in nature. They learn to respect their environment and experience wildlife outside of their own neighborhoods. Plus, they get to exercise their little legs and explore to their hearts' content. And let me tell you – not only does it benefit kids, getting out in the woods is good for mommies, too. It's a change of scenery for everyone, it's a reset for the heart and mind – and like I said, "It's all good in the woods."
Happy hiking!