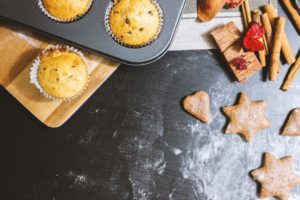 The end of the year holiday season is probably one of my most favorite times of the year. It's when I do my best work in the kitchen entertaining and making treats to share. One of the reasons why it's so special to me is because of the holiday tradition I started with family for Christmas. Instead of hosting a large family dinner, we all get together for Christmas morning brunch. It's stress-free and easy to get ready. I prep everything the night before- and just pop the dishes in the oven to bake while we're opening gifts. EASY PEASY. Major shouts to pre-made pie crusts, if that's your thing. Baking doesn't have to be a chore with resources like pre-made shells around the corner.
For the holiday meal, I serve up some of my best dishes and jokes, we dine, exchange gifts and celebrate the fun that is family. Nothing says love like a home cooked meal- to me. Cooking and serving tasty treats is how I share my love for others. A tasty punch(with or without libations) isn't so bad either. A belly fed is a happy belly. So in this tradition, I'm sharing 3 recipes to consider when planning for your holiday gatherings. The three recipes below pair well with a delicious fruit salad or kid friendly fruit kabobs.
However you celebrate this season, do it with something delicious! Happy planning, mamas!
[yumprint-recipe id='7′][yumprint-recipe id='8′][yumprint-recipe id='9′]