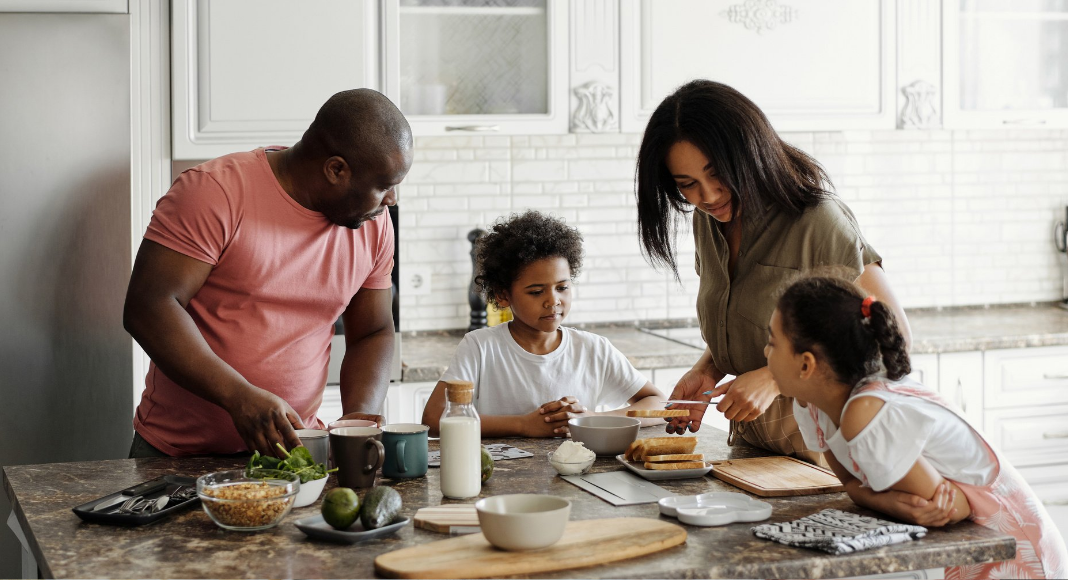 'Mooooom! Look what I made for you!!!' It's 6:45 in the morning, and I think I just got a paper cut across my face from my seven-thousandth rainbow drawing. So much for sleeping in. My day starts with refereeing two fights, making a breakfast no one eats, and them complaining about nearly everything. My brain starts ticking off the things I need to do. The end of the year just passed us by, which meant four of our birthdays, parent-teacher conferences, all of our child well visits, dentist, doesn't that all sound just so holly jolly?! And after three more hours of constant something in my face, that's when it hit me: In my next life, I want to be the Dad.
Listen, I get it. Some of you have really great husbands who morphed into great dads who take kids to their appointments or do all the grocery shopping, meal planning, cooking, etc. Please know you're in the minority. My husband took over grocery shopping so he could get out of the house and because he felt I was spending too much there. Guess who hates it now? I'm not even sure he knows we can buy different things each week– like, we don't have to keep buying the same exact things, for the same exact meals every. Single. Week.
On top of that normal chaos, we decided year-end would be a really great time to flip our rental house too, and whoopsies that just happened to be the same week as parent-teacher conferences—deep breath, mama. I just dug through those 800 Black Friday shopping ads in my inbox, found the sign-up genius links, oh, not that one, or that one, and then changed it. Oh, and then there were none available—the story of my life. So I balanced critical work issues with deadlines looming, but I couldn't focus on that- I must paint the whole house. In the literal sense, the house was left in less than stellar shape, and every inch needed attention. And oh yeah, did I make their medical doctor appointments yet? Crap. Do you know who's not worried about the conferences or the appointments or the rescheduling? You got it- Dad.
I'm not even sure he knows our Pediatrician's name, and I'm certain he couldn't tell you the Dentist's name. Four of our birthdays just happened, and one more to go. Well, he can't wait to see what we bought our daughter for her big day- they'll both be surprised! So each week, as I'm frantically writing out our schedules, trying to squeeze in something extra here or there, something has to drop. Lately, it's been the request from our daughter's preschool for a picture prefacing the letter of the week for the upcoming week. But by the time I go through backpacks, empty the 800 papers, whoops forgot those lunchboxes from Friday, sign off on every little dang square affirming we did reading, snap words, colors, iReady, more reading, fed them, bathed them, kept them alive… I legitimately cannot put one more thing in my brain to remember. You'll never guess who's brain probably could handle one more thing….
And then the siblings start texting, asking about 2022 plans? Oh, heck no. No, thank you. Except I start to look at January, and every weekend something already exists. Then starts traveling for work, worrying about going back to school, and finding a new daycare. I severely underestimated the stress that comes along with daycare- add in times of pandemic… I can't do that today. Suddenly my plans have plans, and then my husband dares to ask me if I've signed up our kids for Spring soccer, and in an instant, I'm wondering if I can plea out with postpartum psychosis even though my youngest kid is nearly four. Do you know who's capable of signing those kids up for stuff? Shocking, I know, but dad.
So in my next life, I want to be the dad. I want to be told exactly where I'm needed when I'm needed and provided a list of things I need to do. I want zero people to wake me up on the weekends unless it's my plans I've made. I want to take thirty-minute bathroom breaks without regard to anyone else existing in the house. I want to show up to appointments, date nights, parties because someone else has already planned it all, and I need to make my presence known. So after I live to be 100 beautiful years old and I've seen my daughters turn into these magnificent butterflies the next time I come back, Lord Almighty, I better be the dad.