Would you consider being a Wish Granter?
Meet Kayden. He is my son and a Make-A-Wish child for intractable epilepsy.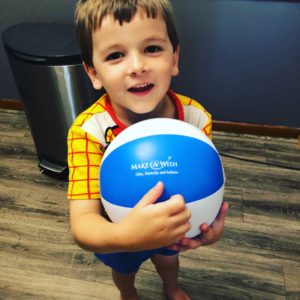 No, he is not dying. (Read more about our family's story here.)
Yes, I use to think that Make-A-Wish was for terminally ill cancer kids.
Make-A-Wish is actually for any child facing a life-threatening illness. (Kayden has had CPR four times……provided by me) Good, we now have that out of the way!! Currently, Kayden is sitting on a list of Wish Kids waiting to be paired with Wish Granters. Would you consider being a Wish Granter?
We started our Make-A-Wish Journey about a year ago. I was researching Make-A-Wish after the encouragement of one of my friends. Her child had just completed a Make-A-Wish trip for kicking cancer's butt! She was the one that informed me that Make-A-Wish was for more than children battling cancer. While researching, I accidentally nominated my son, Kayden. I blame the researching on my phone while my other son was getting his tonsils removed. I received a phone call a few days later requesting more information about Kayden. Kayden was officially selected as a Make-A-Wish child in March.
Since then, Kayden has been dreaming of having lunch with Gru and the Minions. During the summer, Make-A-Wish sent him a baseball cap and a small beach ball telling him to dream big. Kayden has been the most excited little five-year-old boy.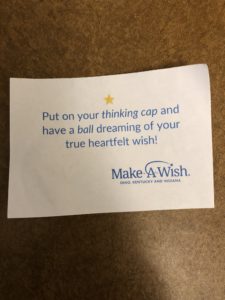 Make-A-Wish has already given Kayden something truly special – JOY.  Kayden has faced the last year with lots of hurdles caused by his epilepsy. He spent the majority of this year having physical therapy to correct a permanent tightening of a calf muscle caused by a seizure, speech therapy to relearn his letters, numbers, and words, and occupational therapy to work on strength, balance, coordination, emotional regulation, and routines. He had to be re-potty trained twice. He has faced every single obstacle with JOY.  JOY that he was getting a WISH. JOY that there was something good to come from all of this.
That JOY and sparkle is beginning to dwindle ever so slightly. He asked me the other day whether he was ever going to get his WISH.  I told him yes because the answer is YES. However, I was curious about what the process looked like, so I called to find out.
Each Make-A-Wish child is paired with two WISH GRANTERS. When a child is approved for a Wish, they get added to the local chapters list of eligible Wish Kids. This list is made available to Wish Granters to pair up with Wish kids. Once there are two Wish Granters, then the planning and fundraising and everything else happens (at least that is what I remember being told). Kayden was added to this list of eligible Wish Kids at the end of July 2019. He has been on this list for five months, and he has not been paired with any Wish Granters.
The reason is there are not enough Wish Granters.
Now, Kayden is blessed in the fact that he can wait. Epilepsy could claim his life at any time, but his seizures are finally under control. However, I am sure that there are at least a few kids that are eligible that do not have the luxury of time.
You can change that. You can give these kids and families a little more JOY and HOPE.
So, would you consider being a Wish Granter?
Click the link below to find out more about volunteering.