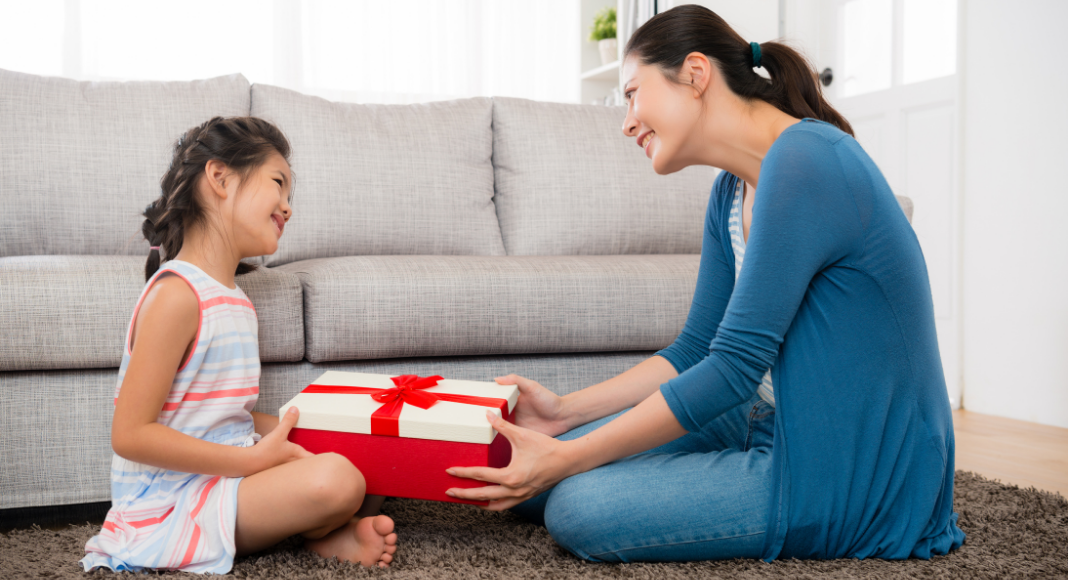 Last month, my daughter came home with a flyer for the Penguin Patch, a school-based holiday shop just for kids. If you're a newbie to the concept, like me, here is the basis. PTO volunteers run the store, and then students use a parent-approved budget to buy for family members and friends. I loved the idea and was so excited to give my daughter the opportunity to shop independently. I figured she would have fun and learn some valuable spending lessons along the way. But what I hadn't accounted for was that this experience would allow me to gain a whole new perspective on empowering choice.
Before shopping day, I checked out the Penguin Patch website. I was curious about what kinds of items were available, and I wanted to make sure my husband and I set our daughter up for success with a reasonable budget. To my surprise, there were some really adorable and affordable options! Of course, others didn't exactly strike my fancy; and I'd be lying if I failed to mention that it took quite a bit of self-control not to guide my daughter in a particular direction. Nevertheless, with $20 burning a hole in her pocket, my six-year-old headed out for a morning of shopping. I just kept thinking, "Please, oh please, don't let her come home with $20 worth of junk."
When the bus dropped the kids off that afternoon, I was met with one overjoyed kindergartner! We didn't even make it into the house before she asked to wrap up her treasures in fancy holiday paper. The smile on her face is an image I will never, ever forget. One by one, she pulled out each of her gifts. She was proud, confident, and excited. Grandparent ornaments in the shape of RVs, a wonderful representation of her Nonie and PopPop's love of camping. A compass for her Papa so he wouldn't get lost when driving his boat, and a "diamond" ring for her beloved Meme. I was delighted! She had been so thoughtful in her choices. Even her brother's toilet noise slime was the perfect fit, albeit gross.
My daughter's final gift was for her dad. She prefaced its unveiling with details like, "This is my favorite!" and "Dad's going to love it." I anxiously watched as she pulled a green pen out of her bag. She handed it to me for closer inspection, and it was then that I noticed the printed phrase on the side: #1 Grandpa.
My heart sank. #1 Grandpa?! I had to have read that wrong. Surely this was a mistake.
My mind started racing. Do I tell my daughter what it says or do I keep quiet? If I tell her, do I try to get her to switch gifts or have her go back to the shop tomorrow? I wanted to freeze time, to call a lifeline. What was I supposed to do? As can be imagined, my inner struggle transferred to my facial expression, and my daughter could immediately tell that something was wrong. She searched for reassurance, for some kind of positive comment about her gift choice. I took a deep breath and said, "This is a lovely gift. It is Dad's favorite color. But, did you know that it says #1 Grandpa on the side?" My daughter looked down at the pen and uttered a soft, "oh."
Cue mommy fix-it mode. I told her that the way I saw it, she had a couple of options. She could either switch out her Papa's compass for the pen, making a more appropriate match, or I could contact the school, and perhaps she could exchange the pen for something different the next day. I gave her the choice and told her it was up to her.
My daughter's eyes swelled, and then she said something that totally floored me. "I don't want to do that. I got this pen for Daddy. It's a special ink pen."
Wow. I had been so wrapped up in trying to fix what I deemed a "problem" that I had completely dismissed my daughter's original gift. And, I had lost sight of the true purpose behind the Penguin Patch shopping experience. Who cared if the presents didn't match their recipients to a T? They were a perfect representation of my daughter's love. I'm so thankful (and proud) that she felt empowered enough to make her own choice.