My son is soon to be three years old. Where has the time gone? The days of his little rolly polly baby body are no more. He speaks full sentences and has conversations that make me wonder how on Earth he knows all that he does. He is making his own friends and his own opinions about the world around him. Every day brings something new that I have never noticed about him before and I know the years to come will bring even more changes that will require me to navigate this parenting journey in different ways. As I reflect on his life and how three years of his Earthly presence is coming to a close, I can't help but wonder, when he is grown and reflects upon his childhood days, How will he remember me now?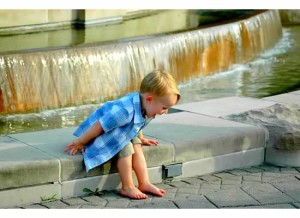 In today's fast-paced, technology-focused world, there is a lot that lies out of our control. What I've come to realize is that I can control how I choose to navigate this world with my son. I want to be conscientious of how I hope my son will remember me and do my best to live that way now, in this moment in time. If I hope that he'll remember me as an attentive, spontaneous, adventurous, exciting, caring, selfless, protector, parent, and guardian, then now is the time to be those things.
As I sit and continue to think about this precious life that I get to be a part of, I am reminded of all of the things that I hope he will remember about me:
I hope that he will remember that I gave him my undivided attention whenever I could–all the times when we would sit up in his room and just play together for hours, painting pictures, putting new puzzles together, playing cars on the carpet, or building block towers.
I hope he remembers that it was important to me to provide him with choices in his life and that I listened to them. If I asked him if he wanted a haircut and he said yes, then we did it. If he said no, then that was ok too–there was always next week!
I hope he remembers asking to cuddle with me in his daddy's chair while he was overseas and that I always did that with him. I also hope he remembers the times he asked to sit alone in his daddy's chair and that I left him alone to enjoy that.
I hope he remembers the times he and I camped out in the living room in front of the fireplace while watching Toy Story; when I'd get out the sleeping bags and make forts out of blankets.
I hope he remembers the times he and I would spend hours making and building with play dough, creating mounds filled with toothpicks and beads, just because he wanted to.
I hope he remembers that even when I had to correct him for doing something he shouldn't have done, that I still showed him love and told him I loved him.
I hope he remembers times I said "yes!" because I could at that moment. I hope he also remembers the times I had to say no for whatever reason, but tried to find something else we could do.
I hope he remembers that I loved that he knew which drawer we kept the drumsticks in and how I encouraged him to bang on his drum set, singing the ABCs as loud as he could. It may just sound like noise, but to see him play and enjoy an instrument so young is truly amazing and I love being a part of it.
I hope he remembers how much he impressed me on a daily basis, like when he taught me the "magic trick" he learned to put the seat up while potty training. I hope he continues to remember that magic trick!
I hope he remembers all of the bonding he and I were able to do while his daddy was away, fighting for our country, and how amazing it was to just be together and love one another.
I hope he remembers all of the "I love you"'s, "thank you"'s and "I missed you"'s that I've said to him.
I hope he always remember feeling that I love him beyond words.
I hope he remembers that I always taught him that being nice matters and how to show it.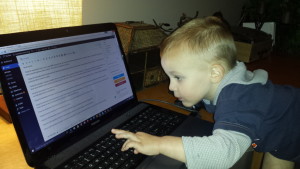 I hope he will remember that I said "ABSOLUTELY!' after he asked to sit in the chair next to me and hit the keys as I finished this article… (khhhasssdgk;56+++6/…,bllkhgffauabbrrrvvvnbvcxz
I hope he will remember all of the other things to come in our years together, and that he remembers our family's story.
And in turn, I will try my very best to be the woman that I want him to remember.