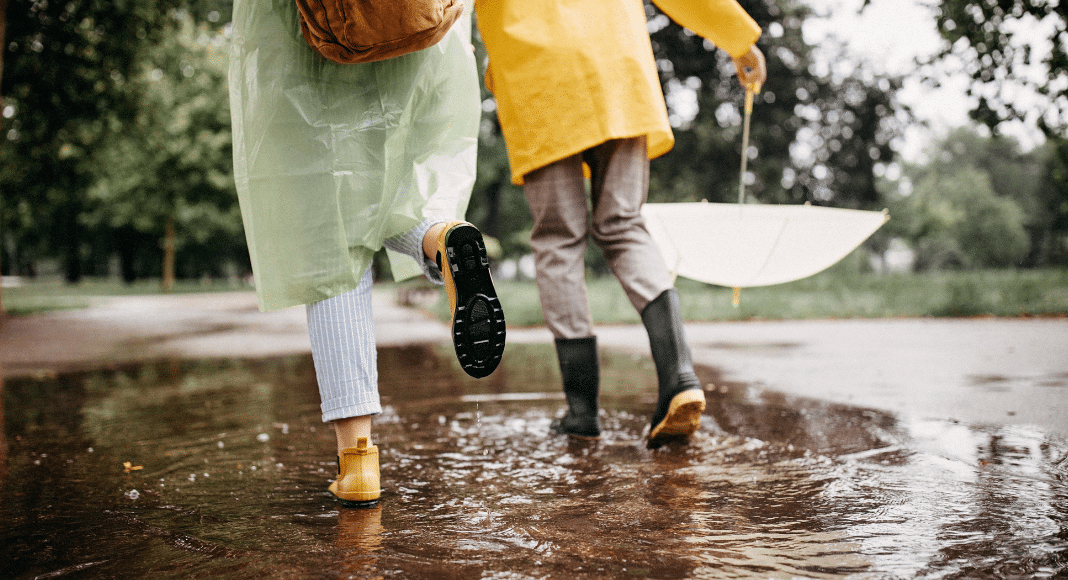 Indiana weather has been all over the place recently, and we've already seen our share of April showers. As a mom of two and someone always on the go, I dread being cooped up in the house all day. I like predictability but learned early on in parenthood to expect the unexpected, especially when the weather is involved. So, when rainy days stifle outdoor plans, it's nice to have some "go-to" activities in my back pocket.
The list below includes several of my family's favorite sensory play activities. They're not the traditional rice bin or playdough kit (though we are huge fans of both!), but they awaken the senses and create meaningful learning opportunities for kids of all ages. They're also simple and center around the use of objects you likely already have on hand, making them perfect for a rainy day. 
Water Cookies 
When my son was two, he asked if he could make "water cookies." I have no clue where he came up with the concept, but as a tired mom trying to survive a COVID lockdown, I was keen on turning this random idea into reality. Ice cube play was the first thing to come to mind, and I figured if we froze the water in muffin tins instead of traditional trays, the cubes would look more like cookies. It was a hit and something we still enjoy exploring to this day. 
What You'll Need:
Muffin tins

Baking Soda 

Water

Food Coloring (optional)

Vinegar

Squirt bottles (optional)

Tray/Tub
Add 1T of baking soda and ¼ cup water to each muffin slot and mix. Add food coloring if desired, and freeze. Once solid "cookies" have formed, place them on a lipped tray. (We love these for all of our sensory play and crafts!) Use a squirt bottle or spoon to pour vinegar over the water cookies and watch what happens. 
Like this activity, but want to try a different variation? Play Save the Animals. Add plastic animal figurines (dinos, insects, etc.) to each muffin slot and fill with water. Freeze. Once solids have formed, place them on a lipped tray. Use a squirt bottle or spoon to pour warm water over the discs, "freeing" the animals from the ice. Water play seems like a daunting, messy task, but with the proper prep, it makes for a great time. Read about more ideas here.
Sensory Sound Eggs
My mom is a preschool music teacher who always enjoys introducing my kids to new instruments and sounds. Egg maracas are one of their favorites and the inspiration behind this next activity. They're sure to shake up the fun on a rainy day! (Side Note…plastic eggs are one of the most inexpensive and versatile learning tools. If you don't typically keep them on hand, visit a dollar store and grab yourself a set or two.)
What You'll Need:
Plastic eggs

Household toys/objects: legos, paperclips, marbles, beads, rice, dried beans/pasta, rocks, jingle bells, coins, cotton balls, buttons, salt, googly eyes, etc.
Fill each plastic egg with a different household toy/object. (Don't let your child see which item goes into each egg.) Children will shake the eggs and see if they can guess the objects based on sound. If you have younger kids at home, it may be helpful to have an example of each thing laid out. This narrows the range of guesses and helps a child feel more successful. 
Want to extend this learning? Try Sensory Egg Sink or Float. Fill plastic eggs with a variety of household toys/objects. Children will pick up the eggs, getting a feel for the objects' weight. Before dropping each egg into a tub of water, see if your child can determine whether it will sink or float. 
Texture Balloon Match Up
Most sensory activities engage touch, which is certainly the case for this next game. If your kids enjoy fidgets or find certain textures satisfying, try this matching activity the next time a rainy day rolls around. 
What You'll Need:
Balloons

Household objects/materials: rice, sand, flour, cornstarch, dried beans, marbles, playdough, popcorn kernels, hair gel

Small funnel (optional)
Fill each balloon with one of the materials. (It may be easier to blow up the balloons, let the air out, and then try to fill them. Funnels can also be used.) Tie a knot at the end of each balloon, securing the objects inside. Keep an example of each of the materials out on the table. Children can touch the balloons to see if they match the balloon to the correct object.
Have leftover balloons? Blow them up and play a round of Balloon Tennis. Essentially a version of Bluey's famous Keepy Uppy, kids pass a blown-up balloon back and forth with kid-friendly rackets. We like to use fly swatters, but you can also use paper plates or hands.
Clothespin Blanket Forts
Blanket forts have become a staple in our house and are likely our #1 go-to activity for cold weather and rainy days. They're fun for kids (and adults) and are used as hide-outs and imaginary play once built. I like to use clothespins or chip clips to secure blankets/sheets. Fort building may not seem like a sensory activity, but manipulating clothespins reinforces a child's fine motor movement.
What You'll Need:
Light blankets, sheets, or towels

String

Clothespins or chip-clips

Cushions

Heavy objects to hold things down (large books, chairs, furniture, etc.)

Paper and art supplies (optional)
Arrange furniture or cushions to build the base of your blanket fort. Add string to light fixtures or taller furniture to support a fabric ceiling. Attach light blankets or sheets to the string using clothespins or chip clips. Secure with something heavy. If you feel crafty, use art supplies to create signs or labels for your blanket fort. 
The next time a rainy day rolls around, see if you can incorporate one or two of these activities. They're sure to engage your child's senses and elevate the excitement for indoor play.