Our family has been heading down to the Tampa/Clearwater area during Spring Break for ten years now. It's a quick direct flight from Indianapolis and it's a short drive to the Gulf from the Tampa airport. Plus you are able explore a beautiful beach in just about any direction you drive. And while we do enjoy a great beach day, we also try to find a variety of other activities and adventures to explore with the family during our stay. This year we decided to try something different and check out Busch Gardens and Adventure Island in Tampa.

An Overview of Our Trip to Busch Gardens
In all of the years we have visited the Tampa area, we had never been to Busch Gardens. At first I was a little hesitant because my youngest isn't quite a fan of roller coasters yet. However, there is so much to do for every age in the family! While there is a great variety of thrill seeking coasters, there are also plenty of rides that aren't too scary for those who may not appreciate the thrill. My son would have rode the Cheetah Hunt coaster 400 times if we let him while the girls had a blast on SandSerpent (which was a much smaller bun fun coaster). Since we decided to visit the park during the week, the wait times for these roller coasters were pretty manageable and we were able to ride several of the rides we wanted more than once.
Sesame Street Safari of Fun play area is filled with plenty of rides, attractions and even an exciting climbing area! As we walked into the area, we were able to stop and watch a cute little performance with some Sesame Street characters that were performing on the stage. We also passed a splash area that was perfect for cooling down in the hot Florida weather. But our favorite activity was Elmo's Treehouse Trek which included slides and rope ladders you would climb up pretty high!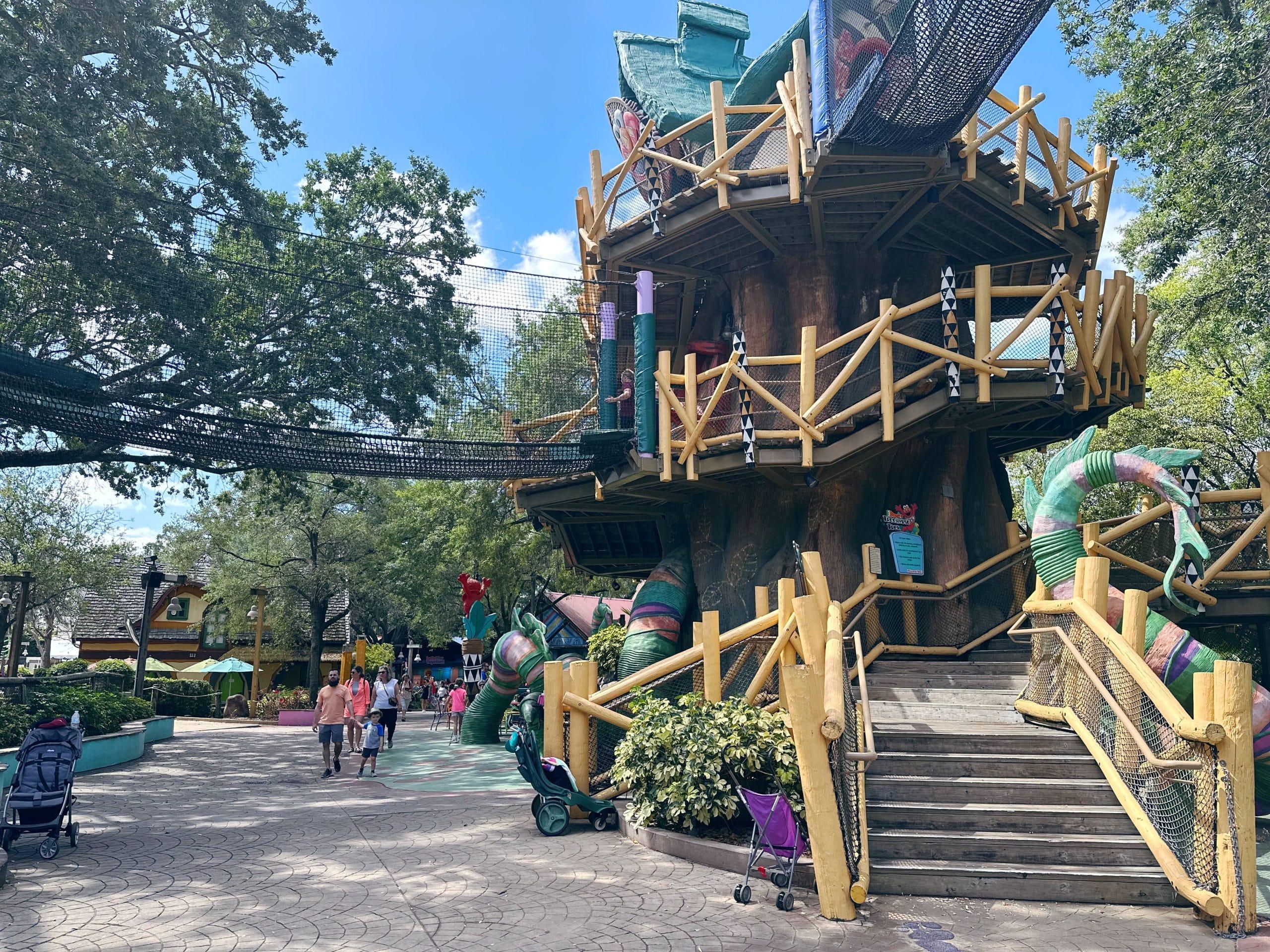 At one point in the day, my son and husband went off to conquer the bigger coasters while the girls and I stayed back to explore the park some more. My kids LOVE animals so we were thrilled to learn that Busch Gardens is home to more than 200 species of animals. We had a blast in Animal Connections. The girls were able to see a sweet sloth sleeping and get up close to several flamingos. And the penguins were an absolute HIT! One kept following my daughter and she raced from one side of the window to the next. It was definitely a core memory moment for our family.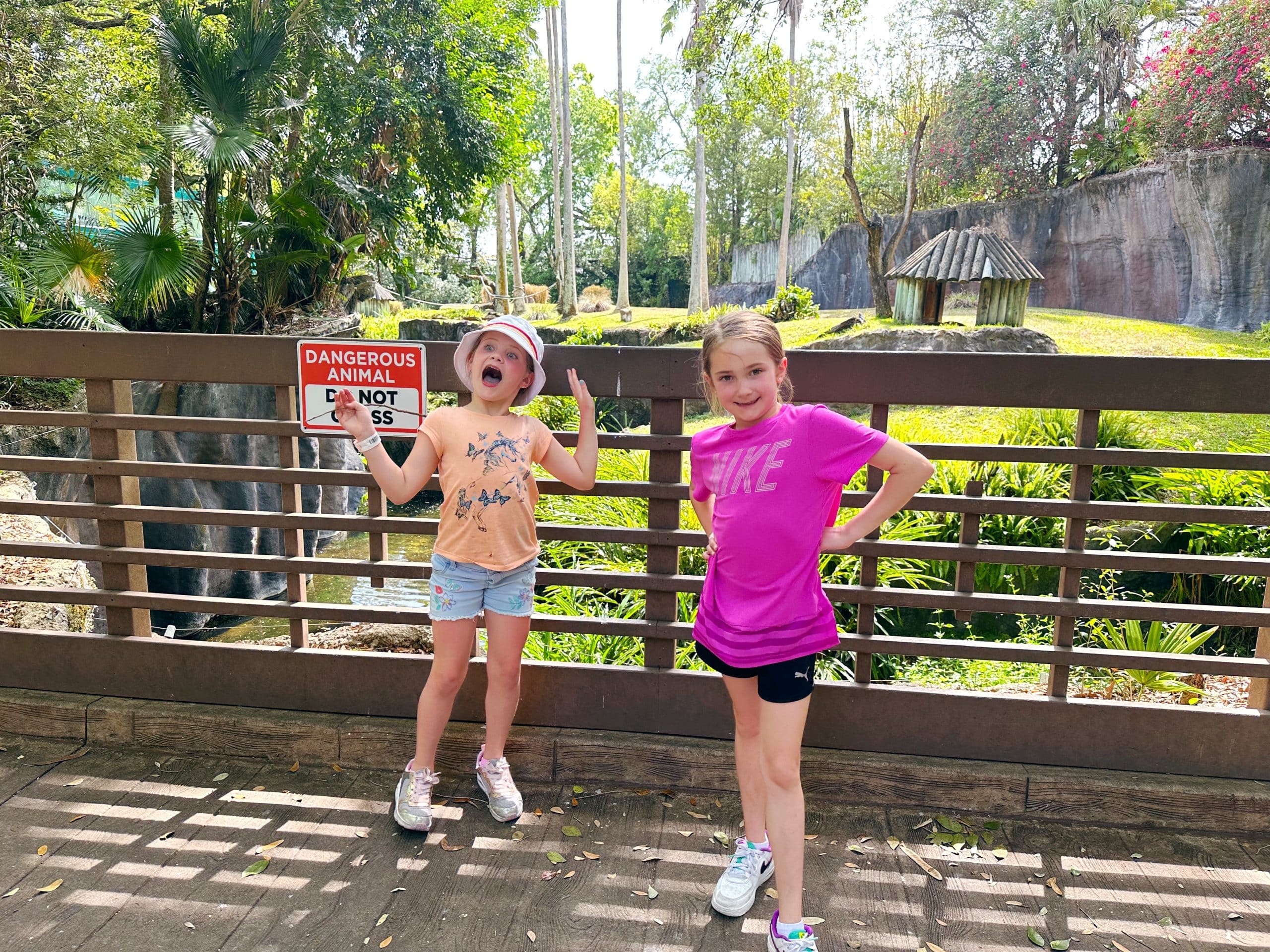 By the end of the day we had walked over 12,000 steps and were exhausted. We arrived around 10 that morning when Busch Gardens opened and left the moment they were announcing the park was closing at night. It was our first experience at the amusement park and I can guarantee that it will not be our last!
Splashing the Day Away at Adventure Island
After our day at Busch Gardens, we decided to also spend the next full day at Adventure Island, the waterpark located right next door. And once again, it was a huge hit with the family! This waterpark has everything from slides to a lazy river to an awesome splash area for the kids to explore. It was the best way to beat the Florida heat and make some new memories together.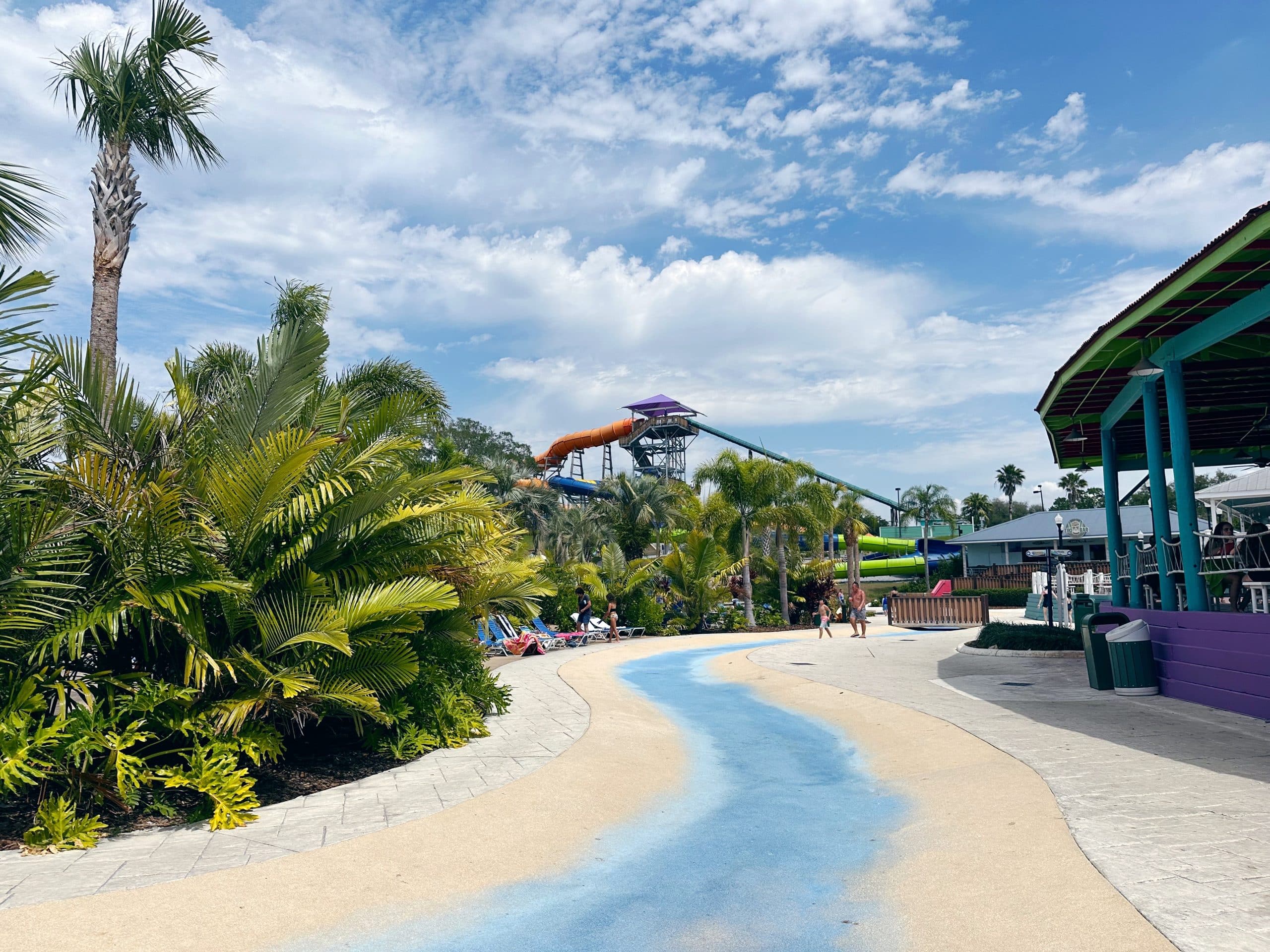 Similar to what we did at Busch Gardens, we decided to split up for a bit so my youngest could enjoy activities that were a little less thrilling than her brother and sister wanted to do. We spent a long time in the Endless Surf wave pool together and I have to be honest, it was a blast! Between each wave session, we'd swim around together in the pool waiting for the next round of waves to come. It would get a bit more crowded during the waves but we still had a great time.
My husband and kids spent the majority of their time splashing down the waterslides. While there are several slides that you can go down as a single rider, the family slides were the ones they hit over and over again. Wahoo Remix was a fan favorite because there is music playing as you splash on down. They still talk about that slide!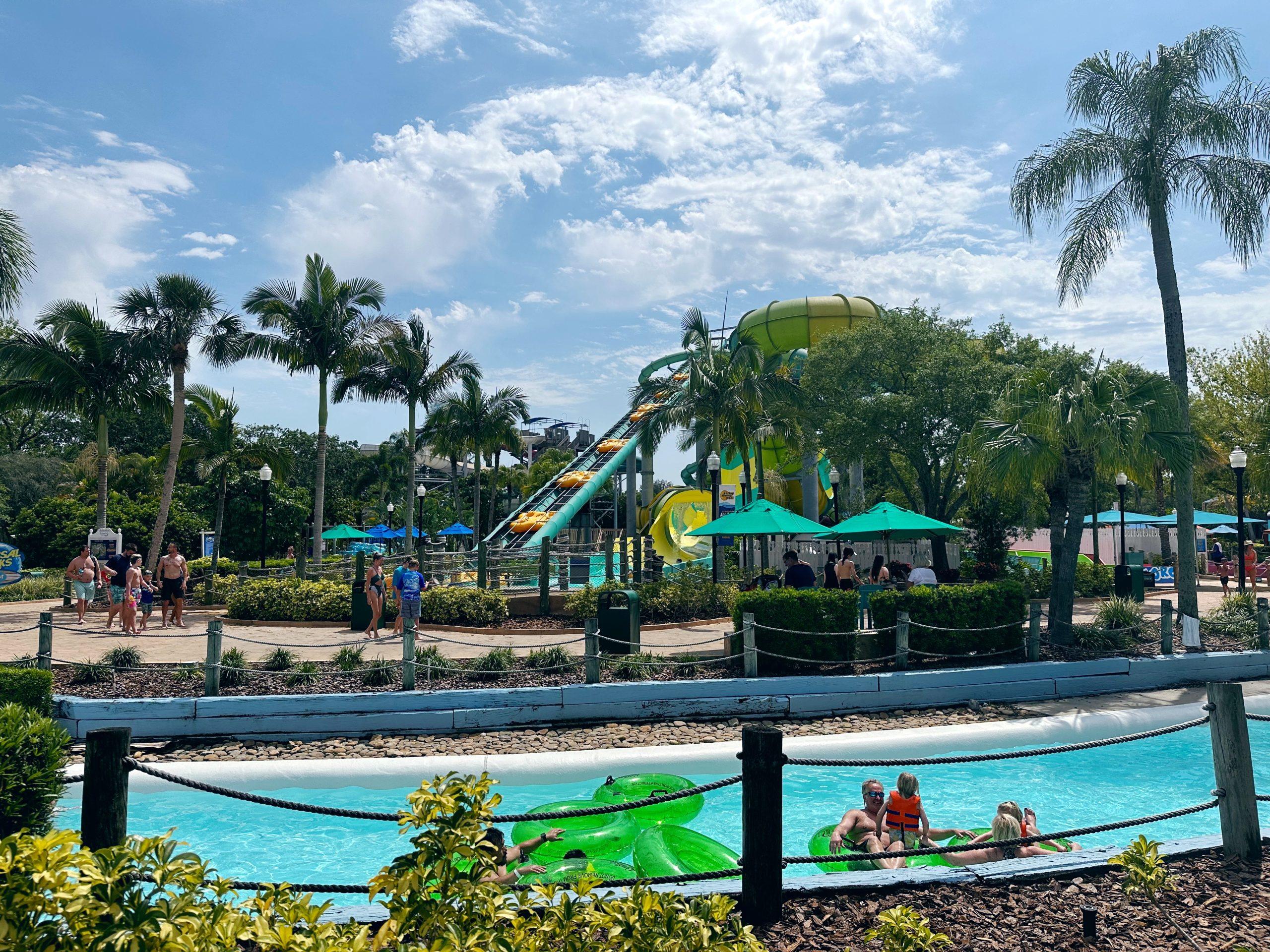 Adventure Island is a great option for any age. There are plenty of kid-friendly attractions, including Splash Attack, which is a huge tree house that over 50 water play toys and will continuously splash water on the kids. It also has attached water slides that are fun and not super scary for those timid swimmers. My youngest and I also enjoyed the Rambling Bayou, which was a half mile tub ride that she enjoyed pushing me through on my tube. Overall, our day at Adventure Island was the perfect way to spend a hot Florida day during our vacation.

Tips and Tricks for Planning Your Trip
Before you plan your next trip to Busch Gardens and Adventure Island in Tampa, here are a few things to keep in mind:
Download the App – Both Busch Gardens and Adventure Island have an app that is extremely helpful when you are planning your trip. You can download your tickets right onto the app so you don't have to carry paper copies around. The park does not have paper maps but the app has an interactive map that is helpful to show your location and the route to go for your next stop. Another bonus feature is the app tells you the wait times for rides so you can plan which coasters to ride and how long you'll have to wait to get on to the ride. It also has upcoming showtimes for attractions so you won't miss out!
All-Day Dining – Both parks offer All-Day Dining options which is a one time fee that allows you to eat once every 90 minutes at select restaurants in the park. This option includes one entree platter, a side or dessert and a fountain soft drink. Adults are $49.99 per pass while Children are $29.99 each. If you plan on staying all day (or most of it) it is definitely worth the price!
Rent a Cabana – When you are headed to Adventure Island, be sure to check out the available cabana rentals. We snagged one near Mango Joe's Cafe and it was so nice to have a shaded area to eat lunch and cool down as well as a place to put our towels and bags. It includes a mini fridge with cold water and a lock box which is great to store wallets and phones. You can also order food through the app and the attendee at the cabana stand will get your food for you when it's ready.
Visit During the Week – If possible, try to plan your visit during the week. Lines were a lot shorter and crowds were not as busy. We went to Busch Gardens on a Friday and Adventure Island on a Monday, and both of these times were perfect. There is the Quick Queue upgrade option which allows you quick access to the rides before everyone else. However, we didn't even need that option because of the minimal crowds.
I was very impressed with our overall experience at Busch Gardens and Adventure Island. Being our first time, I wasn't sure what to expect but it was truly a memorable experience for our family. Our family already talks about when we can go visit again – and you bet we will!
Visit this website to learn more about Busch Gardens Tampa Bay and to book your next trip!
You can visit this website to learn more about Adventure Island, including purchasing tickets, cabana rentals and other upgrades for your next family vacation.