Craniosynostosis is a foreign word to most, but unfortunately in our house it is one we have come to know well with our first child.  One in every 2,500 individuals are born with Craniosynostosis; the majority of these are due to early fusion of one of more skull bones in a baby. It occurs equally in boys and girls and there are four types ranging in varying degrees (all the gory details can be found here). Our daughter's type was non-genetic and could potentially have been because of an irregular position in the womb, which put pressure on her head.
I'm writing to share my story and to let others know if something seems off with your child continue to keep asking those questions, no matter how silly they seem. Keep asking until you get the answers you are desperately looking for.
When our daughter Ellie was born I noticed the back of her head was more oblong in shape than most newborns I had seen, not as severe as Saturday Night Live Cone-Head skit, but more along the back which slightly bumped out.  Our doctors and nurses chuckled saying it was a just a little cone-shaped and noted its likely from delivery and would go away and not to worry.
After several regular doctor visits, everything seemed perfect- a healthy baby with no mention of anything array; I kept asking about her cone shaped head feeling vain for even asking when that might go away but nurses and doctors really didn't seemed to think much of it.
At our three-month regular visit our Pediatrician kept feeling the back of her head saying she wasn't sure what was going on back there and said it was probably best if she referred us to see a pediatric neurosurgeon to get a few tests done.
I remember being there alone in the doctor office in a fog frantically trying to call my husband and my mom. I wasn't sure what it all meant or if she needed surgery, and then I started Googling the term she referenced – all sorts of sad pictures came up (definitely don't do that!). More panic came over me. It's so terrifying that in one instant you have this beautiful, healthy baby and the next second there could be something horribly wrong with her. As scary as it was, someone was at least validating my feeling that something wasn't quite right and that we were going to figure out what needed to be done.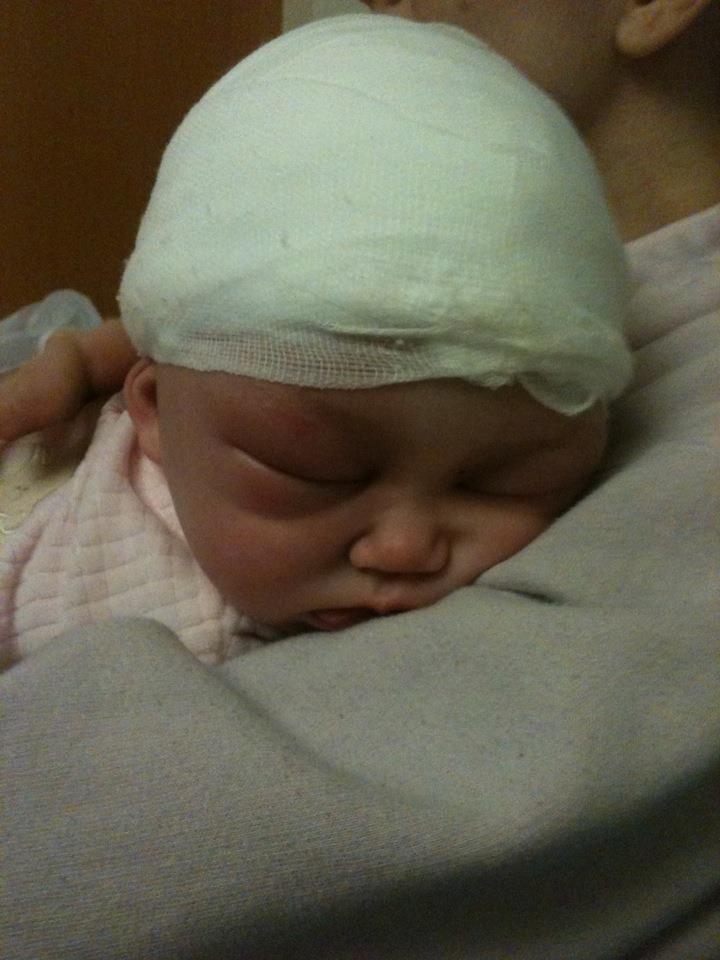 Our doctors were Goodman Campbell Brain and Spine (St. Vincent's 86th Street) who did diagnose her with Craniosynostosis, luckily a milder form than some. They were great at answering all my crazy questions and reassuring us along the way. I remember after the assessment they knew simply by looking at her she would need the surgery. As my husband continued talking to the doctor I just remember everything getting so quiet and tears just streaming down my face in the office.  The surgery they said they would be performing is a Cranial Vault Reconstruction where the head is cut in a zig-zag pattern from ear-to-ear and the skull bone is then cut to release the fused suture. After the suture is released, the skull is then stabilized with dissolvable plates and screws. To me all these medical terms met nothing except fear that my baby girl was about to have her head cut completely open, and surgery on a child so young could lead to so many complications.
They were able to get Ellie into a surgery appointment in the next month which was quick and unheard of. Our world basically stood still for the next few weeks waiting to see what was in-store for our family.
The surgery was at the end of November 2011 and she was in the hospital for four full days. Four very long, tiring days with my mother, sister and husband by my side – all taking turns holding and feeding and comforting my girl with her eyes swollen shut.
We can look back now and joke that her first hair cut cost over $40,000 (so thankful for great insurance).
They sent us home with only advil; it's amazing how resilient the little ones are. With continual check-ups and great family by our side, we managed to get through it.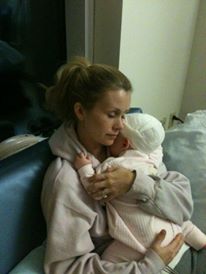 By Christmas she was back to her regular routine, getting into packages and playing with her new toys, now with a permanent zig-zag headband; a reminder which will stay with her forever.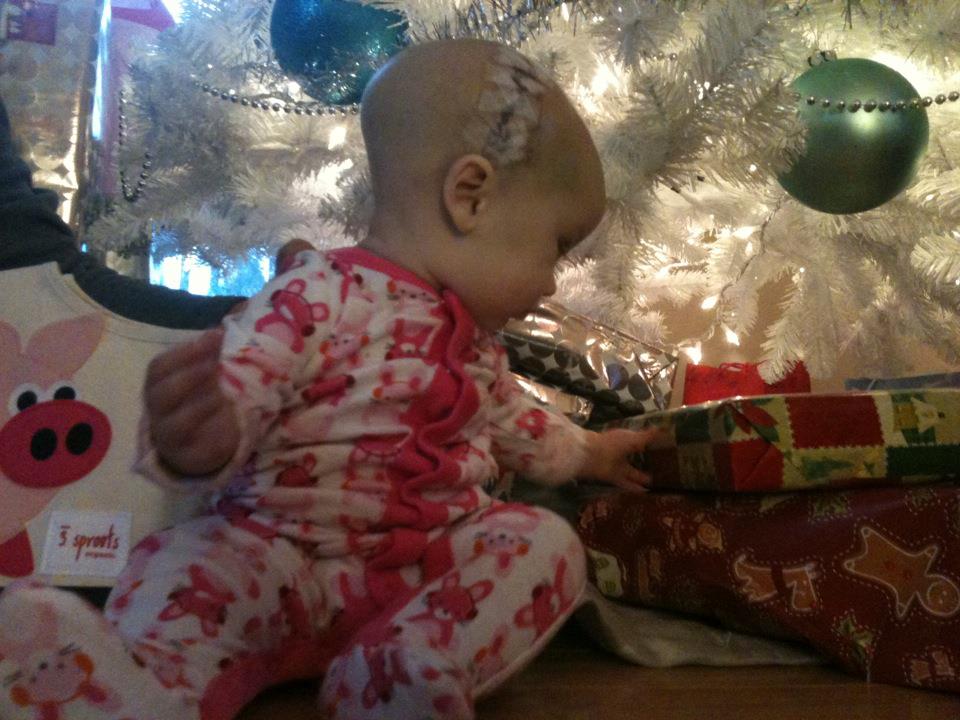 Follow up doctor appointments became part of the monthly routine to ensure everything was how it should be. As first time parents we really didn't know any different, though I found comfort in an online group: Cranio Kids- Craniosynostosis Support Group  and organizations such as Carnio Care Bears that provide information, discussion and support for families with children with Craniosynostosis.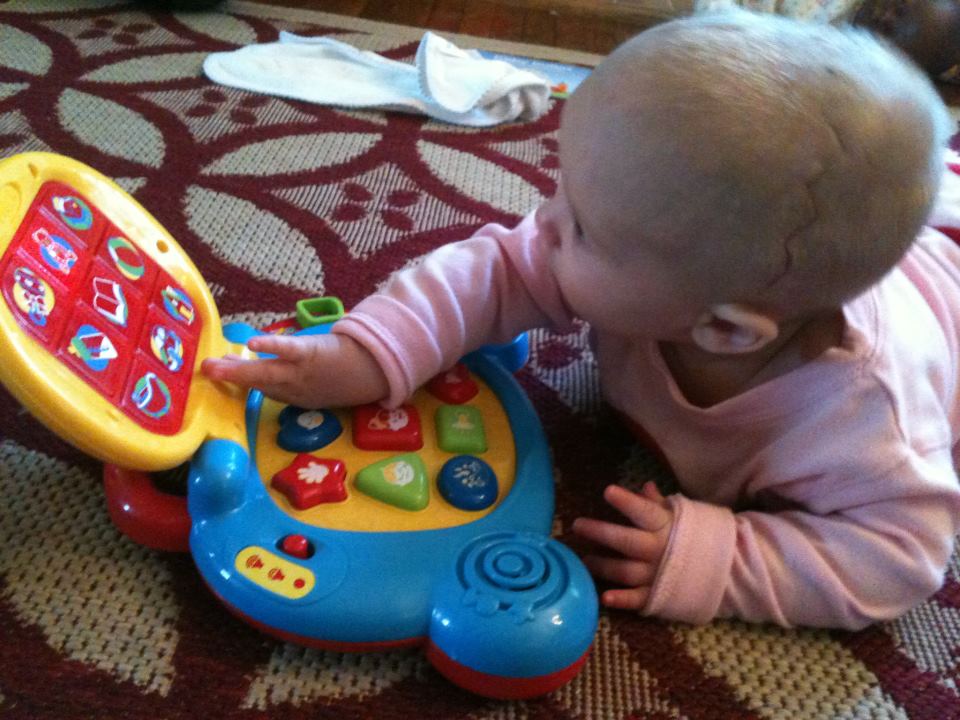 Now at 5 years old, Ellie is a smart and happy Kindergartner who goes to the Neurosurgeon only once a year to access if everything is dissolving properly and growing as it should be; her last check-up produced a clean bill of health and she will likely not require any additional surgeries.