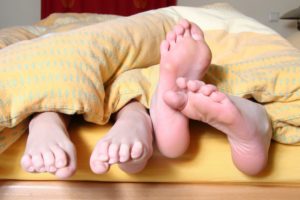 Today I woke up to the sudden jolt of a foot on my face. Literally, a small, cold, wiggly little foot, planted directly on my left cheek. Last week I fell asleep with two small hands cupping my face. Oh, yeah…the co- sleeping life. We didn't choose it; it kind of chose us.
We lasted about two years before our son, who is now four, started sleeping in our bed. But, then came the crazy day he climbed out of his crib, ran out of his room, sprinted into the living room and started playing right away. He didn't even stop one second to look at our shocked faces and jaws on the floor. We were both like what in THE heck just happened?
Once he could get out of his crib, we thought a gate would work.
Nope.
So we stacked another gate on top of the first gate.
Success!
Or so we thought. Ok, so he was no longer able to get out of his room, but here's what he could do (and often): Cry. Scream. Kick. Yell. Babble incoherently. All of this translated into us not getting any sleep.
Ultimately, after many different strategies and failed attempts to get our son comfortable with sleeping on his own, we gave in. I had never envisioned us being co-sleeping parents, but the bottom line was, we all (desperately) needed sleep.
Sweet, sweet sleep.
And obviously our boy felt more comfortable with us, so that's ok…right? Right? We came to terms with the fact that we were officially, yet secretly, co-sleeping parents. It is not that we were/are necessarily ashamed of it, but we prefer not to advertise it. It's definitely nice to avoid the, "Oh, he sleeps with you? In your bed?" responses and the wide-eyed looks that are a mix of sympathy and "What the heck is wrong with you?!"
I enjoy co-sleeping with my stage-five clinger, but I definitely do not fault those who choose not to do it.
In fact, I always have a twinge of positive envy, like, "Way to go, guys! You're really doing it!"
It must feel fabulous to have extra space and quiet time…and sex. I hope all of you non-co-sleeping parents are having tons of mind-blowing sex!
But seriously, I like co-sleeping with our toddler because he's our little best friend, and it's nice knowing he's safe. When I wake up in the middle of the night and his head is on my tummy, or he's snoring away next to me on his Ninja Turtles pillow, I feel so blessed to have this beautiful boy with me.If he's sick, we can keep an eye on him.If there was ever an emergency, he's with us.
Before falling asleep, he even entertains us with many stories about a character called "Paco the Taco." Yep, no idea where that came from, but hey, tacos.
Anyways, the obvious drawbacks are that intimacy is affected, things can get a little cramped and we worry a little bit about what awaits us down the road. With our son and dog in the bed, it's like a little circus some nights; a nice mix of toddler ramblings and spastic movements, followed by doggie growls (I swear I've even heard him sigh) and hasty repositioning, both triggered by the toddler.
And it can be a little scary at times.
Around midnight the other night, my son rose up slowly in the bed and started counting. With emphasis. With his eyes shut.
"One, two, three, FOUR, six, ELEVEN, two, three, five, ONE."
Then he dropped down and instantly fell asleep.
This little counting show illuminated we definitely need to work on his numbers, but hey, a little midnight practice is good, right? Slightly terrifying, but good.
Undoubtedly, we know this co-sleeping won't continue forever, just like breastfeeding faded and diapers ended. It will go on until it doesn't, and before it is considered, well, creepy. I know he's not going to be walking across the stage the day of his high school graduation, still stuck in the stage of sleeping in our bed. As I've heard before and expressed myself, I know these times won't last.
So I cherish them all now.
Even if it means I wake up tired or with the occasional back pain or a kink in my neck or drool on my face; it's all worth it. Extra snuggles and big belly laughs and Paco the Taco all totally make it worth it.