One in four pregnancies end in miscarriage. I am one in four and I am not alone. I would like to think this statistic is becoming more well known, but I am not sure that's the case. So many of us experience a loss with our partner, grieve alone silently and feel the like we are wearing a scarlet letter. But it doesn't have to be that way. Women shouldn't have to navigate this loss on their own and therapy can often be the answer.
It took me a couple weeks, but with the support of my husband, I was able to find the most amazing therapist to help me recover. If miscarriage has a stigma around it, therapy is right there with it. However, I think it's amazing. I wasn't laying across the stereotypical chaise lounge in a grey walled office with a stuffy therapist jotting on her clip board. It was the exact opposite and for me, seeing a therapist was the best thing I ever did for myself, my relationship, and my family.
Taking the first step
After my miscarriage, I was a mess. To put it lightly, I was a shell of myself. If I wasn't sad, I was angry, constantly playing mind games with myself trying to erase my memory of the last month. My husband immediately began looking for a solution and called our doctor. The office recommended a fertility therapist. I wasn't hesitant about seeing her, but there was part of me that felt like I was giving in, not being able to come out of this haze on my own. But I slowly learned it takes a village.
Whether you've experienced a miscarriage or another type of loss and are struggling, don't try to be a hero. It's ok to ask for help. Taking that first step and calling a therapist was the first step towards my recovery. I've always said everyone could benefit from a little therapy once in a while. So don't second guess it, when in doubt make the call.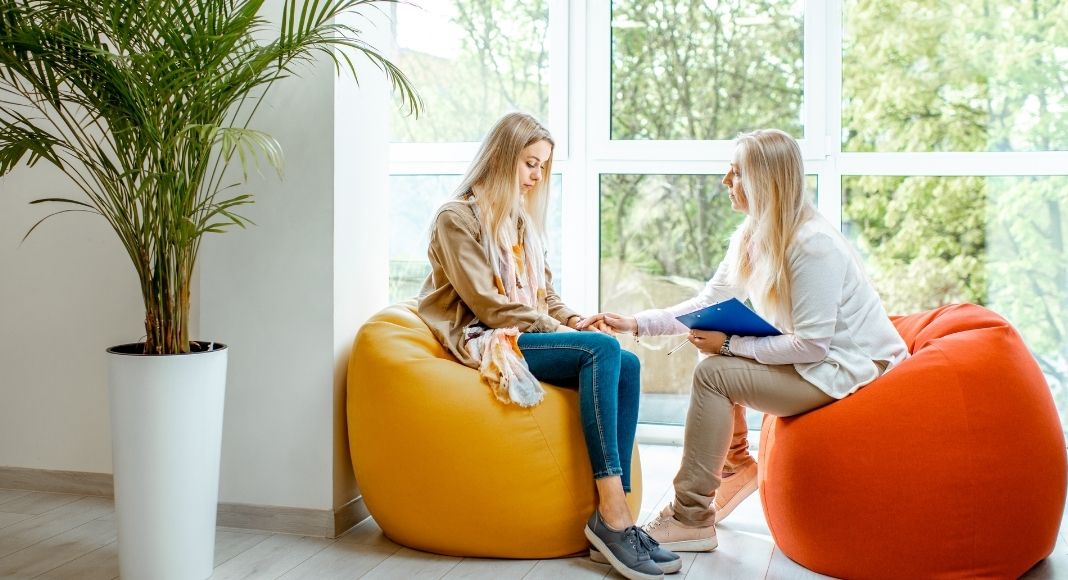 The First Therapy Session
The first session was a lot of tears. A lot. But my therapist didn't force it. She let me tell my story and listened. She asked questions here and there, but overall it was a lot about me at first. I left feeling about 50 pounds lighter. I walked out of her office and took a big sigh of relief. Step two down.
Don't sweat your first appointment. You made it. Your therapist is there for you, not to judge or critique. Don't be afraid to be raw, ugly cry, scream, yell, or just vent. Anything goes in therapy. And don't be afraid to shop around either. If you don't click with your therapist, seek out someone you feel comfortable with.
Don't forget your partner
After a few sessions with my therapist, you could notice the difference in my overall demeanor. Soon after that, my husband started attending sessions with me as well. Little known fact, it's not just women that experience depression after miscarriage. Your partner can feel the effects of your loss and should not be forgotten in this equation. Our joint sessions were amazing for our relationship. I said things I was scared to say out loud at home and we solved problems together on that couch that might have gone unresolved if it wasn't for our therapy sessions.
Don't forget that while you are suffering, your partner could be feeling the same or worse. Everyone grieves differently and whether we show it or not, therapy could be a solution for your significant other as well. Don't be afraid to bring your partner into a session with you, it could be the key to your recovery.
Maintenance
My fertility journey is one, long, winding road. Much like other women out there, I am confident I will never forget the loss we experienced. However, because of my amazing therapist, I am able to understand that it wasn't my fault and accept what happened while moving forward. I continued to see my therapist throughout 2019. We even did a zoom session with her when Covid-19 hit. There were times my husband could see I was struggling and he would recommend I call Mary again. I wasn't magically healed in one session, but after a handful of meetings, I could tell I was on my way.
So, don't forget about maintenance. Therapy isn't a one-time thing. Once you find the right person it may take a few meetings and often times is all about maintenance. Don't be afraid to call back a month or two after your last appointment and admit you want to come in for another session. There is no shame in that and you should be applauded for recognizing when its needed.
October is Pregnancy and Infant Loss Awareness Month. While we recognize the women and families experiencing loss this month, it doesn't mean our struggle doesn't occur year-round. But rather than struggle and grieve silently, I believe therapy could be the best solution for many of us. As women, mothers, business professionals, wives, students, and friends we often forget to put ourselves at the top of the list. But therapy can be an avenue to recovery and a step towards putting yourself first.