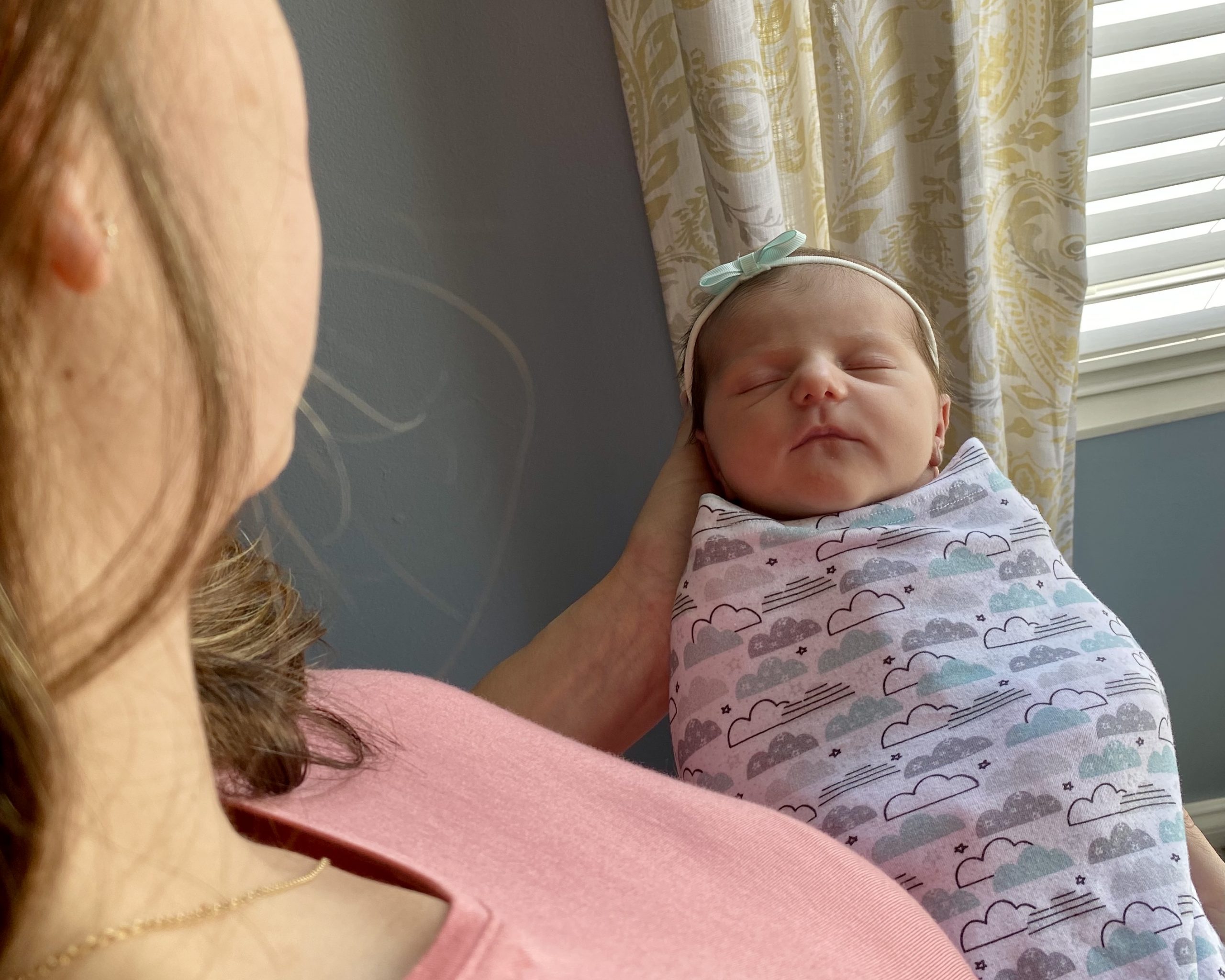 There was no chapter in the baby books about welcoming a child into a pandemic. It just simply was and then you were just simply there. And, really, that's all that ever mattered. We learned from you what we couldn't learn anywhere else.
Sure, this is not the first year that I had hoped for you or would hope for others, but it was yours and I am grateful. I am grateful every day that we move away from pandemic life and I look back not only on all the wonderful ways you have grown, but also grateful to have been given the gift of a pandemic baby. I don't know how our hearts would have weathered without you there to bring us back to the room when things outside felt unbearable.
You, pandemic baby, are such a gift.
I've had to grieve the loss of this first year. The loss of time sharing you with family and friends. The loss of experiencing new wonder through your eyes as we adventure the outside world. The loss of feeling alive outside the walls of our home. The physical loss of life for so many in our community and country.
And yet, we made it. Pandemic life has placed a new lens in front of those words. As a mom before 2020, making it to year one was a milestone for babies turning toward their toddler years just as much as it was an achievement for moms and dads for surviving newborn life. But today, when I say we made it – what I really mean is that you made it.
You made this year worth waking up for. Not just in the middle of the night, but worth waking up and getting out of bed every morning.
You made this year worth smiling for. Not just putting on a smile, but worth genuinely feeling every inch of it.
You made this year worth capturing. Not just for social media and for the incessance of sharing, but because we wanted to be able to go back and live them over and over again.
You made this year worth tuning out for. Not in the ignorance of the world around us, but in tuning into the world that was happening within our home.
You made this year less scary. Not for the lack of unknowns, but because we could always come back to the safety of you.
You made it, pandemic baby.
There was so much uncertainty. There was so much isolation. There was so much heartache and hurt and hatred. There was so much death. And yet…there was life.
I'm reminded of life in the formed groove of your pout, the dimples of your hands where knuckles should be, and the way your soft eyelashes rest against your cheek as you drift into dreams. I'm reminded of life in the way your cries run through my veins and your laugh pumps through my heart. I'm reminded of life in your delight of new discoveries – in the fascination and fun and charm and enchantment and the bright light you bring into the world. As if it never left – never dimmed.
When our hands were raw from washing and sanitizing, the grooves worn white and red at the edges. When exhaustion felt twofold. When sadness of what was lost and what would not be and how things would forever be changed. When we thought things couldn't get worse.
There you were.
You worked alongside us, at home – making video meeting appearances and inserting your feedback in the background of conference calls. You explored every inch of our home office, and beyond where you found independence to roam. We got to see you grow every day. We gained time not spent traveling and spent it taking in the wonder that is you. We slowed down even when it felt like you were growing too fast. We realized that this was not like any other time in life and it would never be again, and we found thankfulness and gratitude for a time unlike any other with a child unlike any other.
While the world wished this year away, you gave us so much to hold on to.
This is all you've known, pandemic baby. And, goodness – do you have so much to look forward to in the years to come. The best, is absolutely, yet to be.