When my husband and I met, we immediately connected over our love of travel. We would hop on a plane often as our schedules would allow. Our adventures would take us to places as close as Chicago or as far as Italy. So when we found out we were pregnant we made a vow to continue to travel even with a baby. It couldn't be that hard right?
Well, eleven months in and I can honestly say, we did it! My son earned his wings with some twenty flights together… and counting. While I am definitely not an expert I am thankful for the advice I got before our first flight. There are some things we have learned to make flying together easier on you, your LO(s) and those flying around you. Here are my tips for air travel.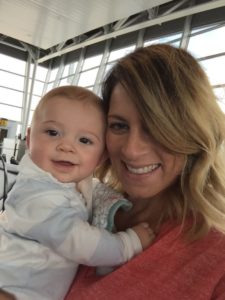 1. Don't stress out. It is my opinion that kids feed on this. I believe children sense when you are stressing and they too become stressed. So no matter how overwhelming your travel plans may be, try and stay calm. Plan for extra time at the airport. When traveling with LO's it will inevitably take you more time than when you are traveling alone. Accept this and remember your kids will learn and get used to your travel routine the more you do it.
2. Remember some form of ID or proof of age for your kids. The first time I flew with my son alone as what they call a "lap baby" they asked for his birth certificate. Apparently, when checking in you often need to verify your children are under the age of two. I had to laugh a little bit since he was three months old, but hey, rules are rules. I had no form of id on me for him, but I was able to bring up some hospital photos on social media with the date stamped on them. Whew! So remember they can and will ask for this most of the time. Take a picture of your child's birth certificate and keep it on your phone for those just in case moments.
3. Ask at check in how full your flight is, you may be in luck! Recently I traveled on Southwest Airlines, and the flight was not full. We asked and they permitted me to bring my child's car seat on and take up an extra seat without payment. I don't know about every airline, but this was crucial since I was traveling solo. It was so nice that I was able to sit my son in next to me in his car seat where he ate lunch, played and got some Z's during the flight. While he didn't stay put the entire time, it was helpful to not have a baby clawing all over my lap the whole flight.
Additionally, if you book a seat for your baby and plan to bring on your car seat, make sure its FAA approved. It should say on the side of your seat. We purchased a lighter, less expensive travel car seat seat for instances like this. We chose the Cosco Scenera NEXT, but there are others out there! Just check out the weight of those seats so you aren't lifting 30 pounds down the aisle of the airplane.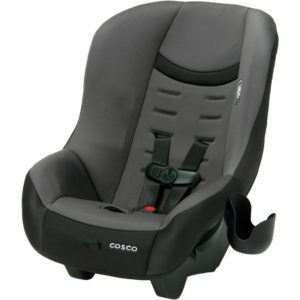 This is a long category, but an important one. We will fly any airline, but when we travel our son Southwest is our carrier of choice. We have used this airline enough that we now have a "companion pass". My son is my companion and any time I fly with him, we get his seat for FREE! Its revolutionary. If you are interested, check out ways to earn a companion pass here.
4. Airplanes are gross for adults and kids alike. Don't get me started on the germs. My husband calls planes the flying petri dish. Wipe down the tray, use hand sanitizer and just be smart. But remember it doesn't always work out and sometimes the only thing that keeps your LO from a meltdown is the in-flight bag of pretzels. So don't stress if they don't want all the clean, pre-approved toys you brought aboard for them. I wouldn't recommend letting them suck on the armrest, but hey, that's a struggle we've all had.
5. Make friends with the flight attendants. Sometimes your friendly flight attendants can (and will) be your saving grace when traveling alone. On my first trip with my son our flight was late and while waiting he flirted with the crew about to board our plane. Our new flight attendant friends were more than happy to watch my little guy when I had to use the ladies room mid-flight! They also brought me bottled water for bottles and sometimes have special snacks and activities especially for kids.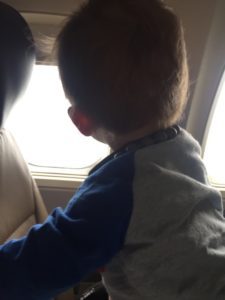 6. Carry on only what you need. My first flight I took it all and more. I quickly realized what I really needed when I would travel to minimize headaches. Snacks, a few toys, water, diapers, blanket and a change of clothes (for both of us). The worst thing you can do is have too much stuff and stress about getting it all on. If you have little ones that are able to carry their own bag, I think its a great way to get them involved too. Pack their backpack with snacks and activities and give them the job of getting it on board. It will make them feel involved and important. Plus, gate check your stroller. The stroller can be very helpful for transporting you, your kids and ultimately your stuff through the airport.
Additionally, as far as packing goes there are so many services that allow you to rent the necessities instead of trying to pack them. I am using a service called Toddler's Travels for an upcoming trip to San Diego. We rented a pack and play, high chair, beach toys, and other various baby items. There are other companies like this in cities around the US. And they are clutch when trying to pack for a week in under 50 pounds.
7. Use the iPad. Trust me. There is no shame in this game. Limit screen time before and after the flight to save up for this quite time on the plane. I think you will thank me later.
8. Take help when offered from other passengers. Similar to flight attendants, the other passengers are your friends too. They want to help out. If someone offers to help you with your bags, don't try and be a hero. You are hero enough for traveling alone with your LO's.
9. Use your time in the concourse. My son is learning to walk. Since he will need to stay seated most of the time on the plane I try to not keep him confined before taking off. We do lots of walking around the concourse before the flight to burn a lot of his energy before we take off. No promises though.
10. Don't forget you are going on vacation! Its supposed to be fun, so enjoy it. If you are traveling with your significant other, remember time for the two of you! After we put our son to bed around 7 or 7:30, we try and make time for us. During most of our trips we have used a babysitting service recommended by the concierge. We found several of our favorite caretakers on Nanny Poppinz. They have been trustworthy, kind and are vetted by professionals to ensure you can have peace of mind and a little after hours fun on your vacation. Call me crazy, but we have been super happy with the service.
Bottom line, traveling with your children can be overwhelming, but you can do it and should! As parents, its normal to stress about this process. But taking your children along for an adventure is a fun way to watch them grow, learn and ultimately open their mind to the world outside. Happy flying!