I just turned 31. I was pregnant for my 30th, and really quite miserable, so I did nothing to celebrate the new decade of my life last year. My husband wanted to make up for it this year, so he planned a little shindig at my favorite Mexican restaurant, complete with margaritas and a cake from my favorite local bakery.
He managed to get together a ragtag team of some friends and family to go out with us (because planning a night out with friends after you're all married with children is a whole 'nother post in itself, folks). He even surprised me with an appearance of a dear high school friend who I hadn't seen in many moons.
My mom agreed to babysit our offspring. I had pumped milk in the fridge and the baby was (sort of) familiar with a bottle after some practice over the last week.
Guys, I was stoked. STOKED.
I made myself up. Shaved my legs. Did my hair and makeup. Put on a bra and skinny jeans and some amazingly beautiful suede fringe stiletto sandals and a necklace that wasn't made for teething babies. I EVEN CARRIED A SMALLISH BAG. I was ready to get small-town TURNED UP*.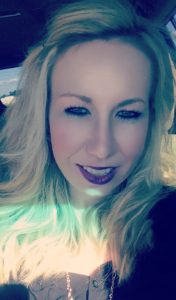 My mom yelled, "Don't be out until all hours of the morning!" as we walked out her front door. I rolled my eyes like I was 17 again and said that I was planning on having to pump and dump for a month after our night out. BYE, FELICIA.
Before we even made it to the main highway, I had already changed out of my sexy shoes and into the flats that I had stashed in my bag for later. The old lady in me was settling in a little earlier than anticipated, but the flats were all sparkly and white so I thought, "No big deal. I'm still boss*."
I laughed way too hard, and ate way too many chips & salsa, and drank 2 too many margaritas and then remembered that I'm one of the very small sect of people who shouldn't mix food with liquor. Despite my deep love of both food and alcohol, my stomach just unfortunately doesn't expand that way.
"But no bigs*," I thought, "I'll be fine. I'm a little tired, but I can keep going."
So, after the pitcher of margaritas was finished, we jumped in our cars and headed down the street to the watering hole that we frequented during our trips home in college. It was 8:30 p.m. and we had been out for two hours at this point, and honestly, I think we were all starting to realize that we weren't 21 anymore.
We sat at a picnic table outside and debated on even going in. It smelled like fish coming from the kitchen vent, and the ladies all had to pee, and I was starting to get a little concerned that I was going to puke up my quesadilla and a gallon of margarita, so we decided to go in for a beer. (To be clear, I mostly decided to go in because I figured it would be better to puke in the bathroom instead of on the sidewalk.)
Maybe it was too early or the newish place nearby had taken away some business or more than, likely, we just weren't 22 anymore, but our old bar was dead and it just wasn't the same. I still had a ton of fun – just not the lit* type of fun that I remembered from my college days.
It wasn't even 10 p.m. when we realized how tired we all were, called it a night, and went our separate ways. As my husband and I made our way through town to hit the local Walmart for emergency office supplies, I realized A) that I had officially hit old lady status for the night and B) how much my definition of fun had changed in the last decade. I don't need those crazy nights anymore. Conversation and a pitcher of margaritas shared with a group of people I really care about over dinner was much so much more rewarding than a drunken, bar-hopping night out on the town. We could have been in my backyard grilling hot dogs and drinking koolaid, and it would have been just as much fun. Because it's less about where you are and all about the people you surround yourself with. 
In full disclosure: I'm older, not stupid. I still had a babysitter, so I managed to make that Walmart trip for address labels last over 30 minutes and only called it done at that point because my mom called, and all I could hear was a screaming baby in the background.
Side Note: I didn't puke – no worries. I just didn't drink or eat anymore after the margaritas.
Oh yea: I didn't have to pump and dump for a month either. So no breastmilk left behind. ::high fives self for being responsible::
*urbandictionary.com was consulted for the use of words/phrases with an asterisk for the sole purpose of trying to sound cool. (I'm fully aware that it didn't work.)