Moment of Truth, I don't necessarily love comic book movies. Don't get me wrong, I will watch Iron Man if prompted, and The Hulk has seen my DVR a few times. However, I don't rush to the movies to see movies that are loosely based on comic books. With that being sad, the fact that I made Black Panther an event is nothing short of a miracle.
I spent the better part of the year in preparation. Therefore I was Googling all things Black Panther, and although impressed, I was extremely unclear about the city of Wakanda and the significance that everyone was placing on this movie. As someone who is a novice to the world of Marvel, I felt that the expectations would be too high and everyone would love it and I would be the one who disliked it. The tickets were sold out before the premiere even happened, and at the red carpet premiere, the cast looked so beautiful and regal. I became more and more anxious to see this movie and surround myself in the excitement that had become a part of the Marvel Universe.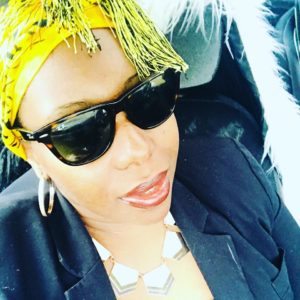 Then the time came, February 17th, 2018 at 7:00 p.m. My family and I gathered at the IMAX theatre to see Black Panther. However this wasn't a typical movie. Black Panther had turned into a movement. People were dressed in African attire, we flooded movie theaters in our finest and like a kid in a candy store, I stood there with my eyes wide open. It was such a beautiful sight to behold. People were taking pictures and there were children, teenagers and elders, and everyone was beyond excited and had their tickets for months. All I was thinking is what a time to be alive, it was a great reminder that being part of the black community could create so many beautiful experiences and in my 36 years, this was one of my favorites.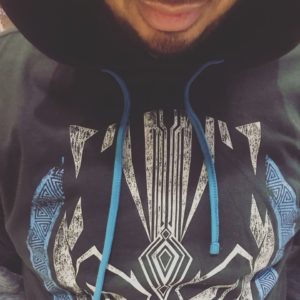 As we migrated in to see the movie, the theater was full and the previews (that I typically find annoying) were met with great anticipation. Once the movie began, I spent 2+ hours in Wakanda and I honestly could've stayed there forever. It was beautiful, intriguing and complex, it filled me with pride to see our story told on the Big Screen to the world. The women were an intricate part of the story as the men revered them in a way that made me quite envious and proud at the same time. The story was beautiful and complicated, which is very indicative of the experience of being Black in this current climate. However, for those 2+ hours the complexities didn't matter, we were magical, we were beautiful and we were powerful and we had a young king by the name of T'Challa…I was grateful.
Once the movie ended, it made me reflective, and as my husband and I had several conversations over the week regarding the movie, one thing rang true, we couldn't wait to share this with our children. The thing about Black Panther that has people rushing to the movie theater goes past the graphics and great story line. This movie gives hope, and it restores the pride that can sometimes be lost in the things that we deal with daily in life and on the news. Wakanda wasn't a perfect place and it didn't come without conflict which is a part of the magnificence. It was flawed, but it forced their community to take a look at themselves, what is important and what they were willing to fight for. Which in life are the things that we all should have answers for, especially what is important to us. For me, the Marvel novice, I absolutely can't wait to see T'Challa again. And if you haven't seen the movie I have confidence that you will see it before the next installment in a few years. Until then….
Wakanda Forever