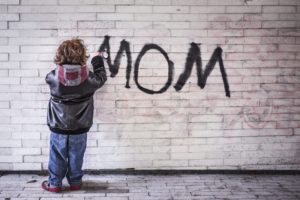 In the wise words of Vanilla Ice and Cypress Hill—word to the moms. I have had the privilege of knowing many moms and I wanted share their stories and dedicate this post to them. Mothers shouldn't just be celebrated on Mother's Day, but every day. These moms I'm going to share with you are all from different times, different backgrounds, they all have had different challenges in their lives, but all have the same theme—just moms loving their children and providing them lives full of love. And that, is timeless.
Grandma Scott:
Grandma Scott was my husband's grandmother who recently passed away this month at the age of 90. Vonda had 5 children (3 boys, 2 girls). The boys were born 11 months apart—yep, you guessed it. She had her 1st born son then had twin boys 11 months later. So, she is pretty much a rockstar in my book. The center of her world was cooking in her kitchen, serving others (especially baking hundreds of cakes for so many loves ones' weddings, birthdays, anniversaries, etc.) Vonda wanted people to remember her as, "an ordinary, nice person." As one of her nephews put it in her eulogy at her funeral, she was far from ordinary—she was extraordinary.
Grandma Flynn:
This is my husband's other grandmother who passed away in 2011. Yvonne had 5 children as well—3 from her 1st marriage and 2 from her 2nd marriage. Her oldest daughter, Penny, died of leukemia at the age of 6. I can only begin to imagine how painful that was and how she carried that with her until the day she passed. What I remember most about Yvonne (besides from her fabulous red lipstick she always had on) was how spiritual she was. She knew she was dying from cancer, and she seemed so at peace with it. I'd like to think she was at peace because she knew she would finally be reunited with her baby girl and her husband who had also preceded her in death.
Grandma Murray:
This is my mom's mom. Grandma is the mom of 3 kids. My aunt, my mom and then their brother (who was a complete surprise when they found out she was expecting him at the age of 40–ancient then). My mom has told me there were a few times that she or her sister were mistaken as their brother's mother! I adore my Grandma Murray (who still calls me Emmy to this day at 35 years old). My favorite tradition has always been going her house on Christmas Eve day. There was something magical about the hustle of the women in the kitchen, the men in the living room watching TV and all of the kids running around. About 2 years ago, Grandma and Grandpa sold their home and moved into a retirement village and now my mom has taken over the Christmas Eve day tradition. The memories and magic went with us and Grandma still goes out of her way to make each of us (her adult grandchildren and small great-grandchildren) feel special.
Grandma Moody:
Grandma Moody is mom to my dad and his two brothers. My Grandma is such a strong woman (um, hello…she had 3 boys!) My dad is the middle son and his younger brother (my Uncle Doug) was born with spina bifida. Sadly, Uncle Doug passed away last year. What I found most heartwarming was all of the pictures and newspaper articles Grandma had saved since Uncle Doug was a baby. He was a selected as the "Easter Seal Child of Indiana" and even got to meet Bob Hope. When Grandma was going through all of these memories for his funeral, you could really tell how proud she was of him and all that he was able to accomplish despite his disabilities.
My MIL, Sandy:
Well, I hit the jackpot of Mother-in-Laws. Sandy is the mom of 2 boys (which I am now too!) I remember in high school when my husband and I were dating (yes, we've been together for like 100 years) that she would always have 5 gallons (yes 5!) of milk in the fridge because the boys drank so much of it—crazy! Sandy went out of her way to make sure she was preparing her boys to become men who could take care of themselves. She made them do laundry, clean the house, plan out dinner and cook the dinner. So by the time we went off to college, my husband was a self-sufficient man who was going to be the best husband ever too. Ultimately, she thought her boys the value of hard work and I see that every day in my husband in everything that he does. Sandy is also just the best Grandma to our boys and nieces and I can tell how much joy she has in seeing her boys in her grandbabies.
My Mom:
My mom. Where to start? My mom is the best (sorry, I'm sure you think your mom is the best but my mom really is the best). I am the youngest of 3 kids—I have 2 older siblings who are twins, Angie & Andy. Andy was born with cerebral palsy and is not able to walk or talk. As you can imagine, this wasn't the hand my parents were expecting to be dealt. However, I didn't know any different—my brother was just how he was and that was just our life. Now that I'm a mom, I can understand the weight & pain my mom has carried for almost 40 years (and always will). She has cried for my brother, fought for my brother and provided the best life possible for him (and for my sister and me too). She has taught us to be compassionate people, she has shown us how to be selfless, and to stick up for those that can't. Andy now lives on his own (just a few minutes from me—my boys love their Uncle Andy!) with 24/7 care to assist him. I've been able to watch my parents really live in this new stage of their lives. Mom still is there for Andy every day and will be until her last breath. She is also the best grandma ever to our boys and our nephew and would do anything for us. My hope is that I'm able to pass on what she has taught us toour boys as well. So Mom, I love you and thank you for showing us what true love looks like.