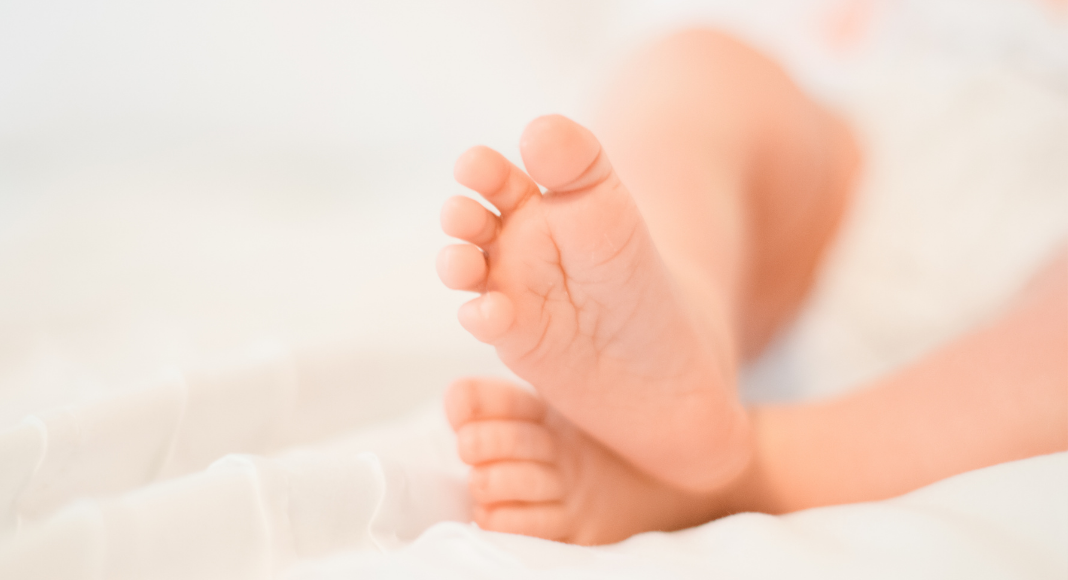 Birthdays are usually spent celebrating an individual for a year of growth and living. We make cakes, give gifts, and gather to blow out candles. Rarely do we take the time, though, to reflect and honor the process of birth and the birth of a mother that began this person's life. In our home, we celebrate this event the night before each child's birthday. The birthday eve celebration is a quieter, more intimate ritual where we reflect on the birth story of each child, our family, and myself as a mother.
My children look forward to their birthday eve – we cuddle on the couch, pull up pictures from the days surrounding their births, and tell their birth story. They giggle when I tell how they woke me up in the middle of the night with my water breaking. Their eyes widen when I talk about my "uterus bag" squeezing and squeezing in my tummy and helping to push them toward this world. They delight in the details, snuggled close to me and leaning over each picture. Then suddenly, they see the first picture after they were born, as they are being handed to my waiting arms. I tell them how overwhelmed I was with love. How special that moment, and every moment since them as their mother, has been.
Though it was never formally ritualized in any way like a birthday eve, my mother often told us her birth stories. She would tell of her fertility difficulty, pregnancies, and births with each child. I even once found a notebook with an entry written on the day she first found out she was pregnant. The sheer joy in those few lines was palpable and affects me even decades after reading it.
I always knew I would tell my children their own birth stories, just like my mother did. Hearing about my birth made me feel loved and special as a child. I wanted my own children to feel the same way. It wasn't until after I experienced birth that I realized just how much this re-telling would affect me as well. The birthday eve ritual has come to be a time each year where I reflect on my journey as a mother, starting with that initial earth-shattering experience of labor and birth.
I did not anticipate how much birth would change me. I had helped 'catch' babies and been present for many births during my medical training. I hired a doula and prepared for my own labor with classes. I discussed birth with families as their pediatrician. But I didn't really understand how each birth would become an integral part of my life story.
I felt I had been physically and emotionally ripped open with each birth. I felt turned inside out, shattered, and utterly changed. As I put the pieces of myself back together, it became clear that I was still me…but also more than the me I knew before. I was now me plus motherhood. Me plus this little human in my arms. Me plus strength and vulnerability I never imagined.
I found myself with an unexpected need to tell the story of my births. It became a way to slowly process the enormity of the event. I would discuss it with family and friends, birth professionals, and countless times even in my own head. This re-telling, even to myself, has shifted my perspective of the events over time. The raw edges that were exposed have slowly softened over the years.
As I have learned to understand and love the new me that birth and motherhood revealed, I have grown in ways I never imagined. Each birth story started with labor, but they did not end with the birth of a new baby. They developed into an ongoing rebirth of myself as a mother and person. Even my professional self was reborn – I now help other mothers during the initial weeks after birth as a lactation and postpartum care physician.
I no longer find myself re-living those days of labor and birth as often. The enormity of those events will never lessen. But they are now just the first in a chain of thousands of other days spent mothering. Days and nights filled with little sleep, much love, sticky hands, and toys scattered on the floor. A birth story turned slowly over time into a life story. A family story. A love story all my own.
So each year, we spend the night before each child's birth discussing their birth story just before bed. It is a time of reconnection in an all too busy world. My children tell me it reminds them of time with family and makes them feel special and loved. "I just get happy feelings," they told me as I sat down to write this article. So this new family ritual will continue, and I hope the birthday eve celebration will be one they choose to pass down to their own families someday.