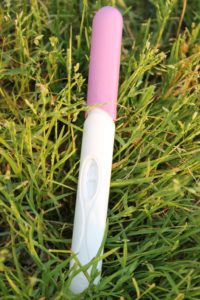 A little less than 3 years ago, my husband and I decided that we were ready to start a family. I came off birth control (Thank. God. I hated that stuff.) We switched to natural family planning and braced ourselves for what we expected to be a few months of trying to get pregnant. But a great snow storm hit about a month into the process and low and behold, two weeks later the stick said, "Pregnant!" We were elated, and scared, and so excited for this next phase of our lives together. Nine months later, our beautiful, expected, not-surprise baby boy, Liam, was born. He was perfect in every way. And while I definitely felt out of my league entering the realm of parenthood, I was ready to be his mama and tackle all the new unknowns I was about to face.
That first year was of course very difficult and we shifted from the two of us to the three of us. We balanced working full time with late nights, illnesses, giggles and cries, rolling and crawling, as well as new parents can. I was proud to be breastfeeding an infant with a severe soy, dairy, and egg allergy. I missed cheese. I missed being able to eat out without worries, but breastfeeding through the year was a great success despite the hassle. At 9 months, I remember thinking, "Yeah. I can do this parenting thing."
Insert beach vacation.
Coming home from vacation, my milk supply was gone. I would pump for 30 min and maybe get an ounce. Two weeks later, it finally clicked and I took a pregnancy test. Sure enough, in the middle of the day, on the toilet, with Liam by my side, the test stared back at me: "Pregnant 1-2 weeks." I burst into tears. I was in total shock and fear, shaking uncontrollably, with my little buddy's big brown eyes staring back at me. Dustin came home and told me it would be OK, but I didn't believe him. All I could think about was how much I really wanted my body back, how scared I was to go through the process again, how much I didn't know if I could love even more, and how guilty I felt for feeling so crummy. It honestly took me a few months and a few conversations with other mamas for me to accept the reality of baby number 2 and get excited. But I learned a few things in those dark thoughts that I think made the whole process sweeter.
It is normal to be scared. In fact, we should be a little scared! Raising children is hard. Pregnancy is tiring to the body. Choosing to wholeheartedly love another is terrifying, planned baby or otherwise. Once I was able to accept the reality that I was scared but had no choice but to face it head on, embracing our new surprise baby became easier, even exciting.
It's okay to not be ready to be pregnant. I always thought having a surprise baby would be cool, until it actually happened. Then, I just felt so much guilt- Guilt that I didn't feel the same as when I had my first son. Guilt because I knew so many women who were struggling with infertility or having miscarriages. Guilt because it seemed wrong to want a day where I didn't have to worry about how my body affected another human being. But here's the truth: Everyone's story is different. I could not compare my experience and feelings to another; it wouldn't do any good but would continue to make me feel miserable.  And let's all remember that building a human is a sacrifice and sacrifices, in essence, are painful. That does not mean that to sacrifice is bad (actually it's really good!), it's just that it's okay to admit it's hard. So the next time you think, "Man, I wish I could eat soft cheese and not pee my pants every 10 minutes," you are in good company.
We need to mourn our sweet losses in order to accept our new beautiful realities. I became pregnant with our surprise baby, Brennan, right when I was starting to feel like I was actually getting to know Liam. His personality was starting to show. We were starting to make more interactive memories. I was just getting used to him and him me. I loved being able to focus on him and truly enjoyed his company. I was not ready to give up our one-on-one time. It was a loss, a loss of the joy of that first kiddo, a loss of "just the 3 of us." I mourned it because I knew there was something greater coming. There would be new special experiences of cuddling two little boys and listening to them laugh together. I would get to see them play together with their daddy and want to be just like him. I would even get more mental space because they could entertain each other.  I remember experiencing the same thing with we had Liam. I mourned that for the next 18+ years, it would not be just me and Dustin. And when we have our third child, I will probably mourn a bit again. Each time however, the mourning is not simply to mourn. The mourning occurs with expectation. Something sweeter is on the horizon. New sweet, sweet life is coming. Our days are more chaotic, but they are louder, fuller, funnier, and ultimately filled with more love and joy. Being on the other side of pregnancy number two, I cannot imagine life without my sweet Brennan baby.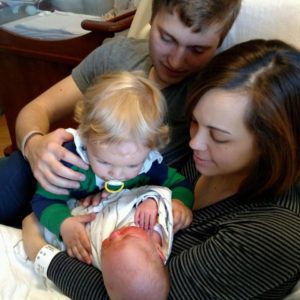 So mama friends. Maybe you have had a surprise baby. Maybe you haven't. Either way, we all experience moments of fear, guilt, and struggle. But let's embrace those moments, work through them, and choose the sweet precious unknown.
And probably someday, I will laugh at the circumstances that brought Brennan, our sweet surprise baby, into our world and be ready for another. But for now, I'd like to just get through his first year.