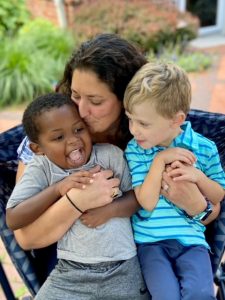 My son Stephen E. Beaven III, aka Trey, is the ultimate introvert. He doesn't say much, and when he does speak, it is so profound that it could shock you if you don't know him. When it was time for Trey to leave the loving arms of our childcare provider and begin preschool, I was extremely nervous. A part of the anxiety was because whoever would be teaching him would need to understand. He isn't a talker and has a very discerning demeanor, so it would definitely be a "kids glove" situation. Before school began, we met with the teacher liaison, her name was Erin Miller. She was a preschool teacher who had been teaching since 2000 and at St Joan of Arc for three years. She was also a wife and mother who had this unwavering love of children. Trey automatically connected with her because she let him have the reigns of her unfinished preschool classroom and her presence made him comfortable. It ended up where Erin would be his teacher, and I was relieved because her sheer presence made me comfortable as well.
First Day of school 2020, my children were masked and ready to go, and greeting all four of us in the parking lot was Mrs. Miller, smiling and energetic. Trey ran to her (which he never does), and she reassured me he would be fine, and he was, but he clung to Erin which would become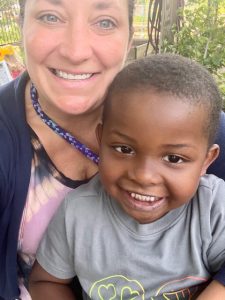 a practice daily. Erin sent us pictures of Trey and laughed at his antics. He ate a hot pepper in the garden one day, and it scared her so badly that she left her kids with the teacher's assistant and sat in the nurse's office with him while he ate a yogurt popsicle. Little did I know that Trey didn't really speak to Erin for the first three months of preschool. He was painfully shy and apprehensive. However, we didn't know this until Erin felt Trey out a little, and they became thick as thieves for the remainder of the school year. On the last day of school, Erin cried the entire day, not from sadness but because this year had been so taxing on everyone. She was sad to see them go. She still kept in touch and invited my children into her home for pool fun and movie days. Every time she and Trey parted, she would say, " I love you" he would respond, " I love you too, and whatchu doin Mrs. Miller?"
On June 25th, Mrs. Miller insisted that our children had life jackets that were coast guard approved to take when we left on vacation. So we went to her house to pick them up, which was the last time we saw her. She passed away on June 27th unexpectedly. The waves of grief have been constant. Telling my children was sad, but we told Trey that she would be teaching kids in heaven. This gave him some comfort, yet the thought of beginning a new preschool year without her makes me anxious and sad. Therefore, I thought it fitting to put my thoughts to paper, as she would be so embarrassed by the fanfare.
Dear Erin,
I can never truly put into words what you have meant to our family. You welcomed us into an unfamiliar community and loved us with everything that you had. I worried daily about Trey because I had no clue how he would behave in a school environment. However, there was always a blessing in knowing that he was with you. Thank you for making him feel loved and being so available to him. I am not quite sure what we did to deserve you, and you were too good for this world, but I will miss you insanely. I am going to miss the early morning and late-night texts, I am going to miss your laugh, and I am going to miss being able to depend on you to keep me in the loop. However, the part of me that misses you is also grateful to have known you, and thank you for welcoming me into your life and your family; I will never ever forget you, and neither will Trey. So we are sending you off with one more "Whatchu doing, Mrs. Miller" with a hope that you rest with the peace you deserve."
Love,
DeAndrea