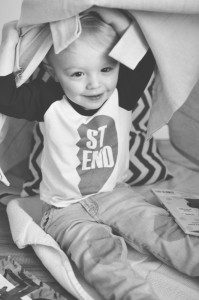 I took a Literacy class in undergrad: teaching reading seems pretty straightforward, but there's an entire science and a host of theories all intertwined with how we learn language.
The course was super dry, and the professor was really strict. I hated most of the class.
At the end of that semester, she read us a story she had written about her brother, Paul. He was not a good student, she said. His teachers knew it, he knew it, and, if I remember correctly, he was pretty openly disliked.
Paul died, though. I don't know if he was in high school, but I think he was young. After she read her story, she reminded us that, as teachers, we are working with the best that parents have to send. She told us that no matter our opinion of a student or how well they perform, that student is a person, with parents, and those parents are sharing with us the greatest and best thing they have to offer.
I've never forgotten that story.
Today, 10 years after that lesson, I dropped my son off at daycare, and he was the sixth person in his classroom. The state ratio is 1:5, and when the ratio changes, this usually involves some shuffling of staff or kids. I asked the teacher in the room if I should take him to another classroom, and she told me no, and knocked on the door of the other 1-year-old room and said,
"Charlie is here. I have six. Do you want him?"
"No." said the other teacher.
My initial thought was that she seemed overwhelmed. On busy days, I too used to get frustrated when students walked in late. I guessed that she was probably also over her ratio.
"I don't want Charlie… I'll take her," she said pointing to a little girl.
Ooooookay, so it wasn't a ratio thing.
The little girl started crying, as Charlie hopped out of my arms, waddled over, and entered her classroom.
"Well, I guess I'll take Charlie. He seems okay today." She seemed angry.
Okay. What the frog.
"Um… do you not want him?" I asked.
"No, it's fine," she shrugged, "I guess I'll take him. He's happy right now."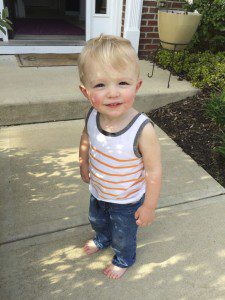 I watched through the window for a minute before I left. She was clearly frustrated, probably not just with Charlie. Charlie saw me through the window, smiled, and waved. I waved back, blew him a kiss, and walked out.
I had an uneasy feeling, but I kept thinking I must be wrong. Surely she didn't just tell me, to my face, that she didn't want my kid in her class. I drove to my next stop, and by the time I got there, I had called my husband, retold the story, and was really, really mad. The thought that killed me, more than anything, was, If she's saying that in front of me, what is happening when I walk away?
I cancelled my meeting, turned around and picked him up.
In general, I really like commercial daycare because I feel like I can rely on a system of checks and balances. There's never just one person in the room, the facilities are inspected, there's a formal hierarchy, and there are clear expectations. In daycare, Charlie has learned his letters, nursery rhymes, how to share, how to pass a ball back and forth, he pretend reads, and he eats a lot more there than he does at home.
But. I cannot leave my baby …the best I have to offer… with someone who was so openly rude to him, in front of me. I know I can't protect him forever, but he's not even intelligibly talking yet. I cannot leave him with that.
We finished our day together, and as I rocked my youngest, listening to the same lullabies I played for Charlie even before he was born, I remembered what that professor had said.
When I drop Charlie off at daycare, I know I'm leaving another kid to consider in a ratio. But I am also leaving my best. He is my best try. He is all of the energy I put into reading about what to feed him, how to get to him to sleep, how much I should be reading to him, what that cough might mean, what the best sunscreen is. He is 3 a.m. checks to make sure he's breathing, and nightly prayers through my own confusion. I am sending to them the best and everything that I have to give, wrapped up in this tiny person.
So, To You, Daycare Teacher,
When you were mean to my child today, I didn't believe it at first. Even if you were feeling it, how could you possible think it's okay to say to me, his mother, that you don't want him in your room? Right now, I am his protector, and I saved him from you because I couldn't let him be around you, unaware of your meanness though he was. He may have not known, but I knew, and you are not allowed to openly exclude him like that in front of me and think it's going to be okay. And now, just so you know, at the end of our day, he came home to two parents who really, really love him. He took a bath and his dad read him a story and he fell asleep, safe in our home like he does every night. After he went to sleep, I thought and thought about what you did. And I want you to know that to you, he's just another number, but to me, he is the excitement of his future. He is the moment we knew he was going to come into our world. He is the first time I heard him laugh, watched him take his first steps, and the first time he called me "Mama." To me, he is every struggle and accomplishment he's had in his 22 months on this planet, and every struggle and accomplishment he will have for the rest of his life.
I cried because I don't expect the world to be kind to him for his entire life, and I don't want it to be. But I thought I'd have just a little more time to teach him to be confident and brave around people like you. So understand this: when you were mean to my kid today, he had no idea. He continued to laugh and play and explore, and he will always do those things, even if people are mean to him along the way. So know that when you were mean to my kid today, that's all it was. You being unprofessional and mean. And your small act of unkindness, thought it resonated with me, ended with him. You didn't ruin his day, you didn't ruin my day, and your meanness will always be powerless to us in the grand scheme of things.
And for future reference, those kids in your room, as overwhelming as it may be, are more than numbers. They are people, with parents, who are doing their best. They are potential, they are energy, they are life. As a teacher myself, I'll never forget that. I can only hope that you learn to do the same.