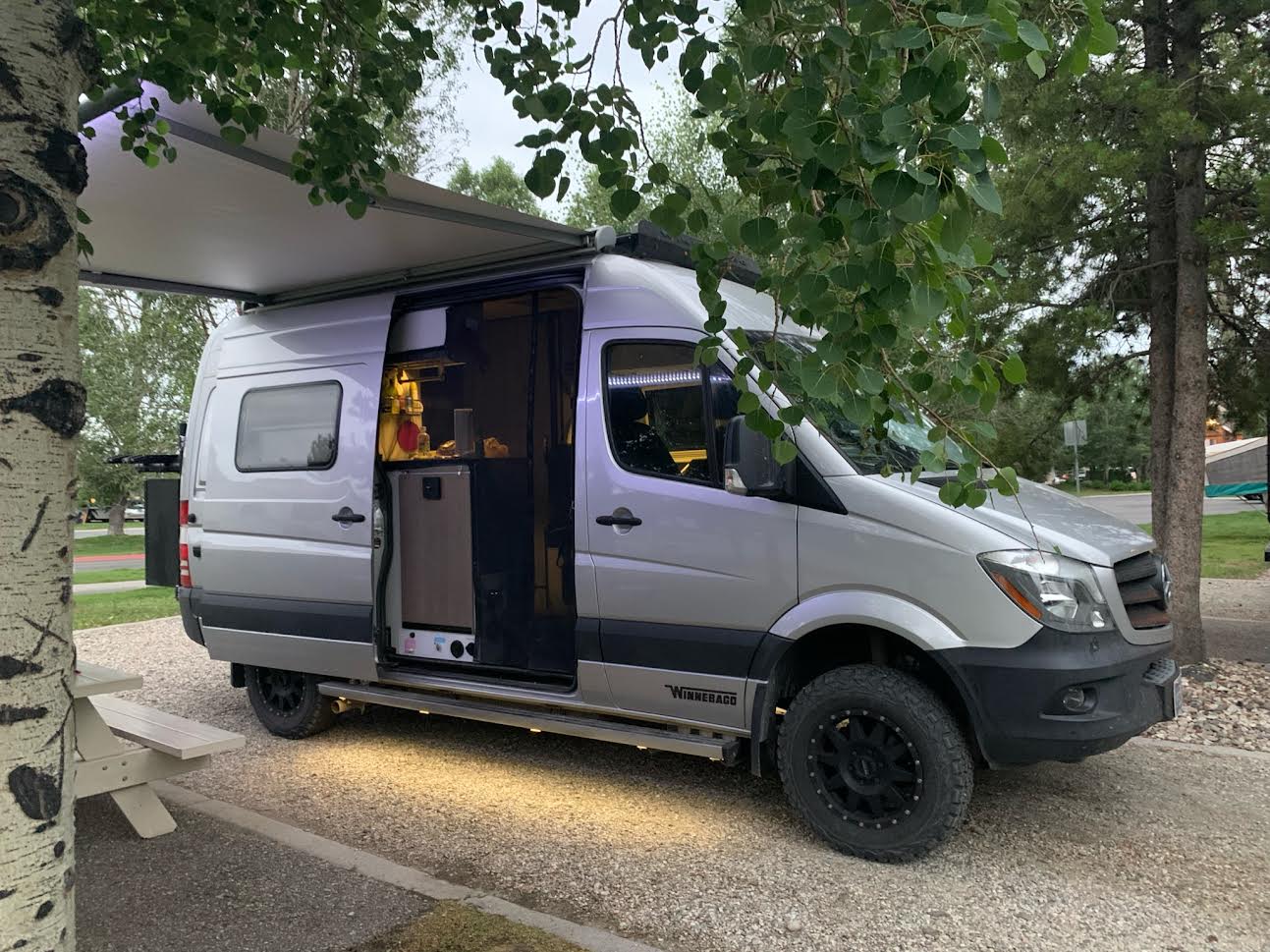 We traveled west this summer and stayed in a travel van. Have you ever considered driving, living, and sleeping in a travel van that boasts 80 square feet of space? Is that your idea of fun? No? Me either until we did. If you know me, I am often intimidated by the unknown. I had soooo many questions. How and where will we all sleep? How could it possibly have a bathroom and a kitchen? Won't we all lose our sanity by the end of day two? After our trip, I am now a travel van convert. Below is my confession from a travel van convert that explains 6 reasons I am now a fan of the travel van as well as some helpful tips we learned along the way.
Reasons why I am a travel van convert:
If you've ever lived or traveled along mountain terrain, then you know the roads are winding and formidable. Driving a travel van is way less overwhelming than trying to navigate a large RV through intimidating roads and narrow campsites. (We had driven through enough mountain ranges when we traveled while living in Arizona to know we didn't want to drive an RV if we could avoid it.)
We could literally pull into any parking spot our SUV at home could fit into. This was extremely helpful with sightseeing because so many attractions we wanted to see did not allow for RV parking. Since we could pull into the parking lots it not only saved us time and energy, it allowed us to see more attractions than we would have otherwise been able to see. Since we averaged over 19,000 steps on our sightseeing days, we were all thanking the travel van gods for the saved steps!
We didn't have to pack up a car every day and worry about whether we had enough provisions for the day. We had everything with us so we couldn't forget anything back at the hotel. We were able to pull into a picnic spot and cook lunch when someone was getting "hangry". We also felt we had more flexibility to be spontaneous because we could easily park our vehicle. One of our favorite adventures was when we pulled over on the side of a narrow road and rock climbed down into a riverbed (think Earth Giants from Frozen 2).
Being in a travel van also permitted us to experience different campsites and areas, while also always having access to amenities like our own kitchen. Since we did not need an RV spot, we had an easier time booking campsites. While we didn't go totally off-grid this trip, a travel van definitely provides more freedom to really stay off the beaten tracks.
We had our own bathroom. While we generally saved this for emergency situations, it was nice to have. We used our share of outhouses and public bathrooms but when another bathroom wasn't available (or was really disgusting), we appreciated having a bathroom at our disposal. We also enjoyed using the outdoor shower to get some of the dirt and sweat off when we weren't staying at a campsite with showers available.
We spent such a limited amount of time inside that we discovered the size of the travel van wasn't suffocating. To be clear: IT WAS TIGHT. In general, though, we were spending our time outside playing games, talking, exploring, and sitting by the fire.
Things to consider whether you are a travel van convert or not:
Plan early! Campsites and vehicles book up extremely quickly (especially ones with good amenities and locations). Our two favorite campsites were the Grizzly RV (in West Yellowstone)and Grant Village (in Yellowstone Park). We also now know that (even with solar power) it is nice to have electrical hook up (AC at night provided the best white noise!). Water hookups at some campsites were also extremely beneficial when we needed to refill our tanks. We stayed in this travel van but on our next trip, we would need to consider one like this.
Invest in some good old-fashioned maps and guidebooks. We knew cell service would be limited but we were surprised at how limited it really was within the parks. While you are provided with a complimentary map, we were grateful for the more detailed maps for marking off the spots we stopped at and navigating our ways through the more remote areas of the parks. We also enjoyed following the guidebook's advice on what was and wasn't worth the stop! Don't forget to keep a log of all the places you visited!
Get up early! On the days we planned to do a lot of sightseeing we were in line for the park by 6:30-7:00. It allowed us to be ahead of the crowds and see more attractions than we would have been able to see with a later start time.
Invest in a backpack water pack for everyone in your family. A friend gave me this tip and I am sooooo glad I bought one for each of us. The few times we didn't bring them when we saw an attraction we were constantly stopping so someone could grab their water bottle from the backpack.
Pack lightly. We overpacked. I am a notorious over-packer but I could have pared down what we brought had I realized there were laundry facilities at some of our campsites. We mainly lived in our athletic clothes and did not need the few casual outfits we had brought.
Be realistic about what your kids can handle. My professional mentor had told us when our oldest was young to wait until our kids were at least 8 to take them to Yellowstone. While we saw many families with young kids, we are so glad we waited. For the trip, we only took our oldest two (our youngest is 4) and we thought it was perfect. We didn't need car seats, strollers, nap time, and all the other things that come with travel with little kids so we had more freedom with what we could see and do.
Pick some sort of fun activity for a middle of trip adventure. We went whitewater rafting and we all had an amazing time. Our guide was extremely knowledgeable and professional, and it allowed us such a different perspective of the landscape. We all loved this experience and it was a great break from the sightseeing and hiking.
While it was tight, we are truly travel van converts. Even if you don't plan on becoming a travel van convert, I highly encourage all families to find time to visit our state and national parks. As Teddy Roosevelt once remarked, "There are no words that can tell the hidden spirit of the wilderness, that can reveal its mystery, its melancholy, and its charm." While going to Yellowstone is not in everyone's capabilities (or desires) spending time with our kids surrounded by such natural beauty was an awe-inspiring experience. It was incredibly satisfying to disconnect from technology and have quality family time together exploring a national treasure and gaining an appreciation for the natural beauties our country has to offer. We are already looking forward to our next adventure… in a travel van!
Yours truly,
A travel van convert