Heart disease is the leading cause of death in adults, and the factors that cause heart disease can start during childhood. To prevent heart disease, it's important for families to live a healthy lifestyle, and that starts at home. At Riley Children's Health, Dr. Laura Shopp specializes in Pediatric Cardiology and Preventive Cardiology and she is passionate about educating families on ways to prevent heart disease. We recently spoke with Dr. Shopp on her knowledge on how to help children be heart healthy.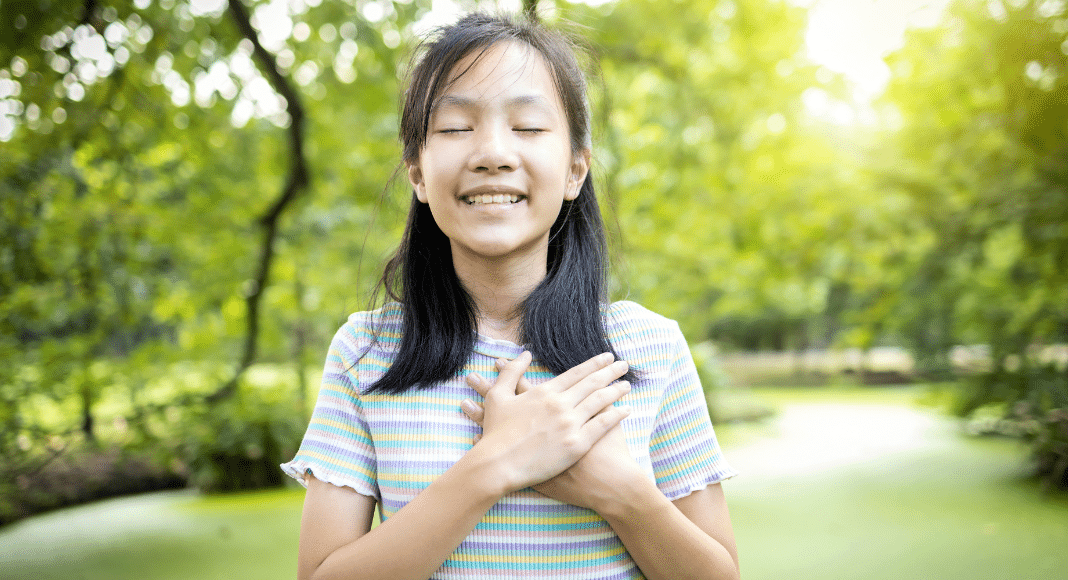 ---
What behaviors (including exercise) can children adopt now to be heart healthy as they grow?
Dr. Shopp says it's important to first point out the risk factors of heart disease. It is associated with symptoms including being overweight or obese, not being physically active, having an unhealthy diet, having high blood pressure, and dangerous cholesterol levels. Between the years 2017 and 2020, 20% of children, adolescents, and teenagers were obese. But the good news is, most of these risk factors are preventable and can be changed, says Dr. Shopp. "Most of these symptoms are modifiable, and for kids, we refer to the 5-2-1-0 rule to build a healthy lifestyle." 
The 5-2-1-0 rule is defined as:
5 = 5 or more servings of fruits and veggies a day

2 = no more than 2 hours of screen time
1 = 1 hour of physical activity a day
0 = 0 sugary drinks
As a mother to a young child herself, Dr. Shopp knows sugary drinks is a tough one to eliminate, and something everyone struggles with. Not only does this include soda, but it includes juice (even ones labeled as 100% juice), sweetened or iced tea, sports drinks, sweetened milk (even cow milk alternatives), and fancy coffee drinks for teenagers. Dr. Shopp suggests these drinks should be a treat, not an every day beverage, and suggested alternatives, like adding crushed fruit to water or trying sparkling water drinks. "What you eat is affected by what you drink," says Dr. Shopp. "When you are drinking sugary drinks, your body will want to keep pace with what you've had that day, and you may lean toward more unhealthy foods as well."
What foods are best for a healthy lifestyle? What foods should we avoid?
Foods that are best for a healthy lifestyle:
Fruits and vegetables: getting them fresh is ideal, but there are also benefits to frozen and canned fruits and veggies
Foods high in fiber and whole grains: breads, cereal, nuts, beans, and popcorn
Foods high in Omega-3s and fish oil: not just fish, but walnuts and spinach are high in fish oil (Dr. Shopp suggests hiding them in a smoothie!)
A little tip: i

f you're not calorie conscious, putting dressing on a salad is not a bad thing, and could encourage your child to eat more
Foods to avoid:
Sweet snacks and drinks
Fast food and fried food
Heavily processed or "shelf-stable" food and snacks
This of course comes with a caveat, says Dr. Shopp. All of this is tailored to each family and what works for them and what they can afford. If parents or caregivers need help figuring out a good menu for their child, Riley Children's dieticians are available to work with families and see what will work best for them.
Does sleep impact a healthy heart?
Yes, sleep does impact a healthy heart and is essential in living a healthy lifestyle. If your child has sleep apnea or snores while they sleep, that can impact the right side of their heart and lung health, says Dr. Shopp. If this is concerning, make sure to reach out to your doctor. 
But in a more broad sense, Dr. Shopp says, "We can all agree that a good night's sleep can give you more energy and make you more active. It's especially important for the one hour of physical activity a day a child needs." 
Is screen time a factor in being heart healthy?
Yes, because recreational screen time could disrupt sleep and promote sedentary behavior, says Dr. Shopp. Especially in the summer with the sun out longer, extended screen time can negatively impact your child's health. Limiting screen time can help achieve the daily 5-2-1-0 rule. 
And it not only impacts your child's physical health, it can impact their mental health too. Especially if they are on social media. "You can't address physical health without mentioning mental health," says Dr. Shopp. "If a child isn't feeling like themselves, they won't have the energy to go out and get that exercise they need." The recommended amount of recreational screen time, including social media, is two hours or less a day. Dr. Shopp says if children and adolescents are spending greater than three hours a day on social media, it doubles their risk of mental health problems.
How often should my child get a physical evaluation? Do they have to be in a school sport to get a physical?
Children and adolescents should see their family physician once a year, regardless if they are in a sport or not, says Dr. Shopp. Those annual visits always include a physical examination, a body mass index (BMI) evaluation, a blood pressure check, as well as a mental health check. Cholesterol is checked twice during childhood, once between the ages of nine and 11 years old and again between ages 17 and 21. Dr. Shopp says children with more risk factors will have their cholesterol checked on a more frequent basis.
If your child is in a school or organizational sport, make sure to be aware of mandatory forms that need to be completed. Most organizations, with IHSAA being one example, require a physical exam form to be completed by your child's doctor.
Why has Riley Children's expanded its pediatric heart care at 12 locations throughout the state?
Not only are the Riley Pediatric Cardiology doctors highly trained in Pediatric Cardiology, but they have had extra training in multiple areas of cardiology, because no two cases are the same. "At Riley Children's, we offer highly specialized care," says Dr. Shopp. "We want to reach people and allow for families to have easy access to the specialized care in all areas of cardiology." 
To read more about the Riley Pediatric Cardiology team's approach to children's heart care, as well as a list of all the heart conditions they treat, visit the Riley Pediatric Cardiology page. You can see a list of their facilities here.
What does it mean to be part of a nationally ranked children's hospital for heart care?
It means a lot, and Dr. Shopp is thankful not only for her fellow team of doctors and specialists, but for the nurses and support teams that help make children and their families comfortable while at Riley Children's. "It's not just me you're seeing at these appointments, but my team," says Dr. Shopp. "Highly-trained nurses are always on hand, and help in difficult tasks, such as getting proper blood pressure readings for a nervous child." 
The Riley Pediatric Cardiology team does more than just prescribe medications. They include parents and caregivers in each step of the process, giving all the information needed to make decisions, understanding why, and not feeling alone. The Riley Pediatric Cardiology team, including Dr. Shopp, love helping people live the best life they can, and are passionate about educating families to live a healthy lifestyle. To learn more, visit the Riley Pediatric Cardiology and search for a doctor near you.
---
About Dr. Laura M. Shopp
Dr. Laura M. Shopp specializes in Pediatric Cardiology and Preventative Cardiology for Riley Pediatric Cardiology. Dr. Shopp's primary location is Riley Pediatric Cardiology, 575 Riley Hospital Dr, Indianapolis, IN 46202. She also sees patients at an office in Carmel.
---

Riley Children's Health makes it possible for families throughout Indiana to get the highest level of care. Whether your child needs primary care for routine health and wellness, or specialty care for acute or complex conditions, you can depend on Riley Children's for best-in-class care close to home.