"Mrs. Demmings! Mrs. Demmings! I saw you walking to work today." I nodded in agreement, knowing full well only he saw me walking from my car to the front door. "Sure, sweetheart," I hurriedly said, dismissing him. My principal had announced that it was National Walk to Work Day and this darling was desperately trying to make a connection. My mind wandered to one of the veteran teachers at our school who actually does walk to work every day. She is the picture of health at fifty-two years old, could still shop in the junior's section at Macy's and constantly has a smile on her face.
My colleague had been encouraging our other co-workers and me to jump on the health bandwagon. She attributes her fit physique and sunny disposition to walking to work everyday and challenged others to do the same. Keeping it real, I won't put unrealistic demands on myself. I live on the west side of Indianapolis and work on the east side; my commute is thirty (driving) minutes on a good day. I won't be walking to work any day, much less every day!
I do want to jump start my journey back to being healthy, though. I gave birth to my son, Maxwell, in October and have worked out sporadically for the past five months. I miss the regularity of daily exercise; the feeling of being outdoors and on the move is an instant mood booster. Studies have shown that regular exercise releases endorphins, creating a sense of euphoria. Sleepless nights with a newborn and insecurities about my postpartum body? Check and check. Bring on the euphoria, stat!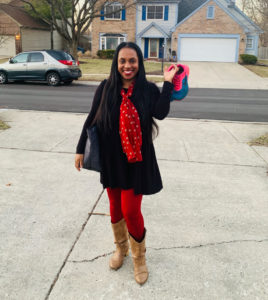 I'm bringing a change of shoes because my boots aren't "made for walkin'."
I have never celebrated National Walk to Work Day before, but I'm determined to do so this year. Whoa, don't get excited; I won't be walking the twenty miles from my home to work. Google Maps estimated that the epic walk would be 4 hours and 35 minutes ("mostly flat"). As enticing as that sounds, I have thought of a creative way to honor this day. Instead of driving to lunch on my break, I will walk. Genius, right? I know, I am patting myself on the back so hard. If you, like me, have a long commute to work, I encourage you to celebrate National Walk to Work Day in my unique way. If you take public transportation to work, you could get off at an earlier stop and walk the rest of the way to work. You could also try walking to a further stop before boarding. Here are a few tips that may help you prepare for this holiday:
Make sure to wear athletic shoes that will be comfortable for a 15-30 minute walk. Carry your work-related items, a change of shoes and necessary papers in a small backpack. Check the weather reports to make sure you are appropriately dressed for possible rain or sleet.
Plan out your walking route, to avoid getting lost. You could take a test walk the night before.
Use a pedometer, fitness band or an app on your phone to track your steps. This is a great motivation to log more steps; you can invite friends and families to compete in a friendly competition. Who can get the most steps? Maybe they will have to cook (or buy) dinner that night!
Pace yourself. Give yourself enough time to take a few pauses, if you are not used to walking daily.
Use this time as your peace for the day. Take deep breaths, in through your nose and out through your mouth. As you walk, take in the beauty of nature and enjoy the world around you.
I have a feeling that it will lead to a new-found enthusiasm for walking and allow me to reconnect with the environment in a new way. Celebrating National Walk to Work Day is a high-five to our beautiful planet and a step (pun intended) toward a healthier lifestyle. I'm excited about getting out and walking today. For at least one day, I am being kind to my body and kind to the earth. I'm increasing my heart rate and reducing carbon emissions. Who knows? If this euphoria thing is legit, this might be a daily thing for me. Seriously, bring on the euphoria. This tired mama needs it!