Move over Pumpkin Spice, Cranberry is in town!
Bring me all the cranberries! It's holiday time and I want nothing more than to eat all things cranberry. According to Ocean Spray, Americans consume some 400 million pounds of cranberries each year, 20 percent of that during Thanksgiving week! It can also be noted that the cranberry is one of only three native fruits cultivated in North America. Others include the blueberry and Concord grape
One of the ways I get my fix is by adding them to my drinks. I love the tangy burst of cranberry in a beverage.
If you're hosting or attending a gathering this year, make it your duty to bring this tasty drink to festivities. Serve spiked or not! It's tasty.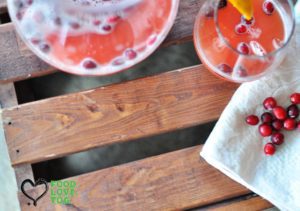 Ingredients
Half Gallon Orange Pineapple Juice
Half Liter Cranberry Soda
2 Cups Rose Champagne or Sparkling Sweet Wine
1 Cup of Ginger Ale
3/4 cup Fresh Cranberries (frozen cranberries will alleviate the need for additional ice)
1/2 orange Sliced in Wedges
Ice (optional if items are chilled)
Instructions
Combine Orange Pineapple Juice, Cranberry Soda, Ginger Ale and Champagne
Stir lightly to combine
Add in cranberries
Garnish each glass with an orange wedge
Serve and Enjoy!
Notes: This recipe is made with Champagne or Sparkling wine, which can be omitted.
For additional spark without the alcohol, stir in sparkling or seltzer water.