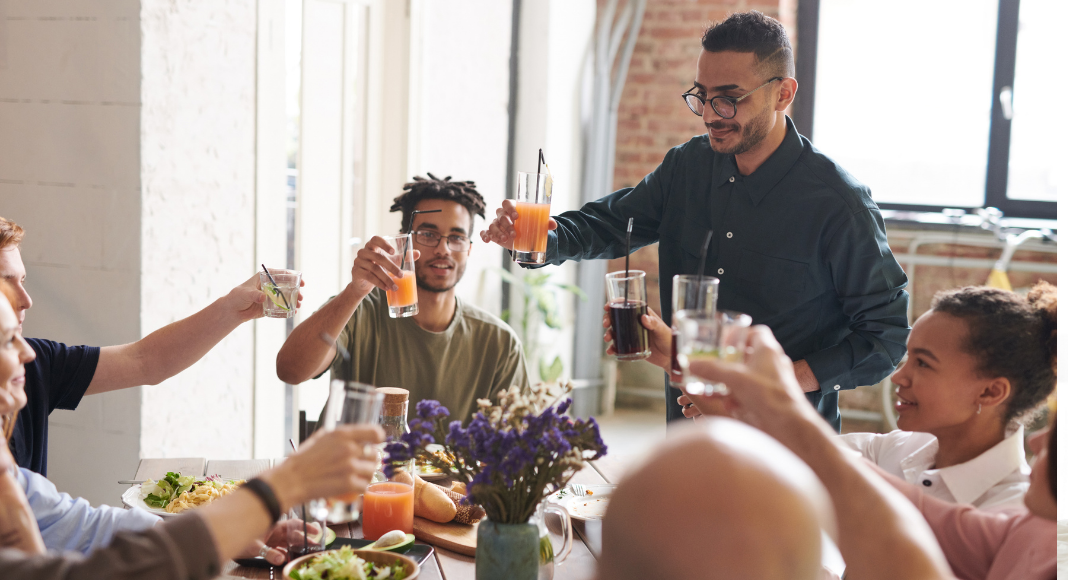 As another Thanksgiving season approaches, I never realized just how much I needed my friends, my chosen family, until I became a mom. There's no better time of year to celebrate just how thankful I am for this crazy, fun crew to be on this journey of life and parenthood than at Thanksgiving through our annual Friendsgiving. I can't take full credit for this special gathering tradition, as it was started by my husband to gather his close-knit group of college friends here in Indianapolis and predated our relationship by a year or two. Yet Friendsgiving has become a highly anticipated event that has adapted as our friendship dynamics and families have changed. Yet as the mealtime has moved earlier to accommodate kids' bedtimes and the sheer number of mouths to feed has expanded with each marriage and childbirth, the fun of Friendsgiving has only multiplied.
You might be thinking that cooking, cleaning, hosting, and entertaining your own blood-related family for Thanksgiving is stressful enough and hesitate to throw friends into the mix. Friendsgiving, seemingly a Millenial-driven unofficial holiday, is bound to be the least stressful and most rewarding holiday celebration you'll throw together all year. Anything goes when it comes to Friendsgiving; let your friendships dictate the vibe!
In our group of friends, we strike a balance between eschewing some of the stuffy parts of traditional Thanksgiving celebrations and making the chef of The Food Network proud. Here's your step-by-step guide to planning a Friendsgiving celebration of your own.
How do I get started with planning a Friendsgiving celebration?
Ever the classic millennial, I suggest using a combination of technology to aggregate a date that works for everyone. Doodle Polls and Facebook events are your best friends in this step. Once you have a date, send out your invitations. If you're feeling really ambitious, you can even send out a paper invitation. Either way, your invitations are perfect excuses to use terrible puns like "Let's Get Basted!" and "Don't be a Turkey, Come to Friendsgiving!"
Do I need to decorate for Friendsgiving?
The internet is rife with Friendsgiving decoration ideas. A few simple fall decorations, like pumpkins and gourds, will suffice. Use this as an excuse to raid the seasonal section at Home Goods or Target with a pumpkin spice latte in hand. Ask your guests to add to your decor by bringing their favorite photos from the year. Keeping your friendships central to your Friendsgiving decor will create a warm, fun aesthetic ideal for your unique Friendsgiving shindig.
What kind of food should I serve at Friendsgiving?
The menu possibilities are quite literally endless! I highly recommend serving your meal as a potluck, buffet-style affair. You could serve traditional Thanksgiving fare. Or this may be an opportune time to invite your friends to showcase their heritage with dishes from their family history or cultural background. I outline the basic categories in a Google Sheet shared with all guests and ask them to sign up for the category and specific dish they're most excited to bring.
My tried and true Friendsgiving staples are:
Turkey – Our usual unspoken rule is that the host usually makes the bird. When we host, we like to shop local and get the tastiest turkeys from Goose the Market.
Macaroni and Cheese – I put all of my cheesy, gooey, noodly trust in Ree Drummond (aka The Pioneer Woman) to guide me in making the most creamy, easy to assemble, crowd-pleasing macaroni and cheese.
Pumpkin Pie – Love it or hate it, it goes without saying that any Friendsgiving requires a pumpkin pie. It's hard to find a bad recipe for pumpkin pie. If you're looking for a non-traditional twist on this classic, Ice Cream Pumpkin Pie from a fellow Indianapolis Moms contributor will do the trick!
Do I need to provide entertainment at my Friendsgiving?
Set the mood with a fun, guest-sourced playlist on Spotify. Spread board games and card games around for guests to play throughout the gathering. Have a Thanksgiving jar set up to gather words of gratitude to be shared. Keep it fun, light, and meaningful.
Friends that feel like family, delicious food, and fun are all you need for a lovely Friendsgiving gathering that is sure to be the highlight of your holiday season. An annual group selfie is highly recommended but not required. Happy Friendsgiving, and remember, leftovers are for quitters!