When my children were very small, I decided to create a holiday tradition special to our family. After a quick Pinterest search and a run to the dollar store, I created our family advent calendar. Each year on December 1st, my children wake up to the advent calendar strung across our mantle. I write the day's holiday activity on a slip of paper in each sock. Some of the activities are outings, some are things to do at home. Some are new each year, some are have become tried and true traditions.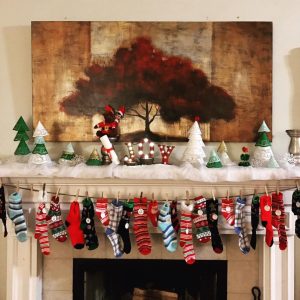 Here is our family advent activity list for 2021!
1. Decorate the tree
2. Decorate the house
3. Shop for teacher gifts
4. Sweets with Santa hosted by Indianapolis Moms!
5. Latkes and Lights at Newfields.
6. Holiday craft
7. Hot cocoa bar after school
8. Decorate a gingerbread house
9. Bingo night
10. Sleep under the Christmas tree
11. Visit Santa!
13. Holiday science experiments. Pinterest is full of ideas!!
14. Shop for siblings. Hint: use the Local Holiday Gift Guide here to support local businesses!
15. Christmas game night
16. Drive around and look at lights
17. Fondue Friday
18. Bake holiday cookies
19. Festival of trees at Indianapolis Historical society
20. A Beef & Boards Christmas Carol
21. Ice Skating at Christkindlemarket in Carmel
22. Family movie night with holiday popcorn
23. Make dog treats for the neighbors
24. Sing Christmas carols. This is my teen's MOST favorite advent activity (written with a heavy dose of sarcasm…)
25 Celebrate Christmas!
Over the years, I have learned to embrace flexibility during this season of advent. I keep a list of what activities are in each sock. If Mother Nature cooperates, I switch out the day's activity for sledding on our neighborhood hill. If everyone is in "holiday system overload," I may change an outing for a quiet movie night at home. But this tradition has become one that our entire family has enjoyed year after year!