My life is currently overrun with renovations renovations renovations. Instead of talking about the big picture and truly important concepts, I want to get into the nitty-gritty of what it is to renovate a space while you are living in it.
I have been an HGTV addict for years. On every episode, rooms and or houses are magically transformed into a dream. This happens at a very reasonable cost, of course. Can I just say hahahaha on every front?
As a freshman in college, I heard the phrase "freshman 15" a lot. If you've never heard this expression it refers to the 15 pounds a lot of freshman students tend to gain their first year from sitting and studying while anxiety snacking. I am now coining the term "renovation 15".
Crazy Lady in the House
For the past 5 weeks, I have been stuck in my house almost every day. I may be a SAHM, but we rarely are at home the entire day. The pantry has become my closest friend and ally. The anxiety of not being able to leave, keep a toddler busy and out of danger, monitoring the work being completed, negotiating challenges, and remembering even the tiniest detail is making me a new level of crazy.
Every single morning my toddler gets her shoes out of the shoe bin walks to the door and says "go go?" The desperation to be free from the house has even gotten to her. Thankfully, we have had really good weather the last few weeks and have been able to spend a ton of time in the backyard. Undoubtedly, as soon as we head outside, I need to answer a question or check on work. Then my adorable toddler turns into the terrible two version of herself. Handling renovation issues while hanging onto a screaming toddler is the stuff nightmares are made of. Hence, my "renovation 15".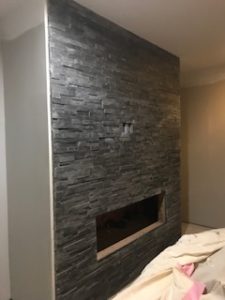 HGTV Drama
I can't watch HGTV anymore. Frankly, the budget estimates they use are so outrageously low it infuriates me. I used to just yell at the TV when my favorite football team was playing (Go Purdue!!). That courtesy has now spread to all renovation shows. I get that they are able to get everything at cost, but STILL. Where do I even start on the budget. Every contractor estimate came in way above what was expected. This resulted in what was supposed to be a big one-time project being spread out over multiple years.
I am truly appreciative of the work all of these contractors are doing. It is amazing to watch pros at work. The family-wide favorite has been watching one worker stamp out a repeatedly perfect pattern on the ceiling while standing on stilts.
I have learned so much about the process but, one day, not soon enough, this will all be a faint memory I can hopefully laugh about.
Share your renovation stories in the comments!